Clay Changes: Helen Cordero and the Pueblo Storyteller [SOLD]
---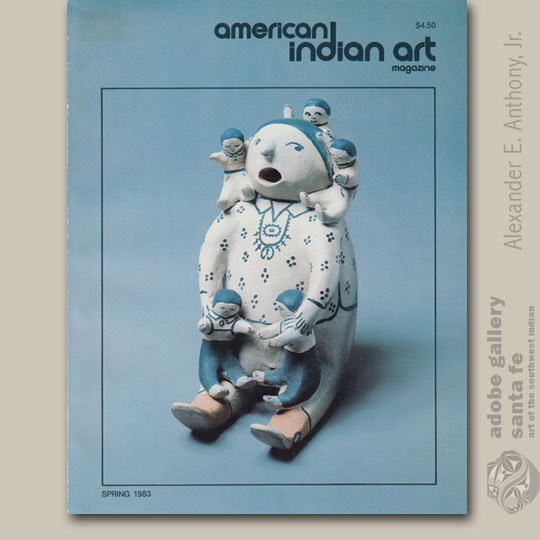 + Add to my watchlist

Forward to Friend
Mary G. Hamilton, Publisher
Subject: Native American Pottery
Item # C4263U
Date Published: American Indian Art Magazine, Volume 8, Number 2, Spring 1983
Size: 86 pages

SOLD
"Clay Changes: Helen Cordero and the Pueblo Storyteller"
Barbara A. Babcock
American Indian Art Magazine, Volume 8, Number 2, Spring 1983
Helen Cordero is recognized as the first pueblo potter to make a storyteller figurine. Barbara Babcock is the first author to document in detail Helen's contribution and the development of the storyteller figurine in general. Babcock produced the first book detailing the storyteller figurine history.
This article in American Indian Art Magazine is a 10-page presentation of text and photographs of figurines and of Helen Cordero. It is a good analysis of the history and growth of the figurine phenomenon.
---

Volume 8 | Number 2 | Spring 1983
9 GALLERIES

14 BOOKS

21 AUCTION BLOCK
by Harmer Johnson

25 MUSEUMS

30 CLAY CHANGES: HELEN CORDERO AND THE PUEBLO STORYTELLER
by Barbara A. Babcock
Provides an overview of the longstanding tradition of figurative pottery production among the Puebloan Indians and details the proliferation of these ceramics since 1964, when Helen Cordero shaped the first Storyteller doll.

40 THE GIRARD COLLECTION AT THE MUSEUM OF INTERNATIONAL FOLK ART
by Charlene Cerny
Details some of the Native American material that comprises only a part of this vast collection of folk art. Gathered over a forty-year period and donated to the museum in 1978, the collection includes 106,000 objects from more than 100 countries.

46 INCISED RELIEF CARVING OF THE HALKOMELEM AND STRAITS SALISH
by Norman Feder
Summarizes the little that is known about the incised relief carvings of the Halkomelem and Straits Salish and describes the basic principles that characterizes the style.

56 COLLECTIONS OF THE LABORATORY OF
ANTHROPOLOGY, MUSEUM OF NEW MEXICO
by Nancy Fox
Provides a detailed history of the Laboratory's first half-century of operation and growth, highlighting the contributions of various members of its staff as well as some of the Southwestern Indian materials in its collections.

64 THE ALASKAN ATHAPASKAN CHIEF'S COAT
by William E. Simeone Jr.
Describes the two principal styles of chief's coats worn by the Alaskan Athapaskans from the mid-nineteenth century to the present and illustrates a sampling of these garments, from the earliest available illustrations to a contemporary example made only last year.

BOOK REVIEWS
73 NORTHERN ATHAPASKAN COLLECTIONS and ATHAPASKAN CLOTHING IN THE FIELD MUSEUM. Reviewed by Judy Thompson.

77 HAU, KOLA!. Reviewed by F. Dennis Lessard.

81 TOTEM POLES. Reviewed by Margaret B. Blackman.

86 ADVERTISER INDEX
Mary G. Hamilton, Publisher
Subject: Native American Pottery
Item # C4263U
Date Published: American Indian Art Magazine, Volume 8, Number 2, Spring 1983
Size: 86 pages

SOLD
---
Publisher:
---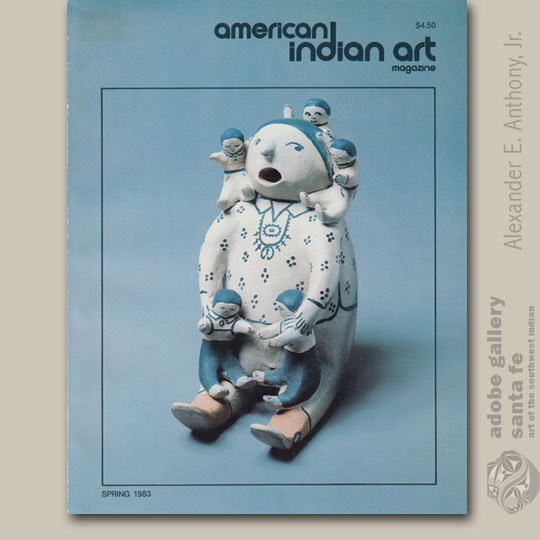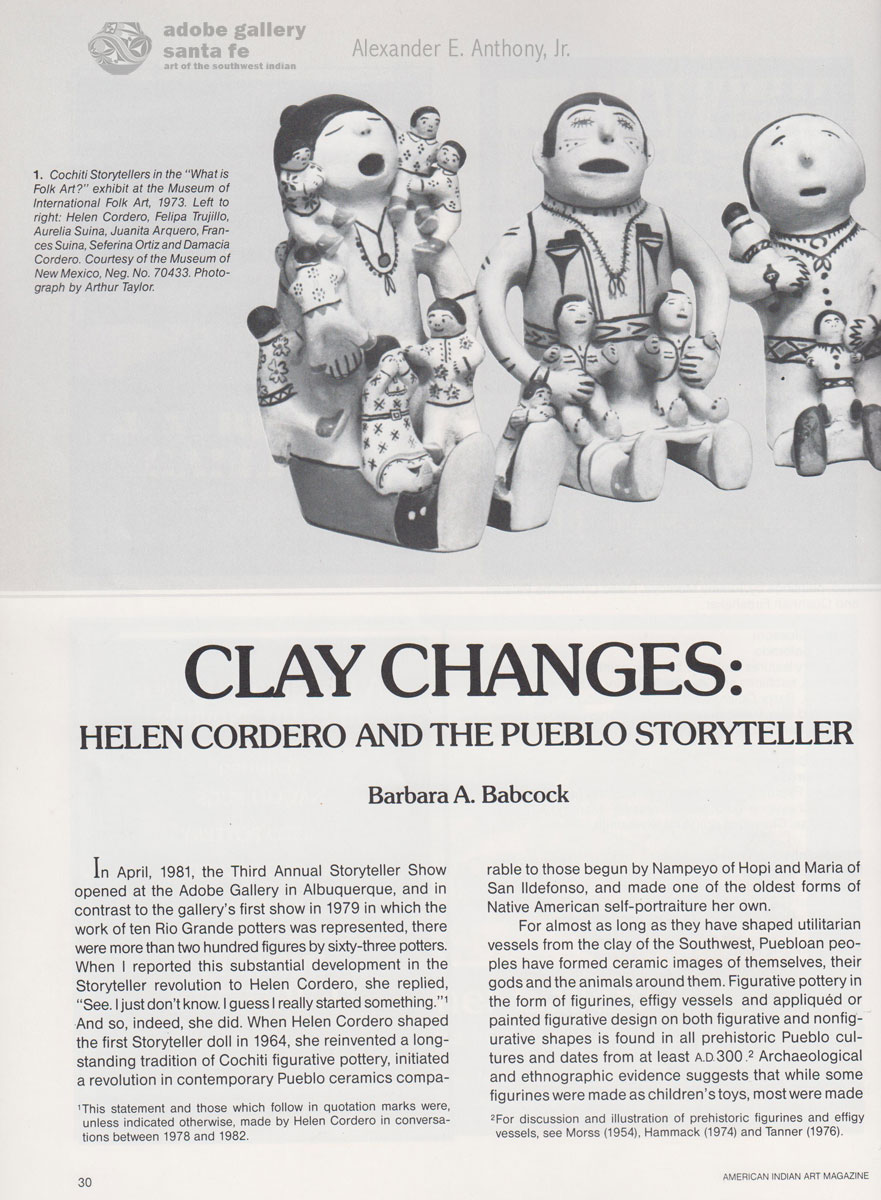 Click on image to view larger.
---