---
Acoma Pueblo Storage Jar with Heartline Deer by Marie Cimmeron [SOLD]
+ Add to my watchlist Forward to Friend
This incredible historic Acoma Pueblo pottery storage jar possesses a warm patina and was made by Marie Cimmeron, an artist whose similarly designed works are highlighted in Lanmon and Harlow's The Pottery of Acoma Pueblo. Little is known about Cimmeron's life and artistic career, but it is evident in the quality of these jars that she was an exceptional potter. It is estimated that this jar was made around 1910. A similar storage jar with a slightly more modern look by Cimmeron, purchased by Kenneth Chapman, is dated 1920.
This jar comes from the collection of the family that owned the Old Laguna Trading Company. The business was originally founded as a mercantile under a different name in 1879, by Kenneth and John Gunn, who came west as Cavalry officers along with Col. Mamon and Col. Pradt to obtain rights for the Atlantic & Pacific Railroad. In the early 1900s, Sigfried Abraham, a German-Jewish immigrant, married Kenneth Gunn's daughter Jessie and took over the Mercantile operation. He enlarged the facility to include a wheat mill. In 1942, Abraham's daughter married a man who took over the operation, moved it to the then-new Highway 66, and changed its name to Old Laguna Trading Company. In 1972, that man's son took over and expanded the operation to include a grocery store and gas station, rebranding the business as Laguna Mart. This final iteration of the business was sold in 1992. The jar is finally being made available on the market for the first time after spending most of its life in the collection of the Old Laguna Trading Company family.
The defining characteristic of this jar and the ones featured in Lanmon and Harlow's book is the unique heartline deer. Cimmeron created figures with notable differences from the typical examples. The animals' bodies certainly have a unique shape, but it's the smaller, more specific details that stand out. Pairs of semicircular forms with rounded triangles set in their interiors appear next to each other in symmetrical arrangements, forming antlers that are unlike those seen on other examples from the era. The design of the heartline is atypical, as are the anatomically correct male bodies seen here and on certain published examples of Cimmeron's work.
These wonderful deer—four in total—appear within two wide vertical design bands, which run from the rim down to just a few inches from the base. A gorgeous pattern of interlocking Zuni feather designs appears, forming bridges beneath the feet of the deer on the lower half and arches over those on the upper half. These wide vertical bands sit in between two massive ovoid forms, which are split vertically into nearly symmetrical halves by bands of triangular forms. The large scale of the piece allowed Cimmeron ample space in which to create her designs, and she certainly made the most of it. These designs are complex but elegant—intricate in places, but never crowded or busy.
Storage jars from Acoma are rare, and this vessel is a particularly impressive example. At seventeen inches in diameter, this is a notably large piece. Its sharp shoulder leads to a tall, gently curved neck. It is remarkably well-balanced and looks beautiful from any angle. The designs, completed in black pigments over white slip, sit comfortably and naturally over the vessel's beautifully curving form.
By any measure, this is an outstanding example of historic Acoma Pueblo pottery.
Marie Cimmeron (born 1875/1885 - probably before 1937) was an Acoma Pueblo potter. Cimmeron was married to Louis Simarron, with whom she had seven children. Her grandchildren Rachel (Cerno) Concho and Joseph Cerno Sr. became notable potters. Cimmeron won first prize at the inaugural Southwest Indian Fair, which occurred in 1922. A 1929 Indian Agency report listed Cimmeron's occupation as "potter." Beyond these family connections and images of a handful of works, little has been published about Cimmeron.
What is a Heartline? The heartline is used primarily by Zuni Pueblo potters and can be seen in many animals—usually a deer (heartline deer). The line from the mouth to the heart signifies the "breath of life."
---
Condition: Excellent condition; blacklight examination reveals no restoration or repair.
Provenance: this Acoma Pueblo Storage Jar with Heartline Deer by Marie Cimmeron is from the collection of the family that owned the Old Laguna Trading Company
Reference: Lanmon, Dwight P., and Francis H. Harlow. The Pottery of Acoma Pueblo, Museum of New Mexico Press, Santa Fe, New Mexico, 2013
TAGS: Southwest Indian Pottery, Acoma Pueblo, Joe Cerno, Sr., Historic Pottery, Joseph Cerno, Jr., Marie Cimmeron, Zuni Pueblo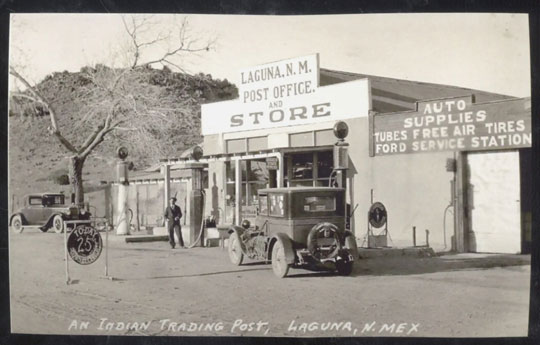 Marie Cimmeron, Acoma Pueblo Potter
Category: Historic
Origin: Acoma Pueblo, Haak'u
Medium: clay, pigments
Size: 14" height x 17" diameter
Item # SC4657

SOLD
---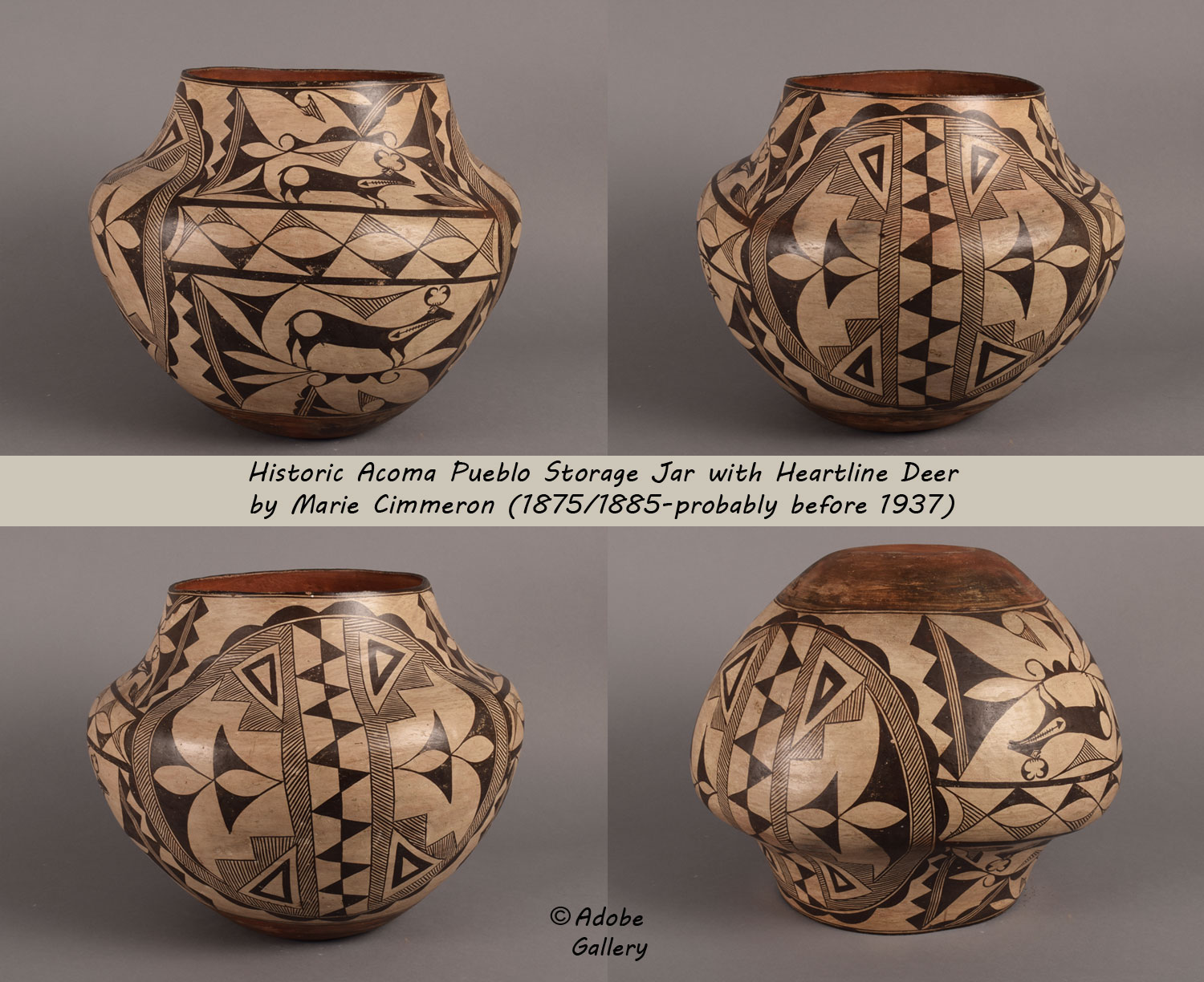 Click on image to view larger.
---
Adobe Gallery Recommended Reading

THE POTTERY OF ACOMA PUEBLO [SOLD]
by Francis H. Harlow, et al.


Important Book - The Pottery of Zuni Pueblo [SOLD]
by Francis H. Harlow, et al.

Adobe Gallery Recommended Items
---
If you are interested in this item, we would also like to recommend these other related items: