---
Corrugated Hopi Jar with Award Ribbon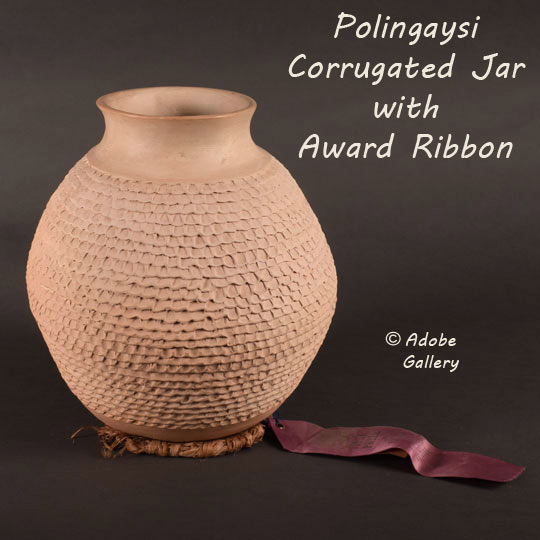 + Add to my watchlist

Forward to Friend

This beautifully corrugated pottery jar was made by Elizabeth White Polingaysi Qöyawayma of Hopi Pueblo. Polingaysi Qöyawayma studied ceramics under the tutelage of Charles Loloma, the famous Hopi jeweler who taught ceramic classes at the University of Arizona and the Institute of American Indian Arts in Santa Fe. For much of her adult life, Polingaysi was a teacher; she began making pottery after retiring from teaching in 1954. Once she learned the techniques, she began searching for a style that suited her taste and personality. When she found uniquely special clay that needed no painted design to bring out its beauty, she decided to use only the unadorned clay with impressed or carved designs rather than colorful pigments.
For this jar, Polingaysi used corrugated rows of clay for the body of the jar and a smooth neck and rim. The underbody of the jar is polished to a smooth finish. She left the coils of clay visible and then used a stick to impress the design into the damp clay. The jar was entered into the annual Hopi Craftsman exhibition at the Museum of Northern Arizona in 1968, where it was selected for a First Prize award. The ribbon is included with the jar. It is no surprise that this piece was an award-winner—it's an elegant jar that could fit comfortably in many collections due to its neutral tone.

The jar is signed Polingaysi, carved into the clay on the underbody.
Elizabeth White (1892-1990) Polingaysi Qöyawayma became a schoolteacher and taught at Hopi and Navajo schools for almost 40 years. On retirement from teaching, she became an artist, a poet, and a philosopher. Her career as a potter began late in life, after her retirement, so there is very little of her work available. Polingaysi passed on her preference for simple pottery vessels to her nephew Al Qöyawayma who has become very famous for his creations. Iris Nampeyo also adopted the style for her work. Not only does Polingaysi live in the memories of her students of 40 years, but she will also be remembered for beautiful pottery.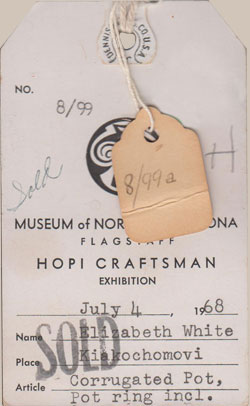 Polingaysi Qöyawayma's life has been documented in the book "No Turning Back" as told by her. It tells the story of a Hopi girl's struggle to bridge the gap between the world of her people and the world of the White man. From preschool age, she was intrigued by the government school being attended by her Hopi friends—not by choice—but she felt left out and wanted to attend. Whereas her friends were being forced by government agencies to attend school, she chose to volunteer, much to her mother's consternation.
From these early years at the government school, Polingaysi, who had been given the name Bessie by a Mennonite missionary, was eager to learn the English language and White man's ways. Hopi elders accused her of wanting to be a "White Man." When given the chance, she lived temporarily with the Mennonite missionary's family, earning her keep by doing household chores. It was during this time that she learned the Christian religion which she continued practicing throughout her life. Another Mennonite missionary and family boarded her for a time and changed her name to Elizabeth, a name retained throughout her life.
---
Condition: excellent condition
Provenance: this Corrugated Hopi Jar with Award Ribbon is from a private Santa Fe collection
Reference: No Turning Back: A Hopi Indian Woman by Polingaysi Qöyawayma
TAGS: Navajo, Al Qöyawayma, Iris Nampeyo, pottery, Hopi Pueblo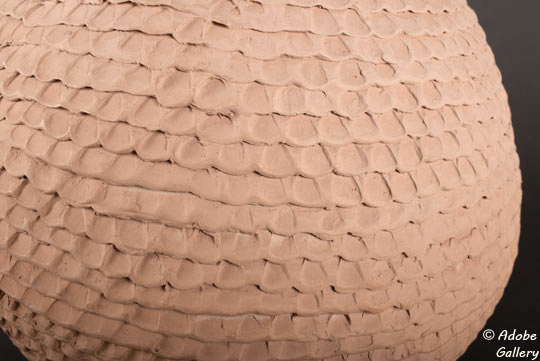 Elizabeth White, Polingaysi Qöyawayma, Hopi Pueblo Potter
---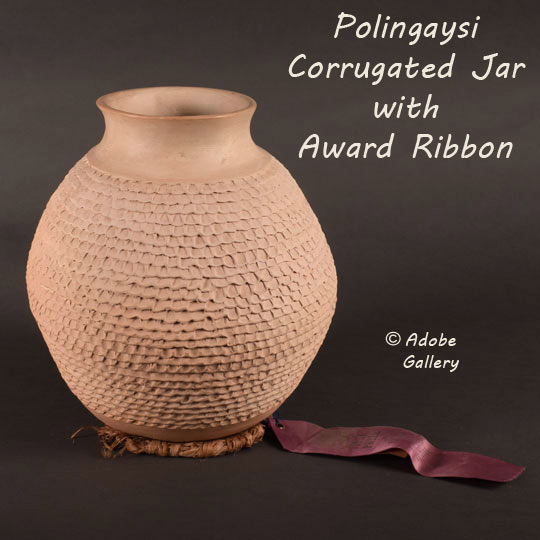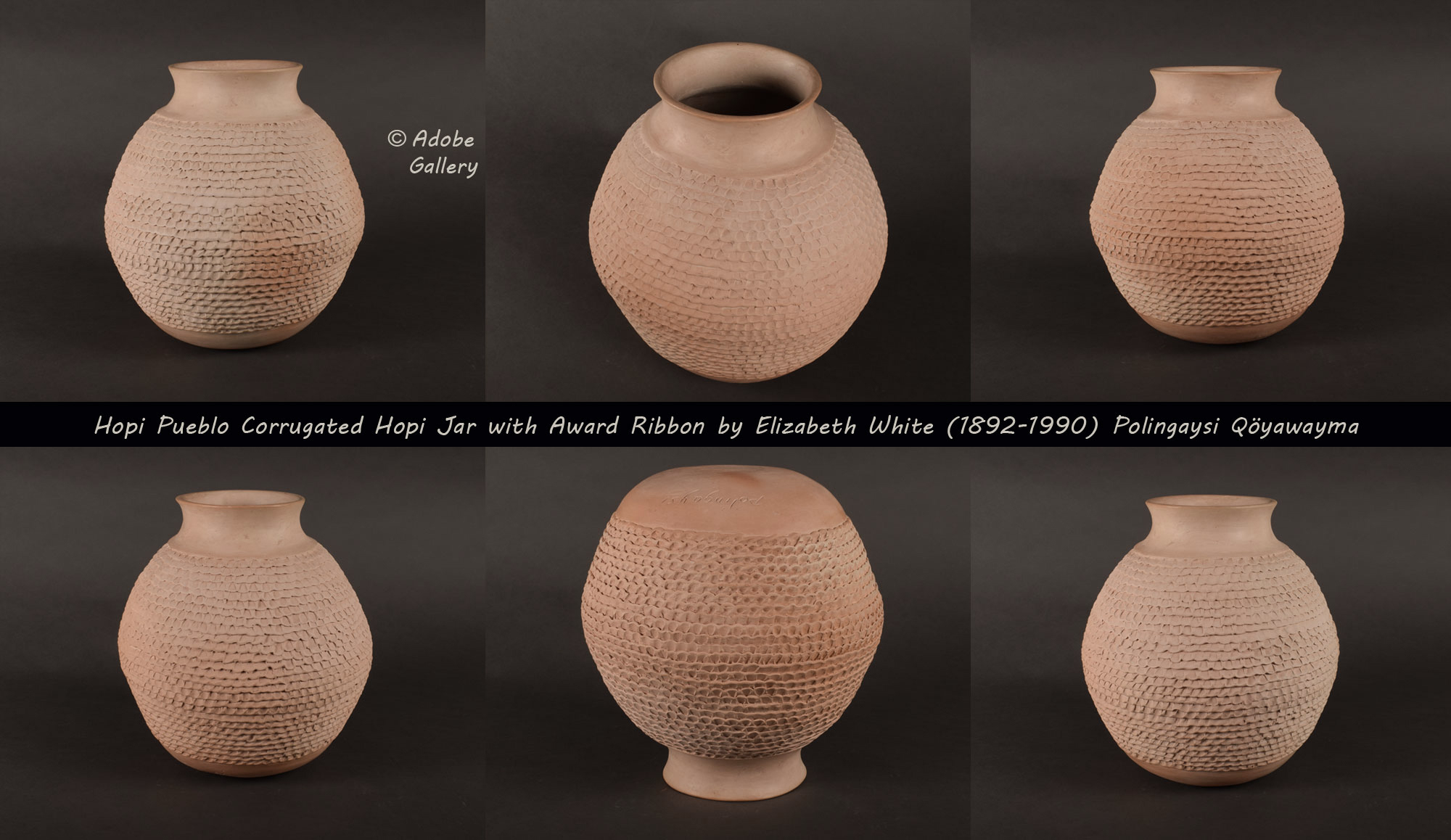 Click on image to view larger.
---
Adobe Gallery Recommended Reading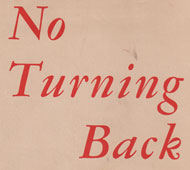 NO TURNING BACK [SOLD]
by Polingaysi Qoyawayma, Elizabeth White, Hopi Pueblo Author and Artist

Adobe Gallery Recommended Items
---
If you are interested in this item, we would also like to recommend these other related items: