---
Hopi Pueblo Kwikwilyaka Mocking Katsina Doll by Wilburt Talashoma [R]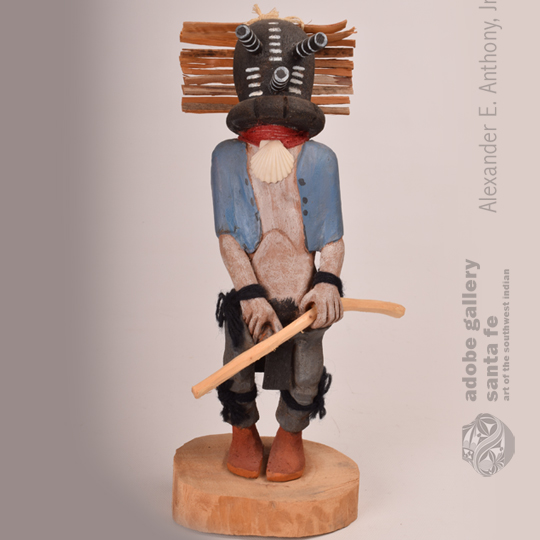 + Add to my watchlist

Forward to Friend
This Hopi Pueblo Mocking Kasina doll by Wilburt Talashoma has his pants below his waist. In his right hand, he holds his genitalia. In his left hand he holds a stick which conveniently obscures some of this from sight, providing a modest display to the viewer.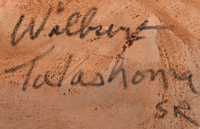 Kwikwilyaka is technically not a clown but perhaps he is acting in the guise of a clown in this carving and, in the manner of the clowns, he is illustrating to the Hopi audience an improper display. His purpose is to state that this is not something a Hopi should do. The Koshare clowns use displays of gluttony and other acts as a means to explain that these are improper and should not be performed by a proper Hopi. It is through these displays that the clowns teach and entertain simultaneously.
Kwikwilyaka traditionally appears in ragtag costume with a bundle of cedar bark for hair on his head. Here, he is shirtless, wearing an open vest, and blue trousers over which is a loincloth. A large shell is suspended from a red necklace fashioned from string. The carving is signed.
Wilburt Talashoma was the father of the famous Hopi carver, Lowell Talashoma. The senior Talashoma also was an occasional carver of katsina dolls and he seems to have preferred having exposed genitals on many of his dolls, regardless of which katsina was being represented.
Both father and son have passed away but both left a legacy of some wonderful carvings of katsinas. Wilburt was the son of Jennie and Willie Quotskuyva so I do not know where the Talashoma name came from, but perhaps was given to him when attending a government school. He was born in the Hopi village of Bacavi on Third Mesa. In World War II he served in the U. S. Army in France and Germany. He was once commissioned to carve twenty-one dolls for a travelling exhibit organized by the California Academy of Sciences, an honor bestowed on an outstanding carver. He was a Hopi, a farmer and a carver all his adult life.
Condition: this Hopi Pueblo Kwikwilyaka Mocking Katsina Doll by Wilburt Talashoma is in very good condition
Provenance: from the collection of a gentleman from Texas who inherited it from an uncle with whom he traveled the reservations while his uncle collected Native arts.
Recommended Reading: Kachinas a Hopi Artist's Documentary by Barton Wright.
Relative Links: Hopi Pueblo, Katsina, Wilburt Talashoma,
Wilburt Talashoma, Sr., Hopi Pueblo Carver
---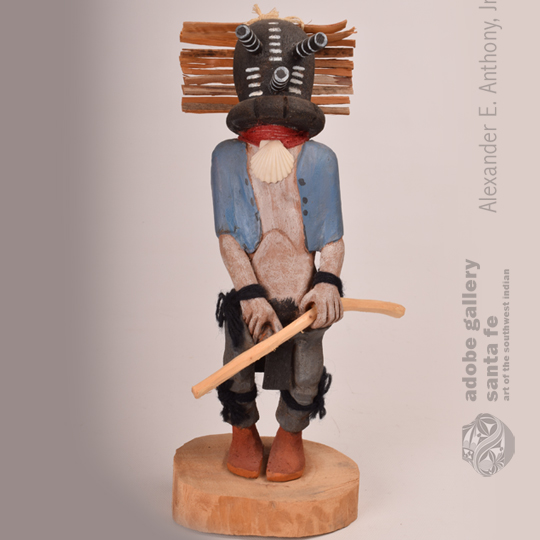 Click on image to view larger.
---
Adobe Gallery Recommended Reading