DANCING GODS Indian Ceremonials of New Mexico and Arizona [SOLD]
---
+ Add to my watchlist

Forward to Friend
Erna Fergusson (1888 – 1964)
Subject: Native American: General
Item # C3516o
Date Published: Hardback, first edition 1931
Size: 276 numbered pages; illustrated.

SOLD
DANCING GODS Indian Ceremonials of New Mexico and Arizona
Publisher: Alfred A. Knopf, New York, 1931
Hardback, first edition 1931, 276 numbered pages. Fabric (linen) cover over board with image of katsina mask in black and brown.
Illustrations by Robert Henri, Walter Ufer, E. L. Blumenschein, Gerald Cassidy, John Sloan, T. Van Soelen, Will Shuster, Andrew Dasburg, Frank Applegate, Olive Rush, Gerald Cassidy, Nils Hogner, Victor Higgins and others.
Condition: very good condition
CONTENTS
The Pueblo People
The Cliff Dwellers
The White Man; Popé of San Juan
The Pueblo Indian and the American
Dances of the Rio Grande Pueblos
Winter Dances
The Deer-dance at Taos
The Buffalo- and Deer-dance at San Felipe
Spring Dances
The Parrot-dance at Santo Domingo
The Turtle- or Evergreen-dance at Isleta
The Eagle-dance at Tesuque
Summer and Autumn Dances
The Corn-dance at Santo Domingo
The Rainbow-dance at Santa Clara
The Pecos Bull at Jemez
Dances of Zuni Pueblo
The Sword-swallowers
The Summer Rain-Dance
The Doll-Dance
The Shalako
The Leaving of the Gods
The Hopis
Katchinas
Hopi Dances
The Bean-Planting Ceremony
Niman Katchina: The Going-away of the Gods
The Snake Legend
The Snake-Dance
Preliminary Ceremonies
The Antelope-dance
The Day of the Snake-dance
The Snake-dance
Lalakonti, a Women's Ceremony
The Navajos
"Dinne," The People
Navajos and Spain
The American Conquest of the Navajos
The Bosque Redondo
The Reservation and the Government
Navajo Life
Ceremonies
Navajo Religion
Medicine-men
The Squaw-dance
The Mountain Chant
The Legend of the Mountain Chant
Going to the Mountain Chant
Preliminary Ceremonies
The Ninth Day
The Last Night
The Fire-dance
The Night Chant
The Initiation
The Last Day
The Night of Dancing
The Apaches
Apache Dances
The Mescalero Apache Fourth of July
The Fourth of July
The Jicarilla Apache Fiesta
A note from Erna Fergusson
Southwestern Indians have no better friends than artists, who recognize that the Indian is essentially an artist. They value his art in all its forms, they help him without condescension, and they respect his integrity too much to try to make him over into something foreign. I am grateful to these distinguished artists who permit me to enhance my descriptions of Indians and their dances with their own vigorous, sympathetic, and humorous interpretations of them.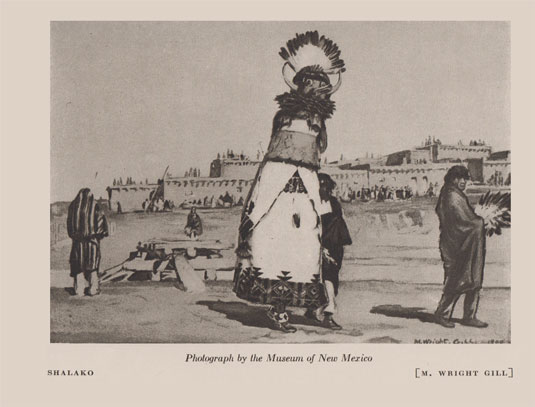 Erna Fergusson (1888 – 1964)
Subject: Native American: General
Item # C3516o
Date Published: Hardback, first edition 1931
Size: 276 numbered pages; illustrated.

SOLD
---
Publisher:
---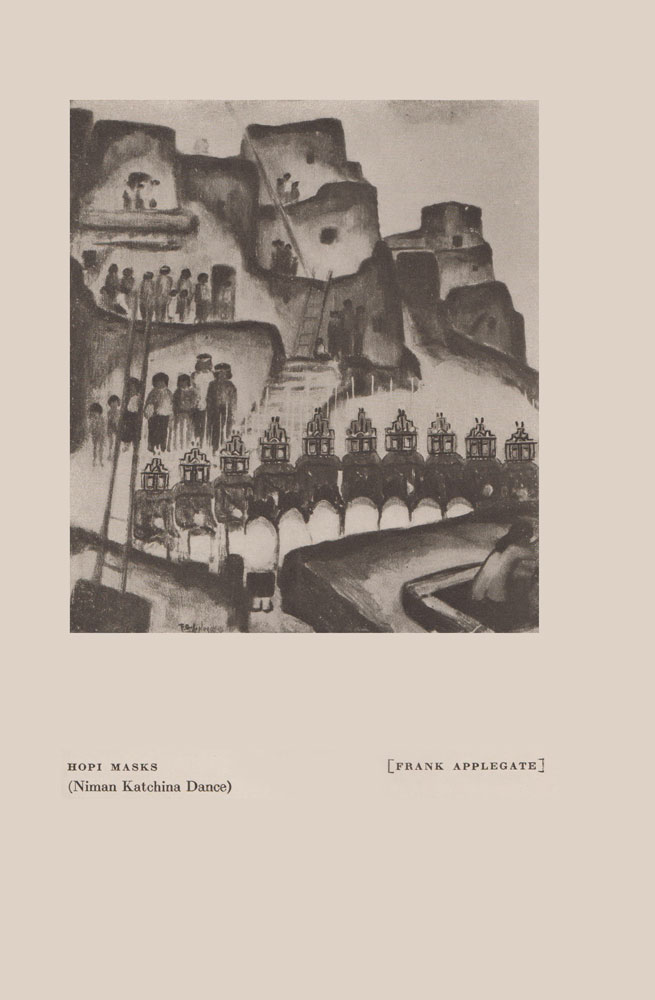 Click on image to view larger.
---