---
Hopi Pueblo Chusona - Snake Dance Doll [SOLD]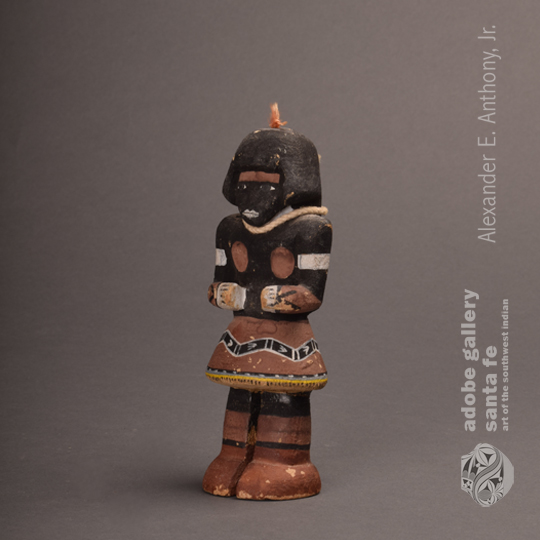 + Add to my watchlist Forward to Friend
At the end of the nineteenth century, very few tourists had ever seen the Hopi Snake Dance; however, many had heard tales of a dramatic ritual that only occurred every other year in isolated Indian villages in Arizona. This religious ceremony that Victorian society found so horrifying—and so fascinating—soon grew into a symbolic representation of "Indian Country" in the Southwest. The Passenger Department of the Santa Fe Railway played upon sensationalist, tourist visions of American Indians when it published Walter Hough's travel guide The Moki Snake Dance (see reference below). It was described as a popular account of that unparalleled dramatic pagan ceremony of the Pueblo Indians of Tusayan, Arizona, with incidental mention of their life and customs.

This carving of Hopi Pueblo Chusona - Snake Dance Doll dates to the mid-20th century and is in very good condition. He unfortunately is not carrying a snake which would define him as a Snake Dancer nor a feather which would signify him as a Snake Priest. Dolls of this size and style were routinely sold at curio stores throughout the Southwest.
References:
- The Moki Snake Dance by Walter Hough, Ph.D. Original material published by the Passenger Department Santa Fe Route, 1898. This edition published by Avanyu Publishing, 1992
- Hopi Snake Ceremonies by Jesse Walter Fewkes, from the Bureau of American Ethnology Annual Reports Nos. 16 and 19 for the years 1894-98 and 1897-98. This edition published by Avanyu Publishing, 1986
Carver Unknown
---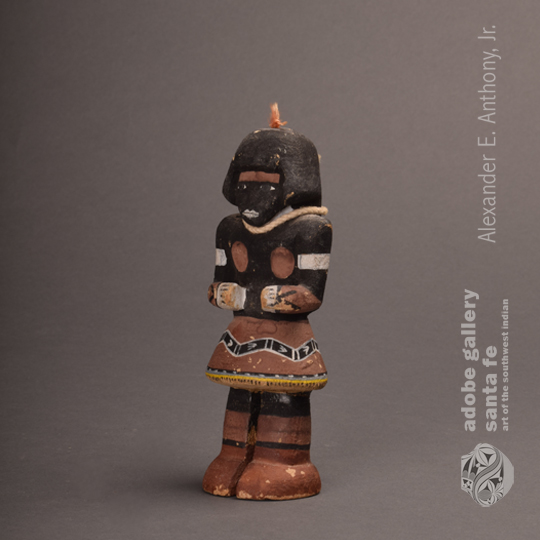 Click on image to view larger.
---
Adobe Gallery Recommended Reading