---
Hopi Tall Polychrome Cylindrical Jar [SOLD]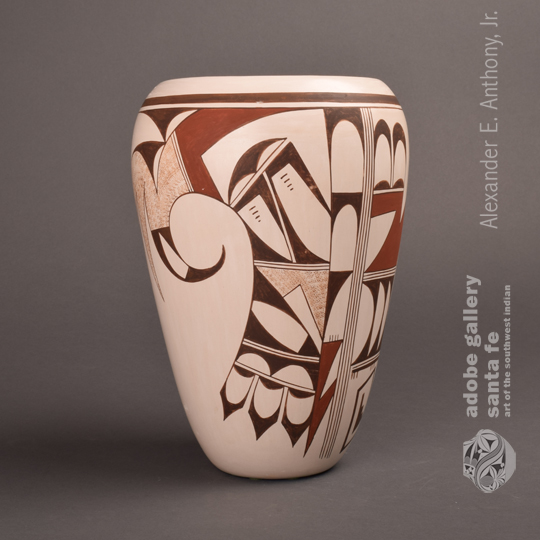 + Add to my watchlist Forward to Friend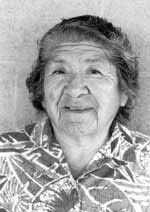 There are two different explanations for the popularity of the cylinder shape of Hopi jars. The first explanation is that it is an Ancestral Puebloan shape originating at Chaco Canyon. Liquid chromatography and mass spectrometry testing of jar fragments confirmed the presence of theobromine, a biomarker for cacao. It is suggested that Hopi potters came across remnants of cylinder jars while searching their ancestral lands and reintroduced them in the early 20th century.
The second explanation is that the shape was encouraged by traders who recognized it as similar to cylinder vases made popular during the American Arts and Crafts Movement of the late 1800s and early 1900s. Companies like Rookwood were producing the shape and it was very popular. Always trying to find items to market to the Southwest traveler, the traders encouraged Hopi potters to produce a shape and form that would be attractive to the tourist. Regardless of the origin, whether it was Ancestral Puebloans or Arts and Crafts enthusiasts, the cylinder vase shape has become a distinctive style of Hopi pottery.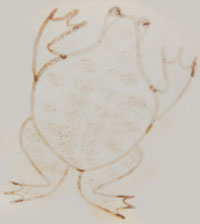 Joy Navasie (1919 - 2012) second Frog Woman - Yellow Flower was one of the finest Hopi-Tewa potters and her skill in crafting this vase is evident. The precise symmetry of the jar is enhanced by the beautiful design elements. The vase is separated into halves with the elements on opposite sides mirroring each other. The painting was applied with an expert hand. The subtle combination of rust red and brown on a fine creamy white slip is striking. This is a piece that illustrates just why Frog Woman was recognized as one of the finest Hopi-Tewa potters of the 20th century.
Each design is comprised of two parts which are separated by five parallel vertical lines. To the left of the design is a stylized parrot inspired by the Hopi prehistoric Sikyatki pottery. To the right of the lines is a stacked design of four sections, the lower one being a hooked element, above which are three geometric elements. The design is repeated on the opposite side.
Condition: this Hopi Tall Polychrome Cylindrical Jar is in very good condition with minor abrasions to the painted surface.
Provenance: from a resident of Iowa, whose mother collected this and other pueblo pottery, who has inherited her mother's estate and is not comfortable having breakable art around her operating ranch.
Recommended Reading: Fourteen Families in Pueblo Pottery by Rick Dillingham
Joy Navasie, Frog Woman, Hopi Pueblo Potter
---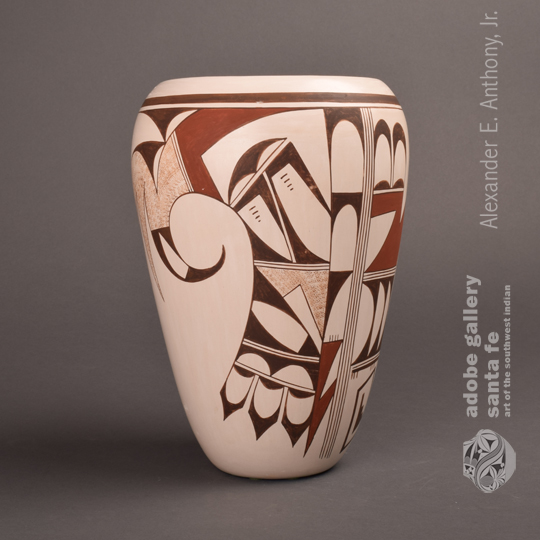 Click on image to view larger.
---
Adobe Gallery Recommended Reading