---
Ohkay Owingeh Pueblo Red-on-tan Small Historic Pottery Jar [R]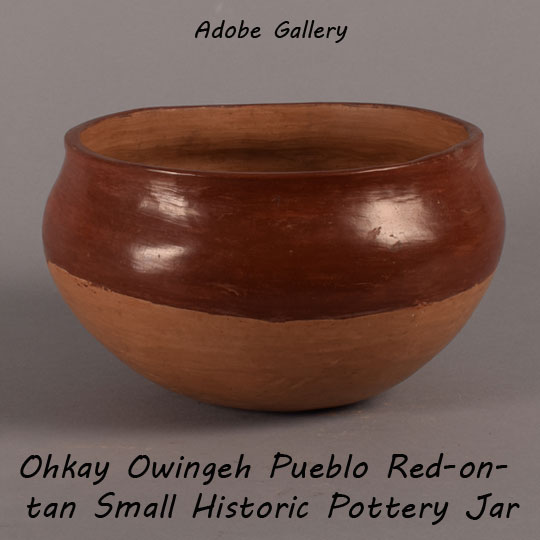 + Add to my watchlist

Forward to Friend
This unsigned jar comes from Ohkay Owingeh Pueblo (Place of the Strong People). Formerly known as San Juan Pueblo, it is located just north of Española, New Mexico. The pottery style produced at Ohkay Owingeh changed considerably around 1935, when the Red-on-tan style seen here, and the Black-on-gray style were mostly abandoned in favor of more elaborate carved styles. This happened, as one might expect, because the evolving market preferred more complex designs.
While change and innovation are good things, we at Adobe Gallery have a strong appreciation for Ohkay Owingeh's historic wares, so we're always pleased to spend time with a traditional piece.

This small jar is a fine example of the traditional Red-on-tan style. Its scale is a bit smaller than that which we usually see, and its shape is typical for a piece in this style. With an unadorned piece like this, it's the vessel's form and deep, appealing colors that draw the viewer in. For those who appreciate the elegance of traditional Ohkay Owingeh wares, there is much to admire in this modestly sized jar.
A notation on the underside of the jar is typical of museum acquisition information. On a white-out painted bar is the notation San Juan 1959 written in ink. This is normally the date of acquisition, not a reference to a date when the item was made. We believe this jar to be from circa 1930.
The traditional Red-on-tan pottery style existed at San Juan Pueblo (now Ohkay Owingeh Pueblo) for centuries before being abandoned in favor of a more commercial style. The deep red slip was purchased by the potters from Spanish-Americans of Abiquiu, New Mexico.
Witnessing the popularity of pottery from other Tewa-speaking pueblos, potters at San Juan (now Ohkay Owingeh) Pueblo undertook a revival of pottery to sell to tourists and collectors and share in the monetary rewards in evidence at their neighboring pueblos. To accomplish this, Regina Cata, in 1930, organized a pottery study group to determine a means of reviving pottery production. Eight potters studied ancient potsherds of wares made in northern Rio Grande pueblos in earlier times and selected Potsuwi'i Incised Ware (1450-1500) as a basis for a contemporary pottery type. This style was ancestral pottery of Tewa-speaking pueblos, of which San Juan belongs, so they were selecting a style ancestral to their village. This new style was eagerly accepted by collectors and has remained the style representing the pueblo for the last 90 years. The nineteenth century style of Red-on-tan is still eagerly sought by collectors as representative of the pueblo's pottery of the period.
---
Condition: good condition with some slip abrasions on one side
Provenance: this Ohkay Owingeh Pueblo Red-on-tan Small Historic Pottery Jar is from a private Santa Fe collection
Recommended Reading: Pueblo Pottery of the New Mexico Indians: Ever Constant, Ever Changing by Betty Toulouse
TAGS: Southwest Indian Pottery, San Juan Pueblo, Historic Pottery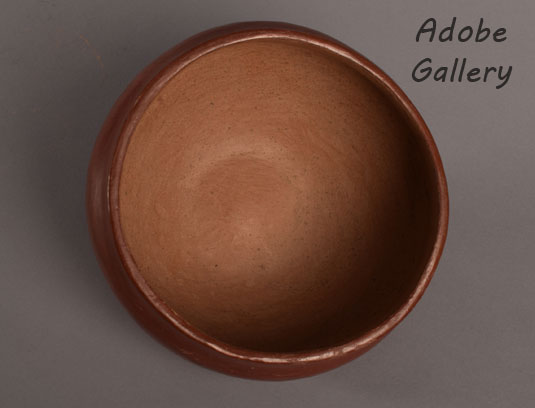 Potter Once Known
---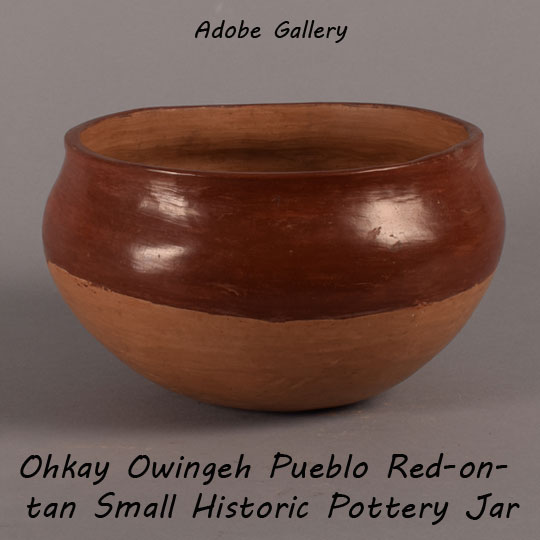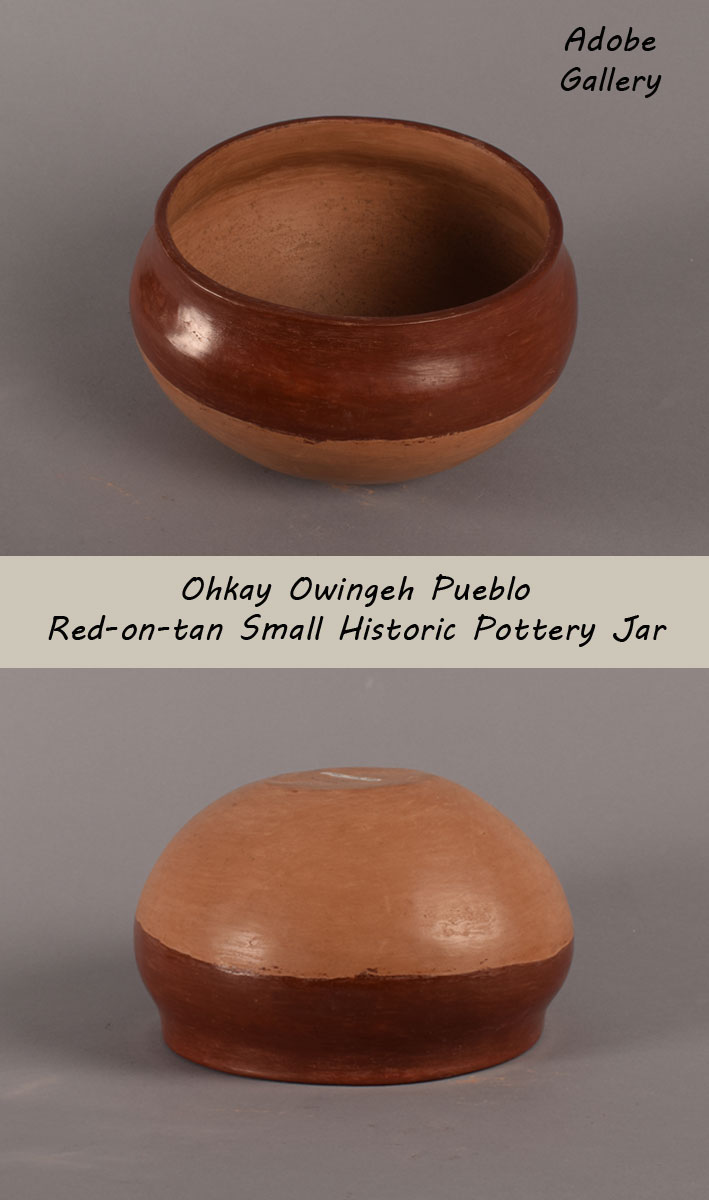 Click on image to view larger.
---
Adobe Gallery Recommended Reading

Pueblo Pottery of the New Mexico Indians: Ever Constant, Ever Changing
by Betty Toulouse


Historic Pueblo Indian Pottery – Painted Jars and Bowls of the Period 1600-1900 [SOLD]
by Francis H. Harlow, et al.

Adobe Gallery Recommended Items
---
If you are interested in this item, we would also like to recommend these other related items: