---
Original Earth Mineral Painting "Palhikmana Katsina" by Pablita Velarde [SOLD]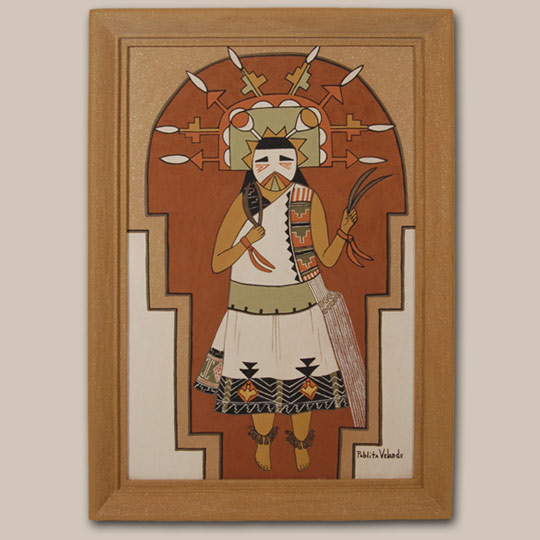 + Add to my watchlist Forward to Friend
Pablita Velarde (1918-2006) Tse Tsan - Golden Dawn was only three years old when her mother died. It was not long after that that she and her baby sister were blinded by a mysterious illness. Their father, an amateur medicine man, used potions to cure them. There remained some sight impairment in Pablita for the remainder of her life, although she regained a large part—enough for her to eventually fulfill her ambition to become a painter.
Pablita attended the Santa Fe Indian School and studied under the tutelage of Dorothy Dunn, art teacher and founder of The Studio at the school. Pablita was an excellent art student and an excellent artist, but she was so shy that she had no intention of pursuing art as a career until she met Tonita Peña who boarded a few nights at the Santa Fe Indian School while she worked on a commission in Santa Fe.
Tonita Peña was the first female Pueblo Indian accepted as an artist by the male-dominated field at the time. Meeting Tonita was the impetus Pablita needed to convince her that she too could become an artist and pursue painting as a career.
Although Pablita worked with tempera, watercolor, and casein, she is best known for her earth mineral paintings, which are somewhat similar to sand paintings but much finer. To prepare her materials for earth paintings, she first would collect and grind stones into natural pigments. After grinding and regrinding them on her metate with her mano, she would sift the pigments into jars for storage.
Pablita would draw her designs on Masonite panels that were treated with a coat of pumice. She then used her ground-up minerals as paint to fill in the areas she had drawn. To mix her paints, she combined the pigment with water and glue, and then painted with paintbrushes. She would paint each color up to seven layers to gain the consistency she desired. She then would outline the images, once again as many as seven or so times, to insure they were strong black.
This painting is an image of the Palhikmana Katsina as she would appear at a ceremonial dance. The image is signed in lower right, but not dated. It is circa 1950s and is in original excellent condition. It is framed in the original frame.
Provenance: From the estate of Fred & Margaret Chase, Enchanted Mesa Indian Arts, Albuquerque, NM, who were the exclusive representatives of the art of Pablita Velarde, her sister Legoria, and Helen Hardin.
Pablita Velarde, Santa Clara Pueblo Painter
Category: Paintings
Medium: Earth Mineral Pigments
Size: 23" x 15" image;
27" x 19" framed
Item # 25265

SOLD
---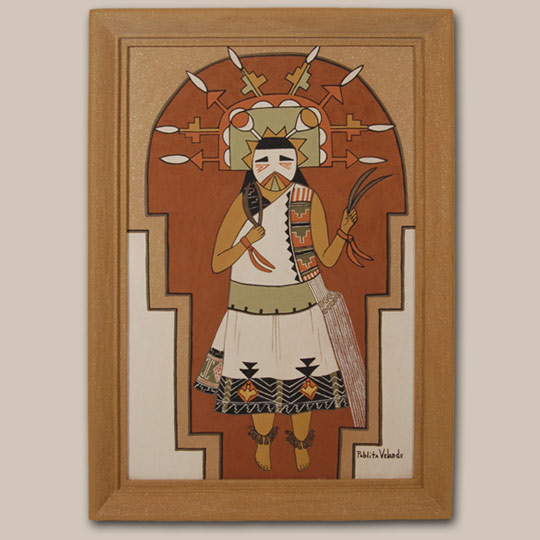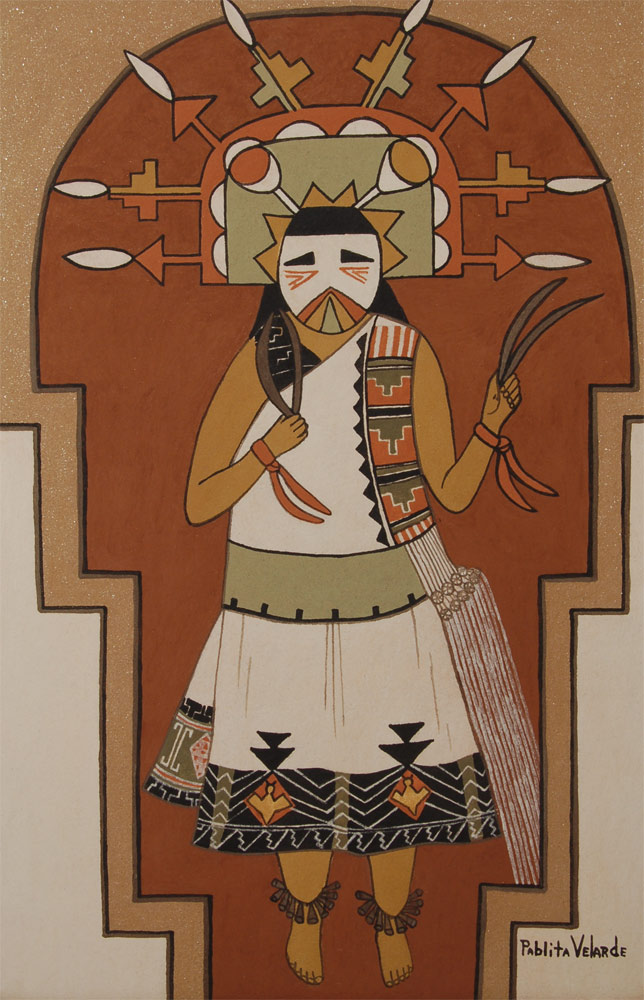 Click on image to view larger.
---
Adobe Gallery Recommended Reading

Pablita Velarde - Painting Her People [Hardcover] [SOLD]
by Marcella Ruch, et al.