---
Original Painting of Dance Scene by Hopi Artist Harry Sakyesva [SOLD]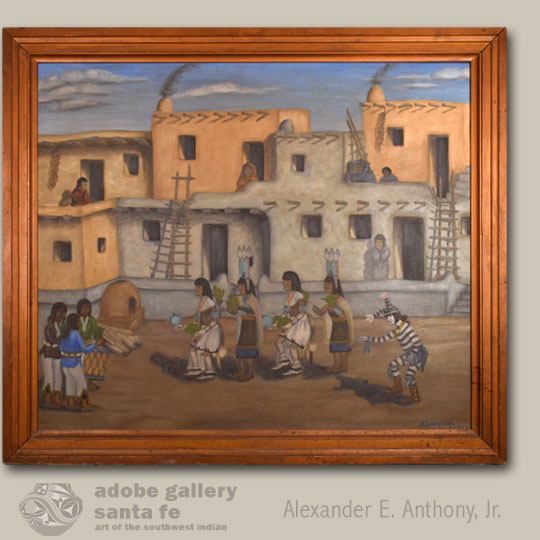 + Add to my watchlist Forward to Friend
This massive Hopi Pueblo painting by Hopi artist Harry Sakyesva is unlike anything we've handled before. One will immediately notice, when viewing this piece, that it bears little stylistic resemblance to other early Hopi paintings. Visions and Voices, a 1996 book published by the Philbrook Museum of Art, includes a Sakyesva painting that is much more traditional in style. It is a depiction of Corn Maiden, dated 1945. The book notes that Sakyesva studied at Hopi High School in New Oraibi, Arizona. Most interestingly, it also notes that he did not study under the tutelage of Fred Kabotie, the legendary Hopi artist who taught the majority of the published and collected Hopi painters.
While the piece included in Visions and Voices is most definitely traditional Hopi, our featured piece suggests that Sakyesva had other interests and influences. The subject matter—a pueblo dance scene—is decidedly traditional, but the manner in which it is executed is most atypical. Most notably unique to this image is the three-dimensional perspective. Sakyesva's primary dance group is pictured in profile, in a line of four. Three drummers and a clown are positioned closer to the viewer, facing various directions. Each figure casts a gray shadow onto the ground. Behind the dancers is an elaborate two-storied pueblo village. Ladders rest on the edges of the first floor's roof, and ristras hang from supporting beams. Five spectators are scattered around the pueblo.

The dancers are impressively detailed, though not in the fine-lines-and-careful-coloring manner that other early Hopi artists used. Sakyesva applies simple strokes of strong color to represent items with which the viewer is likely already familiar—two blue spots within a silver circle make a turquoise bracelet, a series of horizontal stripes makes the embroidered end of a dancer's skirt, a thick black block with a touch of gray makes the doorway into a pueblo home. As mentioned above, the painting bears little resemblance with early Hopi paintings. It has more of a folk art feel than a traditional pueblo feel. It is enormously charming and beautiful. Perhaps most significantly, it is rare and unique. We are pleased to offer this Harry Sakyesva painting to our collectors.


The painting is signed "H. Sakyesva (Hopi)" in lower right. It was completed on a masonite board, but not on the side that would usually be painted. Sakyesva painted this image on the rough back side rather than the smooth side, an effect that highlights the adobe texture of the buildings.
Harry Sakyesva (1921 - 1969) was a Hopi artist who was born in Hotevilla, a Hopi village on Third Mesa, Arizona. Sakyesva translates to "People From the Green Valley." Very little information about Sakyesva is available. Basic biographical details are provided in Jeanne Snodgrass' American Indian Painters: A Biographical Directory. Snodgrass describes Sakyesva as being "known not only as a painter, but also as a maker of Kachina dolls and as a silversmith." She also notes that he received no formal art training. Sakyesva exhibited at the Museum of New Mexico, Philbrook Art Center, and the Guadalupe Gallery in Albuquerque, New Mexico. Pat Messier and Kim Messier's Reassessing Hallmarks of Native Southwest Jewelry provides more detailed information about Sakyesva's life—most notably, the year of his death and the fact that he was primarily known not as a painter but as a siloversmith. Sakyesva passed away in Scottsdale on Oct. 22, 1969.

Condition: The painting was offered to us in poor condition after having been hung above a fireplace for years. It has been extensively cleaned by a professional restoration artist, and is now in good condition. The effects of the smoke are still visible but no longer problematic. There are two scratches in the surface of the painting.
Provenance: this Original Painting of Dance Scene by Hopi Artist Harry Sakyesva is from a private New Mexico collection
Recommended Reading: Visions and Voices, 1996 Philbrook Museum of Art. A copy of the book is included with the purchase of the painting.
Reassessing Hallmarks of Native Southwest Jewelry, Pat Messier and Kim Messier.
Relative Links: Native American Fine Art, Hopi Pueblo, Native American Paintings, Fred Kabotie, American Indian Painters: A Biographical Directory, Harry Sakyesva
Harry Sakyesva, Hopi Pueblo Painter
Category: Paintings
Medium: Acrylic on masonite board
Size:
34-3/4" x 40-1/2" image;
40-½" x 46-1/2" framed
Item # 26150

SOLD
---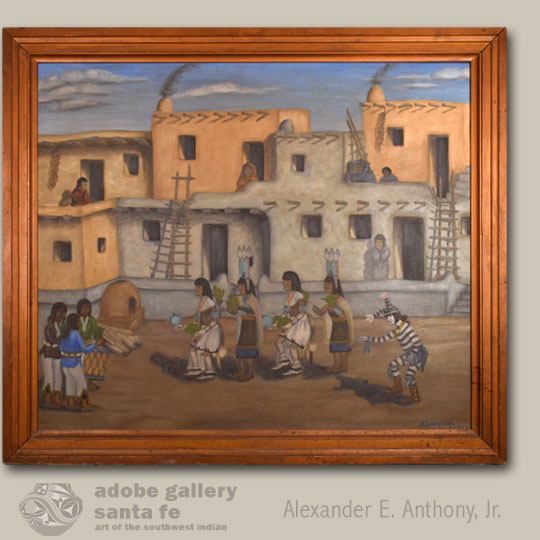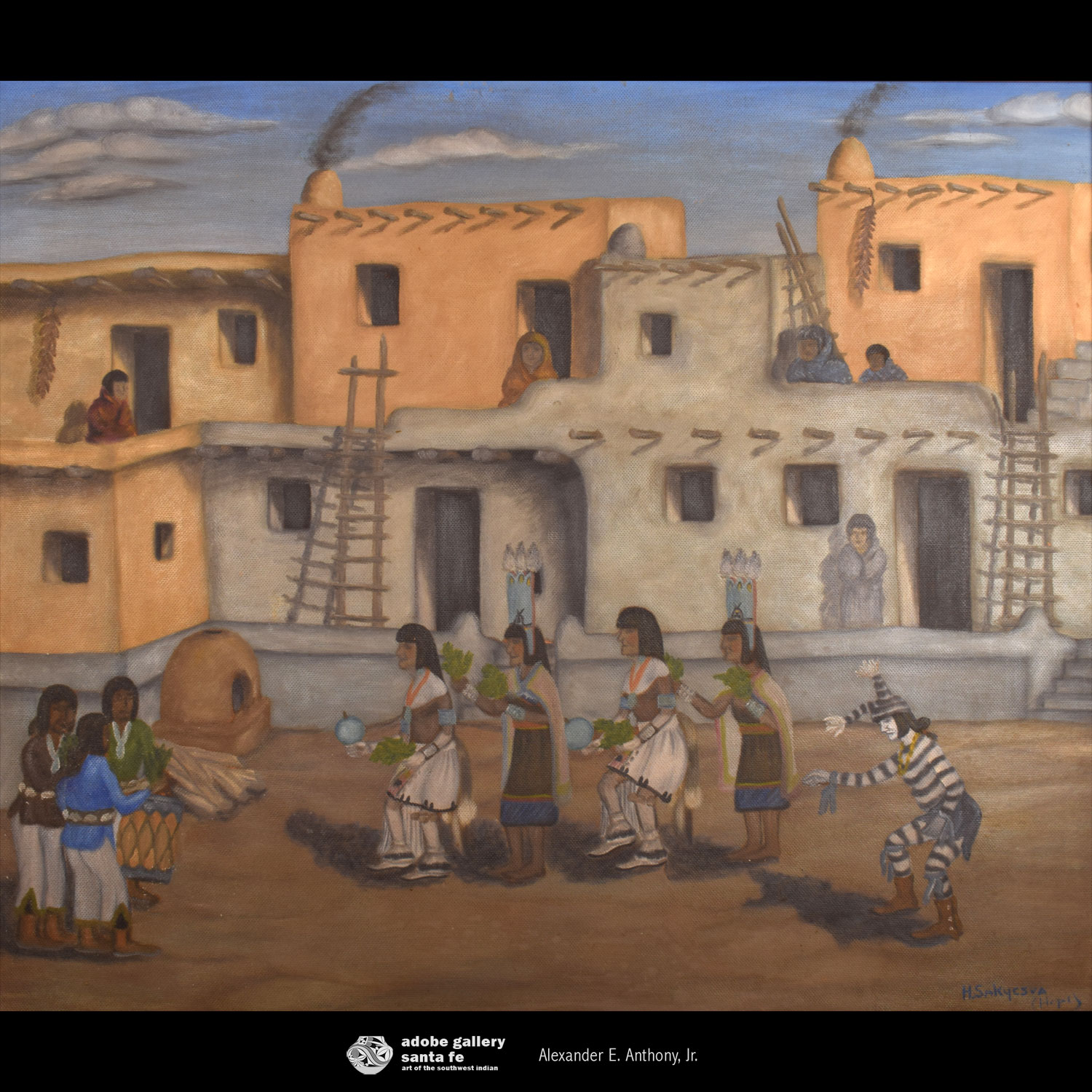 Click on image to view larger.
---
Adobe Gallery Recommended Reading

Visions and Voices: Native American Painting from the Philbrook Museum of Art [SOLD]
by Suzanne Abel-Vidor, et al

Adobe Gallery Recommended Items
---
If you are interested in this item, we would also like to recommend these other related items: