---
Santo Domingo Pueblo Aguilar Style Wide Mouth Pottery Jar by Monica Silva [SOLD]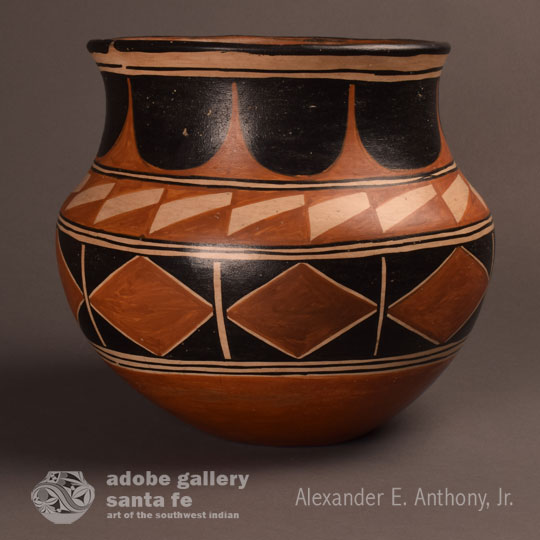 + Add to my watchlist Forward to Friend
This polychrome pottery jar by artist Monica Silva of Santo Domingo, was painted in the black and orange on cream slip style created around 1910 by Felipita Aguilar Garcia and Asunción Aguilar Caté, sisters from Santo Domingo Pueblo. It is believed that Monica Silva made this one in the 1940s.
When Monica Silva (c.1900 - c.1980) chose to make a vessel like those created by the Aguilar sisters, she was probably doing so in honor of their earlier works and not in the sense she was capitalizing on their works. Pueblo potters generally do not copy styles of other potters so we must assume this was meant as an honor and not a compromise.
Robert Tenorio of Santo Domingo also made some jars with designs like those of the Aguilar sisters in the 2000s and it is to be assumed that he was also doing so to honor them and not to capitalize on their works.
The jar is not signed with the name of the potter but it is attributed to Monica Silva because the vessel shape is like those known to have been made by her and she is the only potter known to have painted pottery in the Aguilar style at the time.
Members of the Indian Arts Fund encouraged museum director Kenneth Chapman around 1930 to reintroduce old designs to potters in an attempt to revive interest in the declining pottery market. "In his 1933 field note folder Chapman filed a sheet of paper with fourteen designs, each labeled with a woman's name. A note in one corner reads, 'Record of drawings left by O. S. Halseth with Santo Domingo potters.'" Batkin 1987:100. Halseth was a student assigned to the School of American Research for three years of museum training. It is quite possible that Monica Silva was the recipient of a design of the Aguilar sisters.
Monica Silva is recognized as one of the best of the early 20th century potters at Santo Domingo Pueblo. She was active in the 1920s to 1940s. She was actually born around 1900 and raised at Santa Clara Pueblo and lived there until she married Santiago Lovato of Santo Domingo and moved to his pueblo. She taught and popularized blackware pottery at Santo Domingo and learned to make traditional Santo Domingo pottery. She remained at Santo Domingo for the remainder of her life.
Condition: this Santo Domingo Pueblo Aguilar Style Wide Mouth Pottery Jar by Monica Silva is in very good condition. Examination under UV light does not reveal any damage or repairs.
Provenance: previously from the Budagher collection, a Lebanese-American family who had a trading post across the highway from Santo Domingo Pueblo until the Interstate Highway was built and affected their business. Presently from the collection of a client from Albuquerque to whom we sold it in 1989.
Recommended Reading: Pottery of the Pueblos of New Mexico 1700-1940 by Jonathan Batkin
Relative Links: Santo Domingo Pueblo, Santa Clara Pueblo, Pueblo Pottery, Monica Silva, Robert Tenario
Monica Silva, Santo Domingo Pueblo Potter
---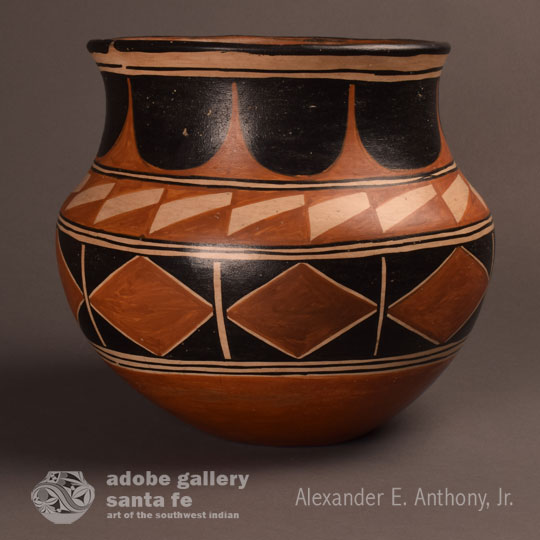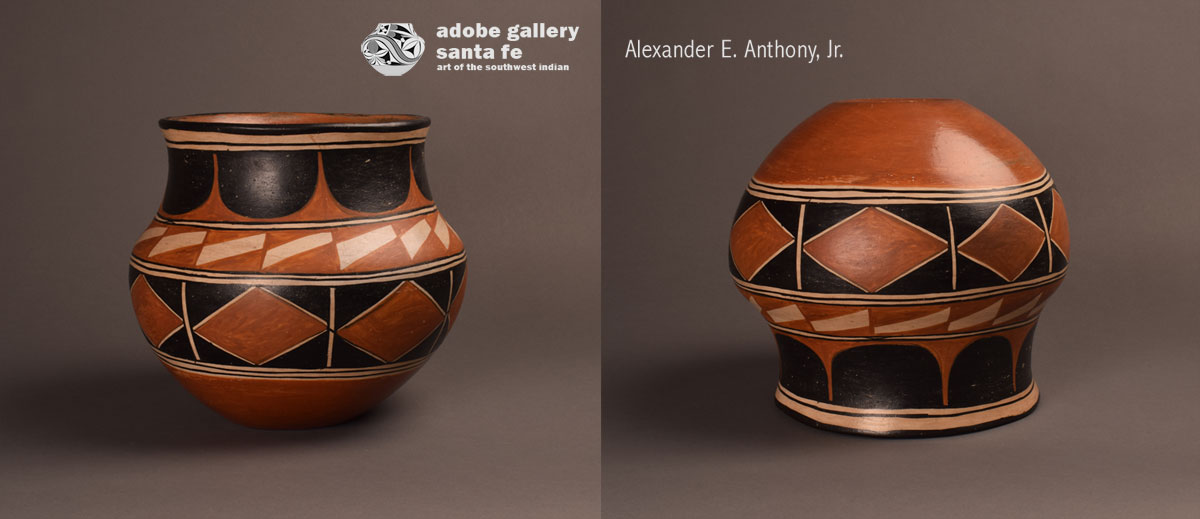 Click on image to view larger.
---
Adobe Gallery Recommended Reading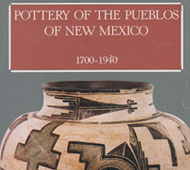 Pottery of the Pueblos of New Mexico 1700-1940 [SOLD]
by Jonathan Batkin


THE POTTERY OF SANTO DOMINGO PUEBLO: A Detailed Study of its Decoration [SOLD]
by Kenneth Milton Chapman (1875-1968)

Adobe Gallery Recommended Items
---
If you are interested in this item, we would also like to recommend these other related items: