---
Very Large Teec Nos Pos Navajo Rug [SOLD]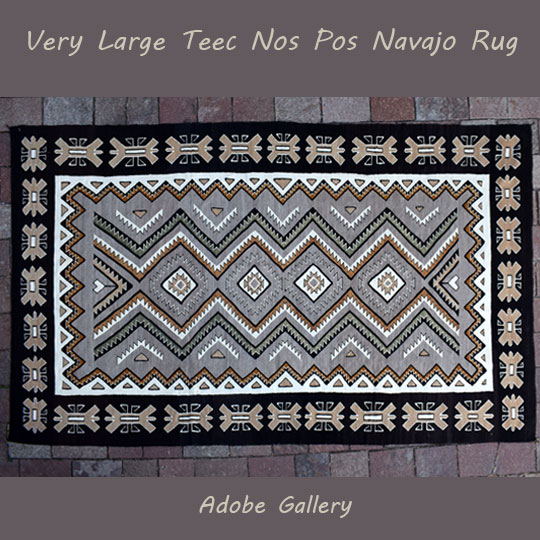 + Add to my watchlist Forward to Friend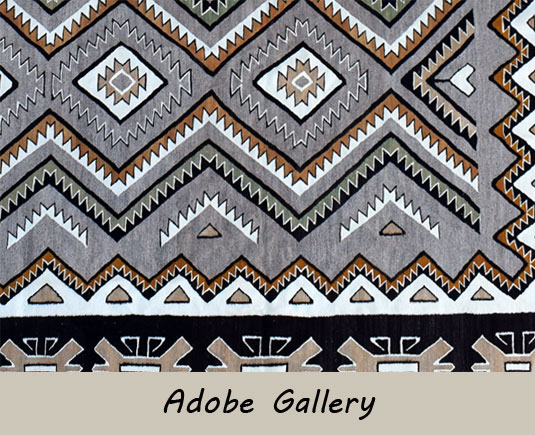 This magnificent rug, woven by an unidentified Diné of the Navajo Nation, features aspects of rugs from the Teec Nos Pos and the Red Mesa areas of the Navajo Nation. Rugs from Teec Nos Pos are known for displaying the most intricate detailed patterns of all rugs from the reservation. Aspects of Persian rugs of the Middle East are evident in these rugs of Northern New Mexico.
This rug is bordered by a black band measuring 12 inches wide and incorporating "water bug" features throughout. The interior design of the rug has a gray background field on which is a design of serrated, zig-zag elements in which pattern colors are outlined with contrasting colors. This outlining is generally associated with rugs from Red Mesa but is traditional to Teec as well.
The colors selected by the weaver for this rug are soft shades of brown and a beautiful subtle green. Black and white were incorporated as well.
The designs for rugs from Teec Nos Pos were brought to the reservation by outsiders and influenced by the traders. Rugs were made to be sold, not used by the Diné, so the weavers followed instructions from the trader as to what to make. Pictures of Persian rugs were copied and given to the weavers to use as suggested patterns. The women adapted beautifully to these new design patterns.
Indian trader Bill Foutz, who operated a trading post at Shiprock, New Mexico, stated that the weavers were protective about their border designs and would be unhappy if some other weaver or some other family would use her border. This border was hers and nobody else was supposed to use it. Bill Foutz' dad, Russell Foutz, was noted for identifying the family of a rug by the border. Unfortunately, we do not have him here to identify the maker of this one.
To quote from a book on Teec Nos Pos rugs published by Adobe Gallery in 1994 [Belikove, 1994:8] "The serrated, zig-zag design in which every color is outlined with a contrasting color and done in a vertical format was developed before 1905 and has not changed. [Tyrone] Campbell, in his essay, points out that these designs are remarkably similar to the early New England flame stitch, and are identified with neighboring Red Mesa Trading Post. [Ann] Hedlund states that these are 'clearly derived from 19th century Germantown eyedazzler blankets.' [Andrew] Nagen thinks that the design elements of the two styles derive their basis from nature: lightning, mesa-like structures, cloud patterns and arrangements of geographic landmarks."
This is an extraordinary rug from Teec Nos Pos with colors that blend with today's decor. Many Teec Nos Pos rugs and those from Red Mesa, are filled with bright colors, but this rug has very muted and soft colors. This rug dates to circa 1940s.
---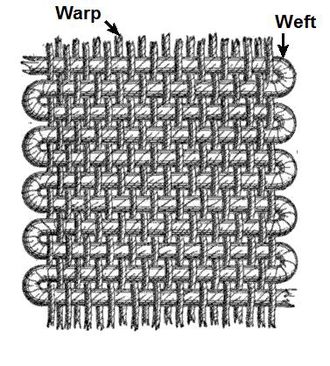 Warp and Weft: In weaving, the weft (sometimes woof) is the term for the thread or yarn which is drawn through, inserted over-and-under, the lengthwise warp yarns that are held in tension on a frame or loom to create cloth. Warp is the lengthwise or longitudinal thread in a roll, while weft is the transverse thread. A single thread of the weft, crossing the warp, is called a pick. Terms do vary (for instance, in North America, the weft is sometimes referred to as the fill or the filling yarn). Each individual warp thread in a fabric is called a warp end or end. The weft is a thread or yarn usually made of spun fibre. The original fibres used were wool, flax or cotton. Today, man-made fibres are often used in weaving. Because the weft does not have to be stretched on a loom in the way that the warp is, it can generally be less strong. The weft is threaded through the warp using a "shuttle", air jets or "rapier grippers." Hand looms were the original weaver's tool, with the shuttle being threaded through alternately raised warps by hand. A useful way of remembering which is warp and which is weft is: 'one of them goes from weft to wight'. -Wikipedia
---
Condition: excellent condition, having just been professionally washed.
Provenance: this Very Large Teec Nos Pos Navajo Rug is from a client from Arizona
Reference: Belikove, Ruth K. The Rugs of Teec Nos Pos Jewels of The Navajo Loom Adobe Gallery, 1994.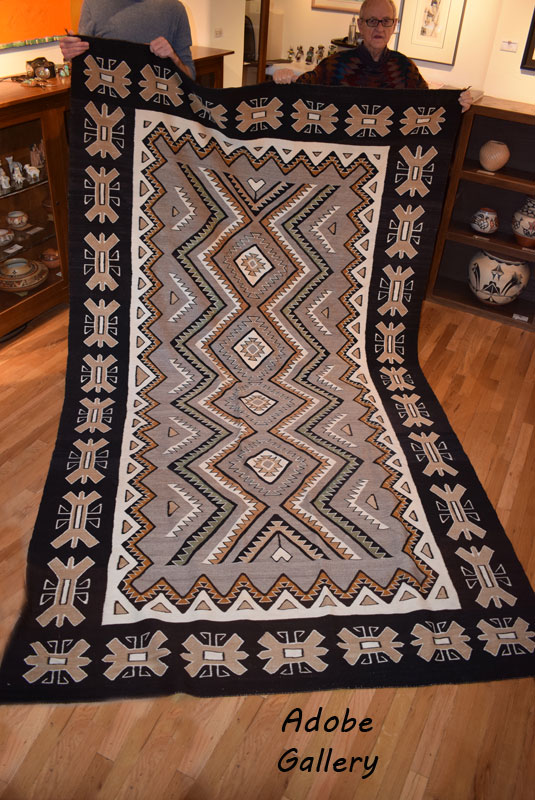 Weaver Unknown
Category: Navajo Textiles
Origin: Diné of the Navajo Nation
Medium: wool, dyes
Size:
10 feet, 6 inches x 6 feet, 2 inches
Item # C4572

SOLD
---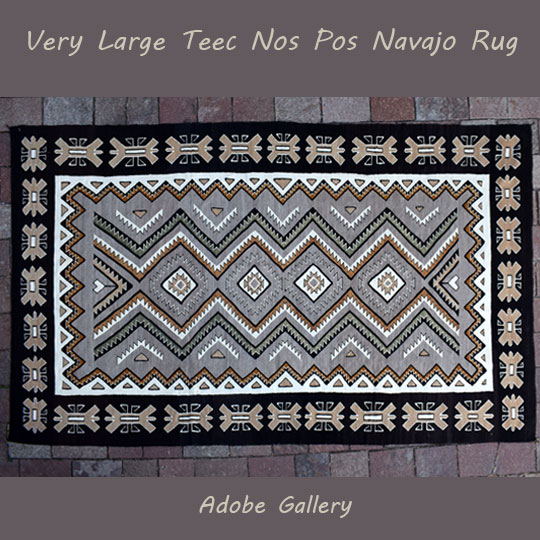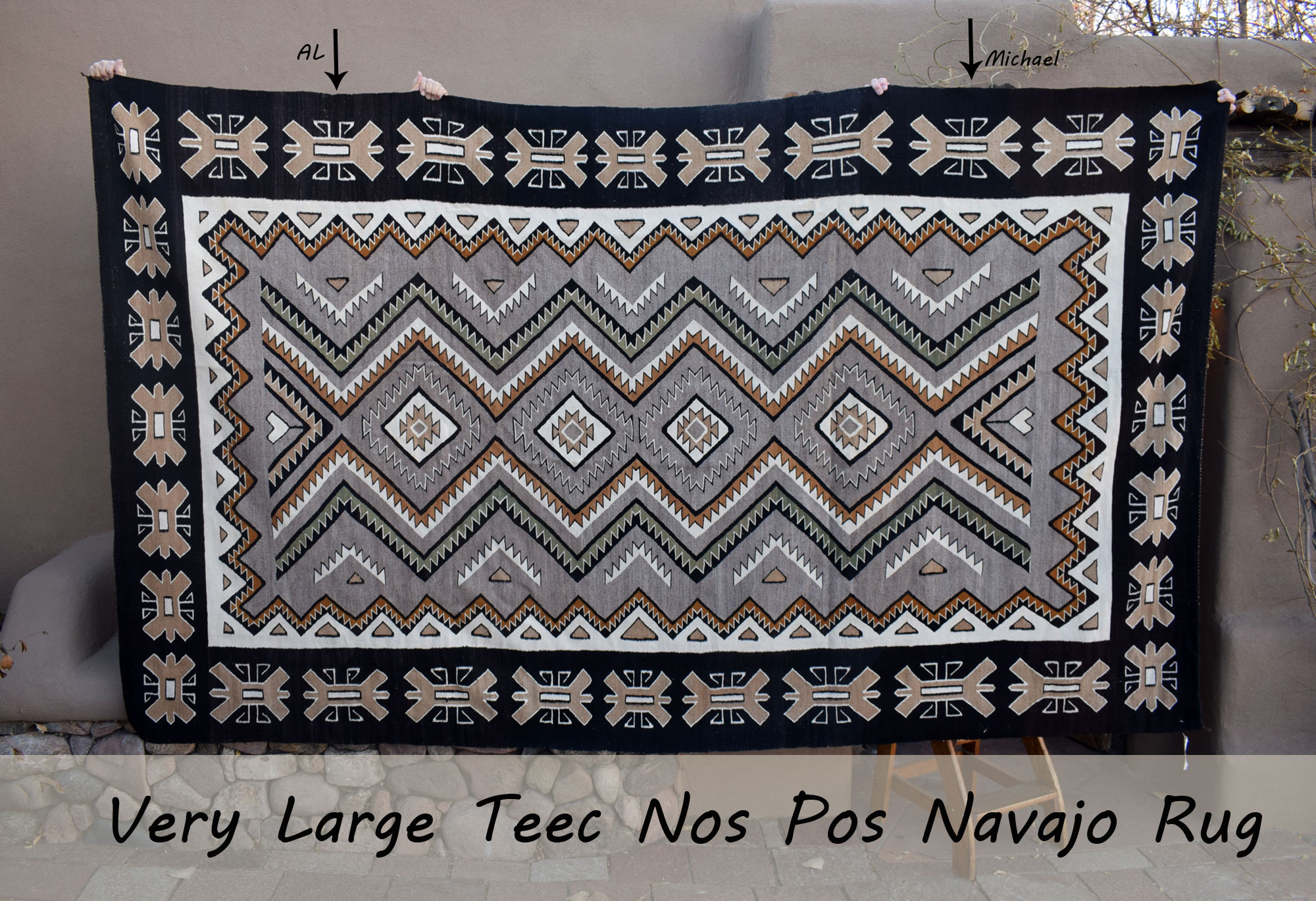 Click on image to view larger.
---
Adobe Gallery Recommended Reading
Adobe Gallery Recommended Items
---
If you are interested in this item, we would also like to recommend these other related items: