---
Tufa Cast Silver Bracelet by Charles Loloma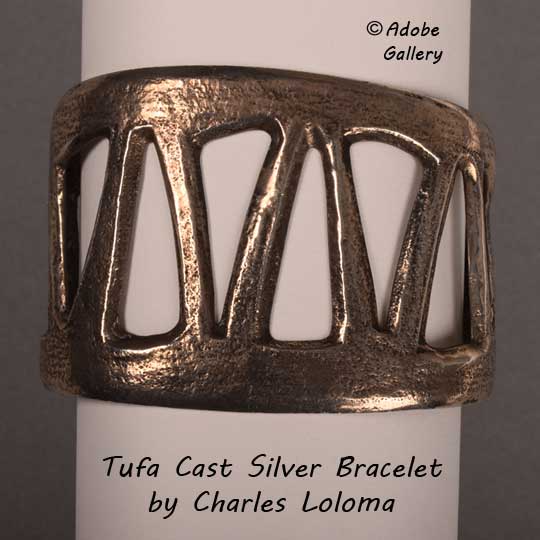 + Add to my watchlist

Forward to Friend
This Tufa cast bracelet was made by influential Hopi artist Charles Loloma. The process that resulted in this beautiful bracelet begins with a piece of tufa, a porous variety of rock, being cut into two pieces. The two halves are sanded together to create a perfectly smooth surface. The artist carves the desired design into one side, along with a conical hole at the top, through which the chosen material will be poured. Additional holes are carved to allow air to escape.
Then, the two stone halves are bound together and carbonized, using a torch or a similarly strong heat source. The material—silver, in this case—is poured into the conical hole. Later, it is removed from the tufa mold and treated or modified using whatever methods the artist sees fit. The stone's desirable texture is impressed into whatever is cast in the mold. It can be sanded down, but it is often left intact, as its look appeals to many.
This particular bracelet is, by Loloma's standards, a simple and unembellished piece of jewelry. By putting aside the complex methods and wide variety of materials used for his more elaborate works, he allowed himself to focus on creating an elegant composition and executing it with precision and style. Long, thin triangular forms are the primary design elements, appearing in alternating directions across the wide cuff. The Tufa stone's texture appears on the inside and outside of the bracelet, adding depth and interest in a subtle but noticeable manner. This is a beautiful, elegant bracelet; the fact that it was made by one of the most significant Native artists of the twentieth century makes it even more appealing.

The inside of the bracelet is signed Loloma.
Hopi Pueblo jeweler, painter, and potter, Charles Sequevya Loloma (1921-1991), was one of the most famous and influential Native artists of the twentieth century. His mother was a basket maker and his father a weaver, so he was exposed to Hopi artistic traditions at a young age. His elementary school teachers took notice of the natural skill with which he drew and painted. Later, while attending the Hopi Indian School, he was presented with greater opportunities by Hopi painter Fred Kabotie, who ran the school's successful and well-equipped art program.
Under the tutelage of Kabotie, Loloma studied painting, printmaking, leatherwork, and weaving. After transferring to the Phoenix Indian High School for his junior and senior years, he was presented with even greater opportunities. He was invited to travel to San Francisco and then New York to participate in major exhibitions of Native art. Loloma, who came from humble beginnings, was excited by these early successes and continued painting after high school. Martha Hopkins Struever's Loloma sums up how the artist's early experiences as a painter contributed to his later success as a jeweler: "(His) teenage experiences helped him develop a sensitivity to the use of color that later expressed itself in his choice and arrangement of stones in jewelry."
Loloma married Otellie Pasivaya in 1941 and joined the U.S. Army in 1942. His artistic sensibilities and aforementioned "sensitivity to...color" most likely led him to his initial military role: camouflage instructor. Later, he was involved in construction, supervising, and instructing workers during the creation of roads and bridges. Sergeant Loloma was honorably discharged in 1946, and promptly returned to his calling: creating artwork steeped in Hopi tradition. He and Otellie tackled pottery making, spending two years studying ceramics at the School for American Craftsmen in New York. After completing their studies, they returned to the Hopi reservation.
Loloma's pottery was unlike that of his traditionalist neighbors, who did not approve of his decidedly modern and experimental efforts. It was, however, desirable to collectors. He enjoyed several successful exhibitions of his works in clay. He eventually left the Hopi reservation in favor of Tucson, where he was presented with greater opportunities for success and creative freedom. He continued making pottery but began to expend more time and energy on the creation of jewelry, which would become his true passion.
Loloma was a gifted and wildly creative jeweler with a voracious appetite for knowledge and experimentation. He studied and experimented with a variety of forms and techniques, beginning with tufa casting and Hopi overlay before developing and mastering the colorful multi-stone inlay style for which he is best known today. His success as a jeweler made his previous endeavors appear quite modest. He traveled the world, exhibited in Paris, taught at the Institute of American Indian Arts, and was featured in print and on television alongside the era's other groundbreaking Native artists. Loloma passed away in 1991, after a long and successful career making works in a variety of media. Today, he is regarded as one of the best and most influential jewelers of the twentieth century. His works continue to increase in value, visibility, and collectability.
---
Condition: excellent condition
Provenance: this Tufa Cast Silver Bracelet by Charles Loloma is from a private New Mexico collection
Reference and Recommended Reading: Loloma-Beauty is His Name, by Martha Hopkins Struever, 2005
TAGS: Hopi Pueblo, jewelry, pottery, Otellie, Charles Loloma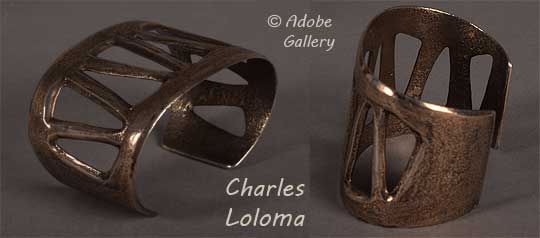 Charles Loloma, Hopi Pueblo Artist
Category: Bracelets
Origin: Hopi Pueblo, Hopituh Shi-nu-mu
Medium: silver
Size: 5-⅝" end-to-end;
1-⅜" opening; 2" width;
Wrist Size 7
Item # C4687A
Price:

$9000
---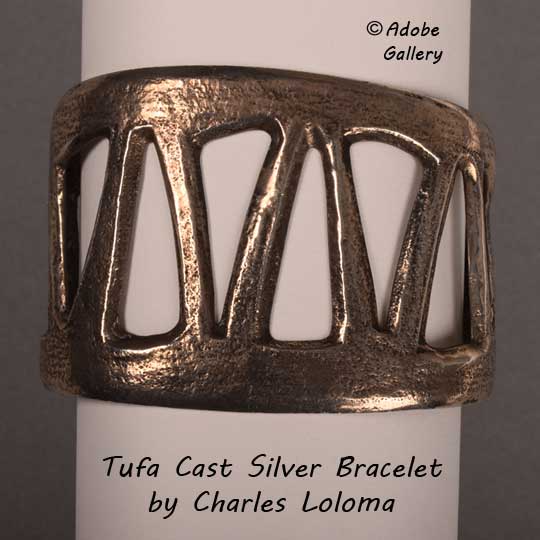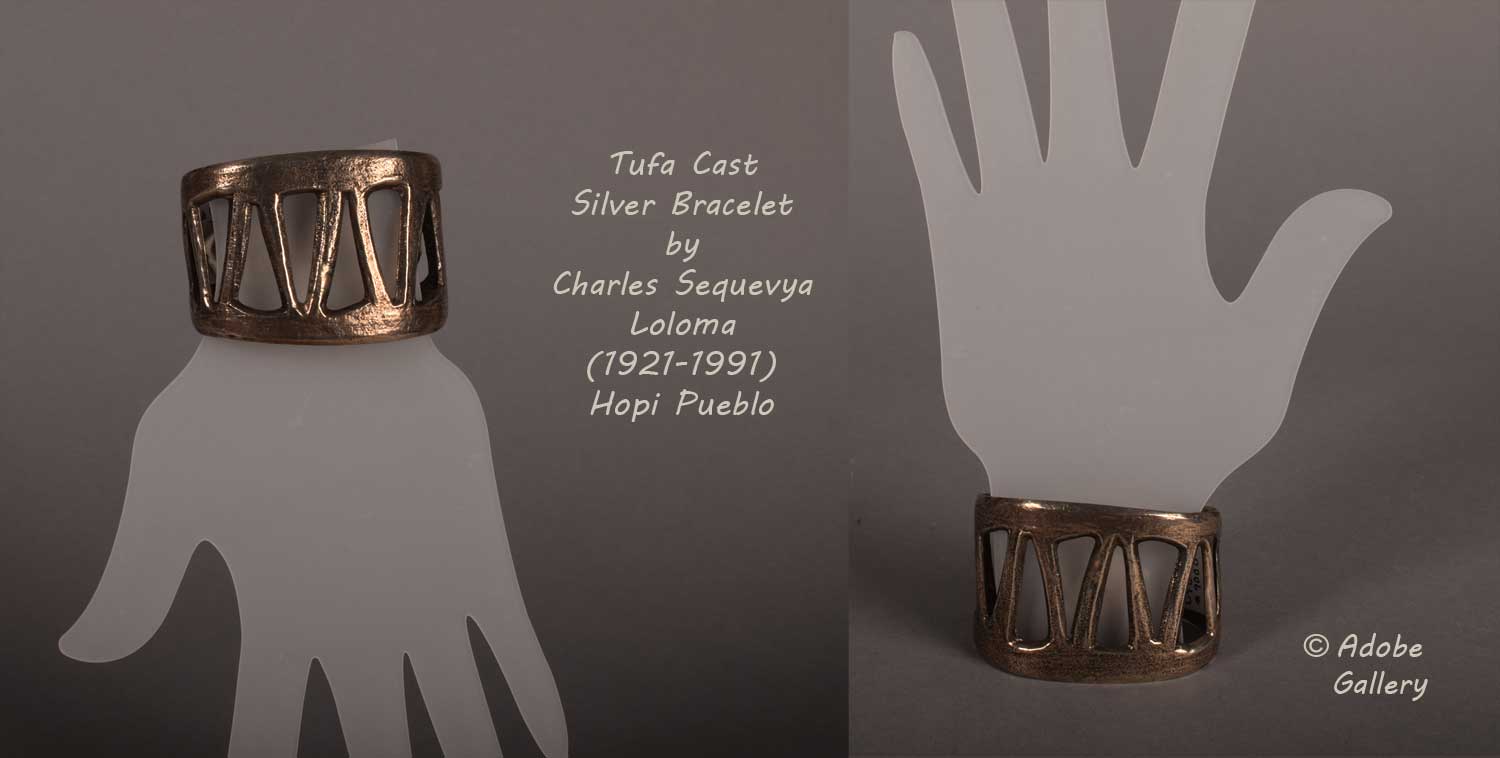 Click on image to view larger.
---
Adobe Gallery Recommended Reading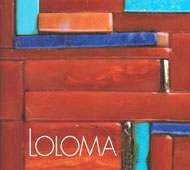 Loloma—Beauty is His Name [SOLD]
by Martha Struever, American Indian Art Dealer and Author