---
Zuni Pueblo Shalako and Koyemsi Katsina Doll Pair by Homer Sowtey [SOLD]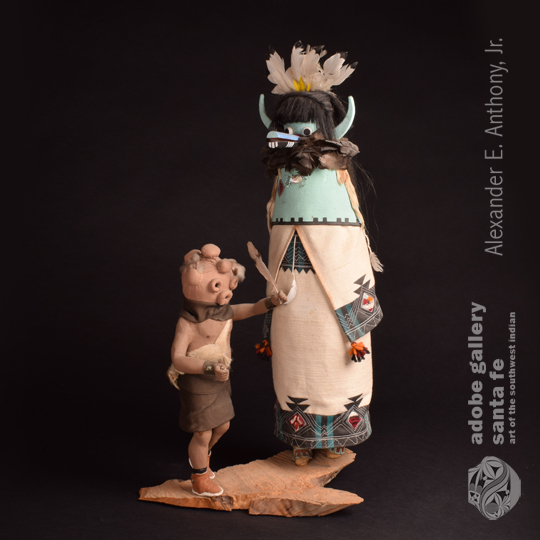 + Add to my watchlist Forward to Friend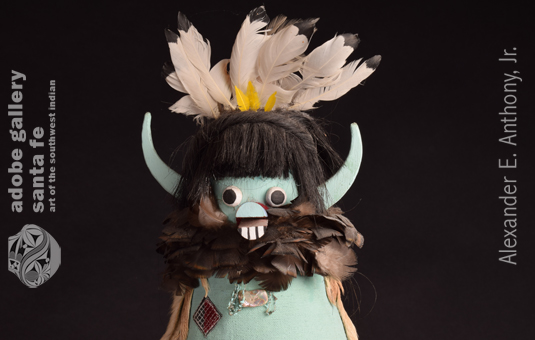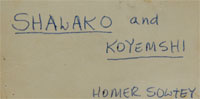 Shalako, a reenactment of the creation and migration of the Zuni people to "Heptina," the "Middle Place," has persisted through the centuries. The religious activities are controlled by "caciques" of the six kivas, representing the four directions and up and down, which constitute the dance groups, and each kiva is associated with a direction, a color, and certain fetishes.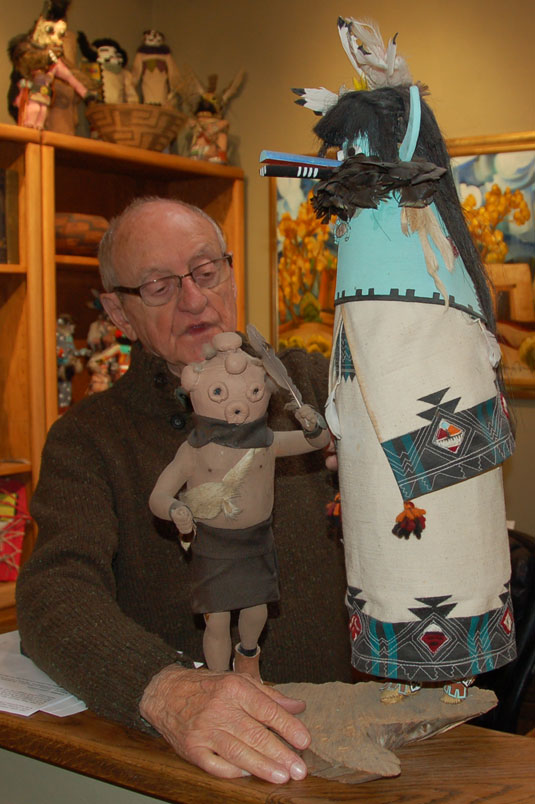 Each of the six kivas has a Shalako god representative. Each Shalako has two impersonators, the understudy and the "older brother." The spectacular figures stand approximately ten feet tall, the mask and costume being carried on a pole by an attendant inside the embroidered garments that are draped around hoops.
The sequence of events on Shalako Day is as follows: In mid-afternoon, the Shulawitsi and the Saiyatash Katsinas arrive and there are ceremonies at the six sacred locations in the village after which these katsinas retreat to the Saiyatasha house. In late afternoon, the Shalako come down from Greasy Hill, stop for ceremonies at Heptina (Middle Place) and depart there at sundown, cross the river on a footpath and place their masks on the north bank of the river. After dark, the Shalakos are escorted to their houses which are to be blessed. Chanting is followed by feasting. Similar ceremonies take place in the Saiyatasha and Koyemshi houses. After midnight, there is dancing at all the Shalako houses until sunrise. In the late morning, the Shalakos are escorted across the river. By noon or early afternoon, the Shalako race down the river and then depart.
This version of the Shalako Katsina is a very good representation of the real Shalako. The hand-made clothing is well above average. What appears to be white linen clothing is embellished with elaborately overlaid painted fabric within which are embroidered designs representing Sun faces, Ojo de Dios, rain clouds and other symbols. A necklace of shell and turquoise beads hangs from the neck as do two fox fur pendants. A beautiful ruff of feathers surrounds the neck, and hair and feathers cover the head and hang down as hair behind the mask. The accompanying Mudhead is traditional in presentation with the knotted mask, black bandana around the neck, and a seed bag over his shoulder.
Condition: this Zuni Pueblo Shalako and Koyemsi Katsina Doll Pair by Homer Sowtey is in very good condition
Provenance: from the estate of Tom Mittler, a former resident of Michigan and Santa Fe who purchased it from Dewey Galleries in Santa Fe in 1986
Source and Recommended Reading:
- The Shalakos are Coming by Clara Gonzales. El Palacio, Vol.73, No.3, 1966.
Relative Links: Zuni Pueblo, Katsina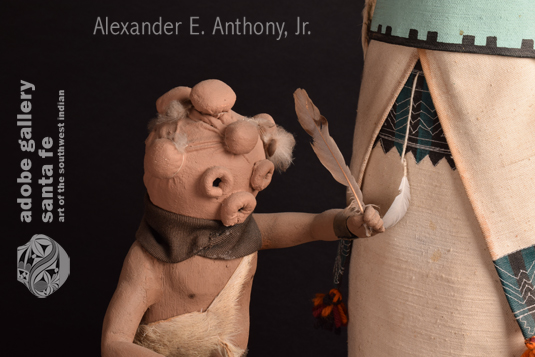 Homer Sowtey, Zuni Pueblo Carver
Category: Traditional
Origin: Zuni Pueblo, SHE-WE-NA
Medium: wood, fabric, feathers, paint, shell, hair
Size:
25" Tall;
14" x 9" Pedestal Area
Item # C3383ZT

SOLD
---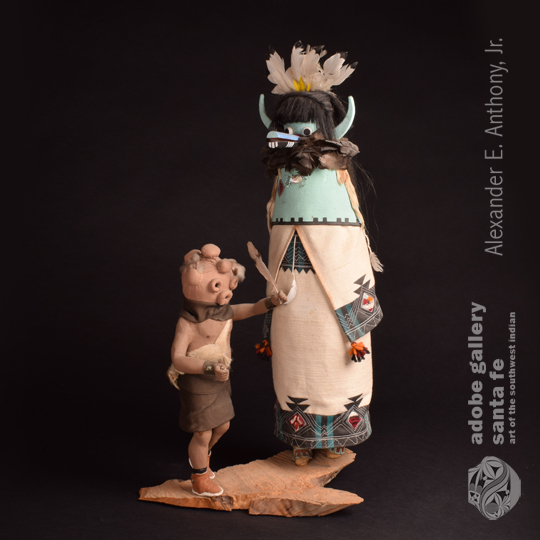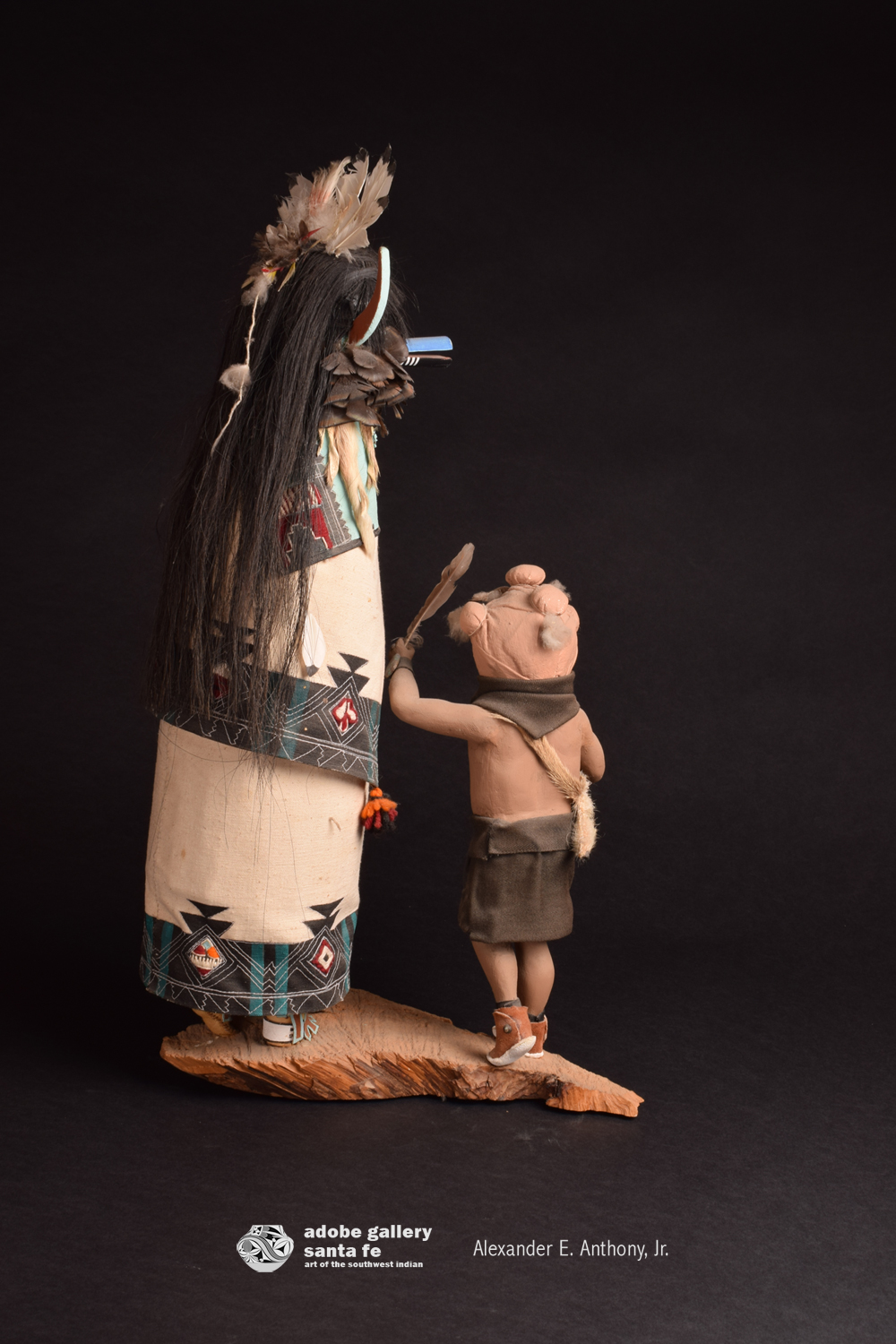 Click on image to view larger.
---
Adobe Gallery Recommended Reading