Gerónima Cruz Montoya, Ohkay Owingeh Pueblo Artist
---
+ Add Artist to My Preferences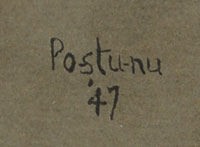 Artist Gerónima Cruz Montoya was from Ohkay Owingeh Pueblo and attended the Santa Fe Indian School, the University of New Mexico, Claremont College, and the University of Albuquerque, and studied under Dorothy Dunn, Alfredo Martinez, Jean Ames, and Kenneth Chapman, so it is no surprise that she became an educator herself.
Before this, Gerónima Cruz Montoya (1915 - 2015) P'otsúnú - White Shell began assisting Dorothy Dunn at the Santa Fe Indian School in 1937, because she had previously been a student of Dunn's and continued to set high standards for her students just as Dunn had. She encouraged her students to paint subjects from their homes and cultures. Montoya's influence on early Indian painters was significant. She was dedicated to her students and their work. Under her tutelage, many of her students went on to become famous.
"This highly respected teacher has devoted the major portion of her career instructing others. Only recently did she fine the necessary time for her own painting." (Snodgrass 1968).
According to the artist, "My style of painting is very simple. My subjects are mainly traditional dances, home scenes, and designs. My inspiration also comes from Mimbres figures, pictographs, and petroglyphs. I continually experiment with new forms and styles." (Shutes and Mellick 1979).
Because teaching was her first priority, Montoya did not paint often. When she did, she preferred to paint with earth colors and paint traditional pueblo motifs. Gerónima exhibited at the Santa Fe Indian Market along with her sons Robert Montoya and Paul Montoya.
---
Gerónima Cruz Montoya (1915 – 2015) P'otsúnú – White Shell
Ohkay Owingeh (formerly San Juan Pueblo)
Updated (by Al Anthony):
The famed artist, educator and cultural leader, Gerónima Cruz Montoya, known to many as P'otsúnú, passed away on January 2, 2015 at the age of 99. She had attended the Santa Fe Indian School, graduating as valedictorian in 1935, where she had studied art under the tutelage of Dorothy Dunn. Following graduation, she was hired as Dunn's assistant, then succeeded Dunn as head of the art program at The Studio of the Santa Fe Indian School, from 1937 to 1961.
Four years ago, when the gallery exhibited paintings by most of the early students of the Indian School, a friend brought P'otsúnú to the gallery to see the exhibit. As she stood in front of each painting, she exclaimed about the artist as a student and made statements about each. Of one artist, she said, "I had to run him out of class every day because he just wanted to work." Of another, she mused about how mischievous he was. She obviously remembered each student intimately and enjoyed reminiscing about those early days and early students and her memories of them were sharp and amazing. It was a pleasure to see her enjoy our exhibit and was an honor to have met her and known her for even a short couple of hours. The art world has truly lost a Living Treasure, an award bestowed on her in 2004 by the City of Santa Fe.
Relative Links: Native American Painting, Ohkay Owingeh Pueblo – San Juan Pueblo, Robert Montoya, Paul Montoya