Helen Hardin, Santa Clara Pueblo Painter
---
+ Add Artist to My Preferences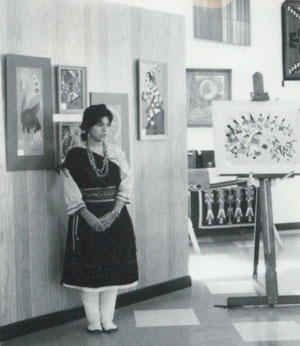 Helen Hardin of Santa Clara Pueblo was one of the most fascinating, complex, and engaging figures in the American Indian art world. Hardin was born in 1943 to Santa Clara Pueblo painter Pablita Velarde and Caucasian civil servant Herbert Hardin. Inspired by her mother, she began creating and selling paintings as a teenager. She went in a different direction than her mother and her mother's peers, creating more contemporary work that depicted Native American symbols with striking geometrical patterns.

Hardin's distinctive and compelling style became more fully realized in the 1970s, with a series of paintings of Katsina figures. These and her later works are immensely complex works of art that have been displayed in museums around the world. Her personal explorations led her into the deeply affecting works of the very well-known "Woman" Series. Much of her work is concerned with the intellectual and physical struggle of her very existence—the struggle of woman versus man, patron versus artist, Indian versus Anglo, tradition versus progression. Her art is complex and beautiful, at once forward-thinking and rooted in ancient tradition.
Helen Hardin (1943-1984) Tsa-Sah-Wee-Eh - Little Standing Spruce was a truly intriguing woman and one of the preeminent American Indian painters of the twentieth century. She died of cancer in 1984, leaving behind her an astounding body of work for her many admirers to enjoy.
Photo of Helen Hardin (1943-1984) Tsa-Sah-Wee-Eh - Little Standing Spruce. Image Source: the photo copies (of original polaroid's) of Helen Hardin appear courtesy of the photographer.
TAGS: Santa Clara Pueblo, Pablita Velarde, Native American Prints, Native American Paintings