James Kootshongsie (1916–1996) Jimmie Koots
---
+ Add Artist to My Preferences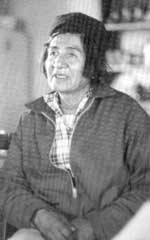 Jimmie Kootshongsie, Hopi Pueblo carver, is best known by everyone as Jimmie Koots. He was born at the Third Mesa village of Hotevilla during the period of World War I. At a very young age, he and many other Hopi children were removed from their homes and taken to government schools where they were to be stripped of their Hopi beliefs and heritage and assimilated into the White man's culture. Koots survived the five long years at the Bureau of Indian Affairs School and then returned to his native village.
At age 22, Koots was again taken away from his native village and sent off to the Pacific to fight in World War II. Following this war, he once again returned to the village of Hotevilla. It was then that he discovered that the big oil companies and the government were colluding to remove the Hopi from their reservation because of the wealth of mineral resources—coal, gas, oil and Uranium. He became an activist against strip mining and the big corporations. The Hopi retained their reservation.
Koots was among a group of Hopi who revived the ancient art of traditional Hopi Katsina carvings. He was immensely popular in the 1960s and 1970s as a katsina doll carver. His dolls were mostly sold in Santa Fe at a downtown shop called Rare Things by Dutton, a business that is now closed but was very active in the 1960s-1980s. His carvings, although not signed, are so distinctive in appearance that they can be easily identified as his work.
Jimmie Kootshongsie photo courtesy of Gregory Schaaf.
Photo reference: Hopi Katsina: 1,600 Artist Biographies by Gregory and Angie Schaaf.
** If you discover credit omissions or have additional information to add, please let us know at Marketing@adobegallery.com