Rachel Namingha Nampeyo, Hopi-Tewa Potter
---
+ Add Artist to My Preferences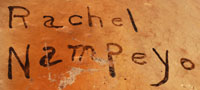 Rachel Namingha Nampeyo used designs on her pottery associated with those used by Nampeyo. The entire Nampeyo family is associated with the revived Sikyatki pottery designs recreated by Nampeyo.
Rachel Namingha Nampeyo (1903-1985), Hopi/Tewa, was the daughter of Annie Healing and the granddaughter of Nampeyo of Hano. She was the mother of Priscilla and Dextra and their siblings. It is well known that Nampeyo had severe vision problems and lost her sight in the mid-1920s. Her daughter Annie and Annie's daughter, Rachel, also suffered vision loss as they aged. Rachel's eyesight began to dim in the 1970s and was severely limited by the mid-1970s.
It is interesting to note that as Nampeyo's sight began to fail, her daughter Annie painted for her mom. As Annie's sight began to fail, her daughter Rachel painter for her, then as Rachel's sight failed, her daughter Dextra painted for her. Pottery production has always been a family affair, with relatives assisting in the process. Many husbands painted pottery for their wives but received no recognition for doing so.
TAGS: Southwest Indian Pottery, Contemporary Pottery, Hopi Pueblo, Nampeyo of Hano, Annie Healing, Priscilla Nampeyo, Dextra Nampeyo