Reycita Cosen, Santa Clara Pueblo Potter
---
+ Add Artist to My Preferences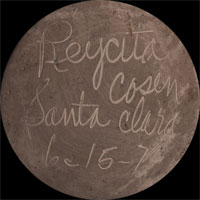 Reycita Cosen (1927-2012) came from a family of Santa Clara Pueblo Potter experts. Her mother Pasqualita Baca was a potter, as was her aunt, Nestora Silva. Cosen's sister Helen Shupla was also a notable Santa Clara Pueblo potter.
Reycita Cosen was a Santa Clara Pueblo potter. Cosen received multiple awards at the annual Santa Fe Indian Market, New Mexico.
According to Southwestern Association of American Indian Art's: Over the past century, the American Indian art world has been significantly shaped and sustained by Santa Fe's Indian market and tourist industry. The market provides income to artists and their families while serving as a vehicle that connects Native and non-Native worlds through the interactions it fosters. Indian Market has evolved out of years of these mutually influential interactions as artists react to collectors' demands and collectors react to artists' works. It is through these interactions that Native artists communicate cultural histories to non-Native visitors. In this respect, Indian Market has served as a forum for shared cultural exchanges.
TAGS: Southwest Indian Pottery, Santa Clara Pueblo, Helen Shupla