Adobe Gallery Staff Favorites, Volume One: Mike Likes
Category:
General
| Posted by |
Tue, Apr 14th 2020, 12:39pm
This week, we're using our blog to highlight the artworks that our staff members love. There are many great artworks here, of course, so we've asked each person to choose their favorite pieces. First up is "Mike Likes..."—four artworks chosen by Michael.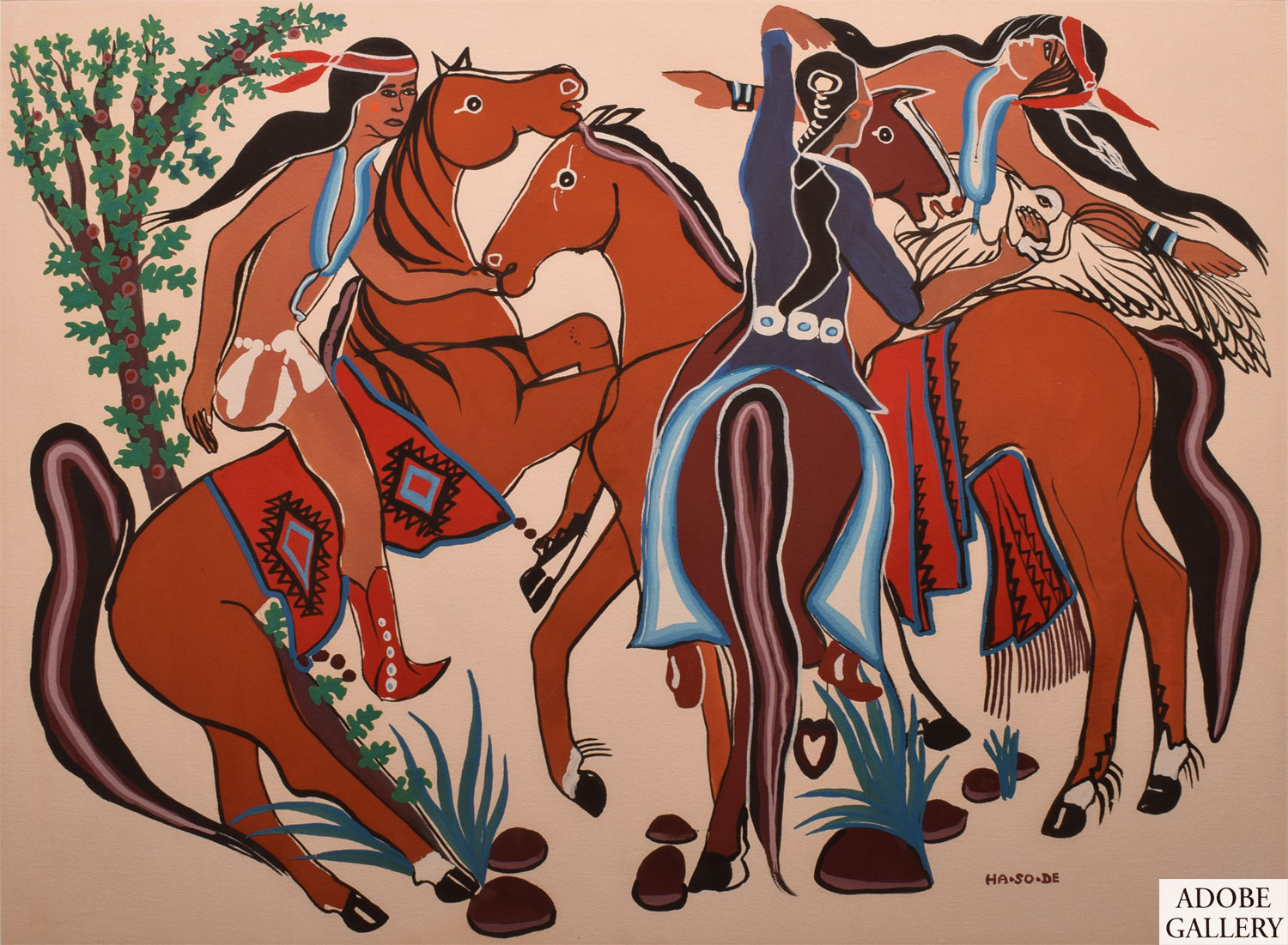 During my time at Adobe Gallery, I've had the pleasure of studying and writing about hundreds of Native paintings. I can say, without question, that my personal favorites are the works of Narciso Abeyta "Ha So De." He was a true individualist who painted Native imagery in a uniquely expressive style. Every one of his paintings feels alive to me. I'm always very excited when a Ha So De painting makes its way to the gallery. I usually hang them near my desk (one of the great perks of the job) and enjoy them as frequently as possible before sending them off to their new owners. Ha So De's paintings often feature mythological imagery and use surreal colors, but this painting of a chicken pull is grounded in the physical world. The colors are naturalistic, and the action is brilliantly executed. I also enjoy being able to talk to Ha So De's talented and successful son when I need information about where, when and why these paintings were created.

Read more about Ha So De's Chicken Pull painting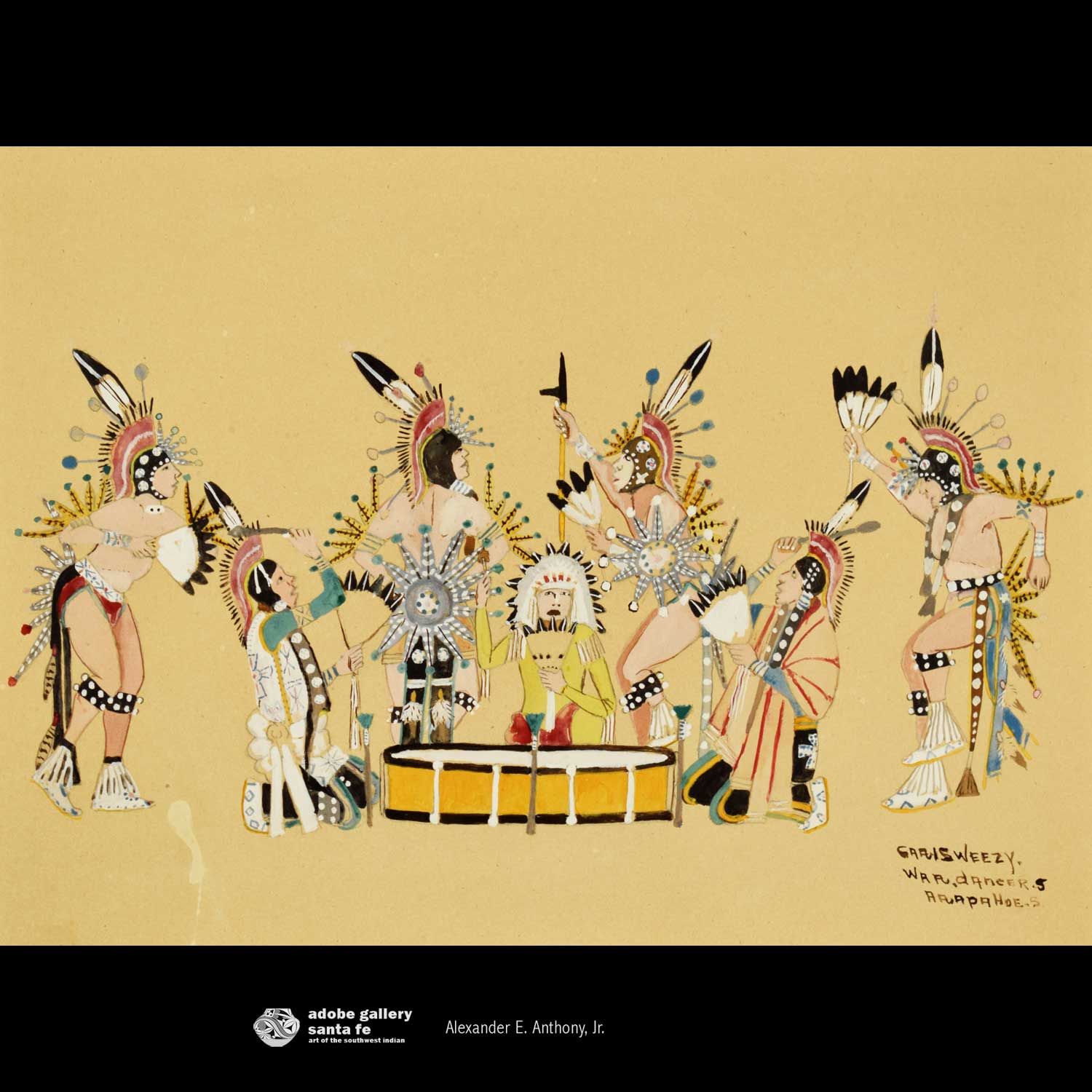 A few years, a client consigned to us a large collection of paintings by early Arapaho artist Carl Sweezy. We deal mostly in Pueblo and Diné art, so it was fun to change it up and learn about an early Plains artist. This painting was my favorite of the collection. All of the color and movement make for an exciting image, and I love the way the figures are arranged around the drum. We like to say that certain pieces have "the magic"—"the magic" being an appeal that is hard to describe using technical terms. This piece most definitely has the magic. I think it is one of the best paintings we have in our inventory right now.

Read more about "War Dancers Arapahoes"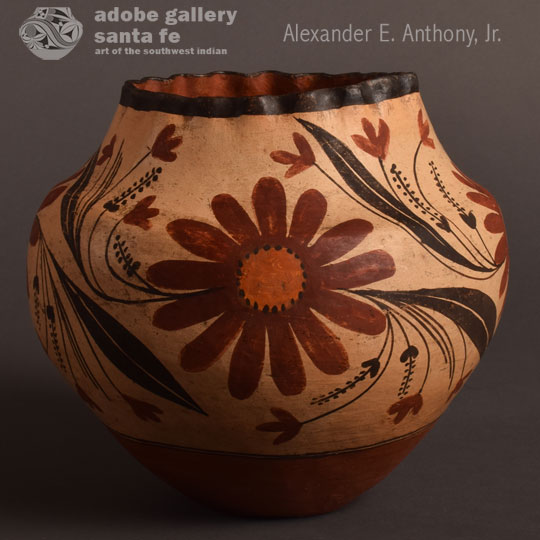 This little Laguna jar is incredibly charming. The colors are gorgeous, and the fluted rim is wonderful. It leans to one side just a bit, which you'll see when you look at the rim from certain angles. This doesn't bother me one bit. I actually really like these imperfections, as they remind me that the pot was made by the hand of a human being. I understand and appreciate that way that many of today's potters achieve near-perfect symmetry in their work, but I love the different sort of perfection acheived by this historic Laguna jar.

Read more about this Historic Laguna Jar






Speaking of near-perfect, here's a wonderful example that comes from a little bit later than the Laguna jar. This jar was made by the great Maria Martinez of San Ildefonso Pueblo. I appreciate the fine designs painted by her family members/collaborators, but I seem to be drawn toward unpainted pieces like this one. It's about as elegant as a piece of clay could be. The polish is perfect, and the shape is beautiful. I think this is a truly special Maria jar with a powerful presence. It has caught my eye repeatedly, and I always enjoy having a look at it.

Read more about this Maria Jar