Hopi Pueblo Polychrome Jar with Katsina Imagery by Fannie Nampeyo - C4051A
Category:
Pottery
| Posted by |
Fri, Apr 20th 2018, 6:36pm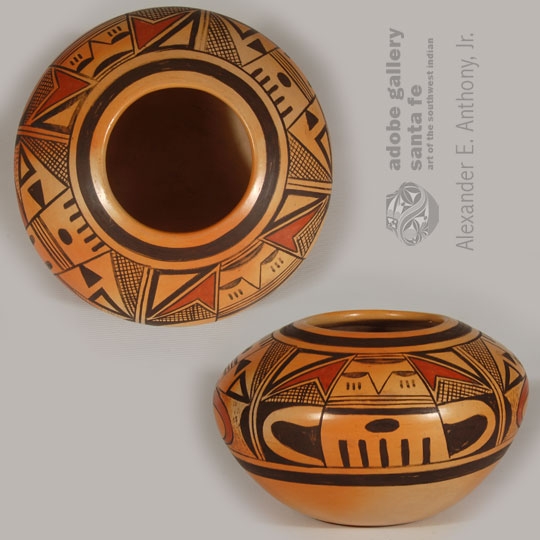 Nampeyo of Hano was probably the first Hopi-Tewa potter to paint Katsina imagery on 20th century pottery. It is not unexpected, then, that her daughter, Fannie, would follow her mom's tradition. Fannie Polacca Nampeyo (1900-1987) was one of three daughters of Nampeyo and Lesou and the last of the three to pass away. It is for this reason that most collectors are familiar with her as she was actively making pottery in the mid- 20th century during the increase in popularity of Native American Pottery by collectors.
The imagery on this jar appears to be the face of a katsina. The five vertical lines at the bottom of the face probably represent a beard like that of the Long Hair Katsina. The parallel lines under the eyes could represent warrior marks. Probably, it is not a specific katsina, but meant to represent the medium.

#adobegallery #SouthwestIndianPottery #HopiPueblo #PuebloPottery #SouthwestIndianArt #SantaFePottery #FinePuebloPottery # FannieNampeyo #VisitCanyonRoad