Hopi Pueblo Tall Polychrome Cylindrical Jar by Joy Navasie - C4052A
Category:
Pottery
| Posted by |
Fri, Apr 20th 2018, 6:22pm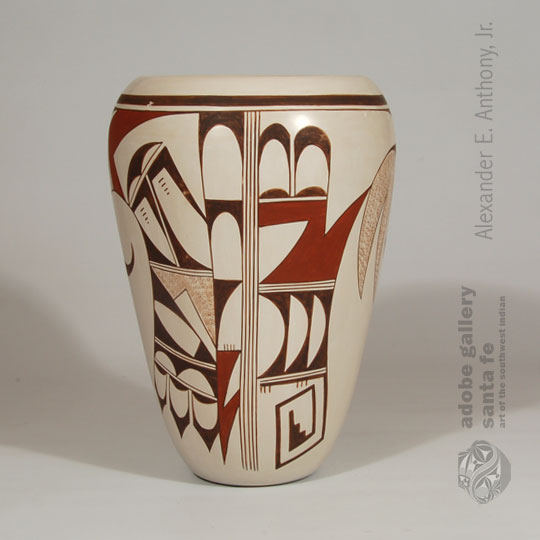 Joy Navasie (1919 - 2012) second Frog Woman - Yellow Flower was one of the finest Hopi-Tewa potters and her skill in crafting this vase is evident. The precise symmetry of the jar is enhanced by the beautiful design elements. The vase is separated into halves with the elements on opposite sides mirroring each other. The painting was applied with an expert hand. The subtle combination of rust red and brown on a fine creamy white slip is striking. This is a piece that illustrates just why Frog Woman was recognized as one of the finest Hopi-Tewa potters of the 20th century.
Each design is comprised of two parts which are separated by five parallel vertical lines. To the left of the design is a stylized parrot inspired by the Hopi prehistoric Sikyatki pottery. To the right of the lines is a stacked design of four sections, the lower one being a hooked element, above which are three geometric elements. The design is repeated on the opposite side.

#adobegallery #SouthwestIndianPottery #HopiPueblo #PuebloPottery #SouthwestIndianArt #SantaFePottery #FinePuebloPottery # JoyNavasie #VisitCanyonRoad