Navajo Painting of a Horse "King of The Wild" by Quincy Tahoma - C4066B
Category:
Paintings
| Posted by |
Thu, May 31st 2018, 3:26pm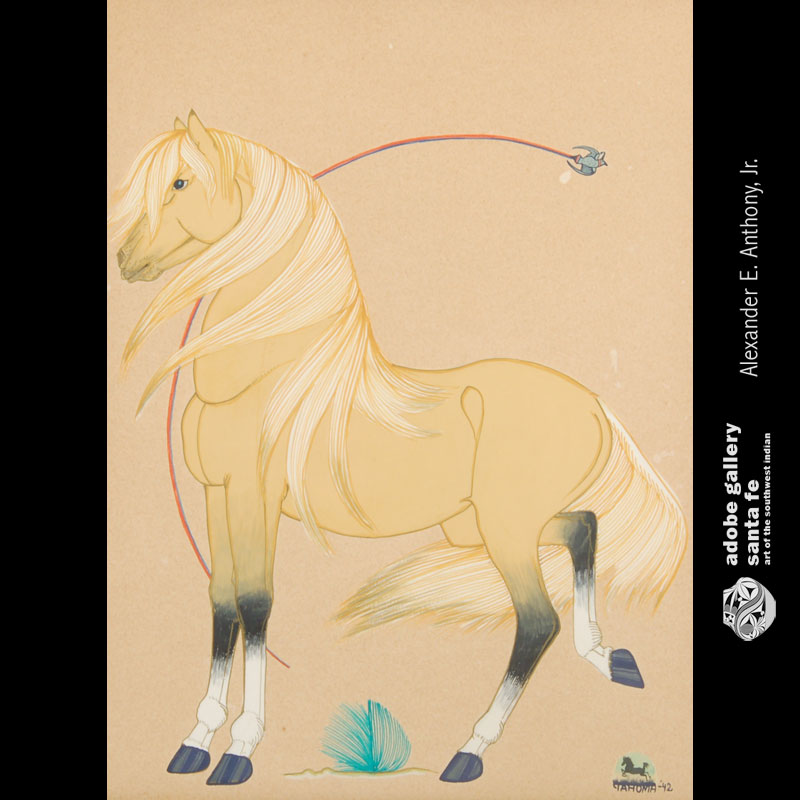 Quincy Tahoma (1917-1956) was a talented Navajo painter who was initially educated in the arts by Dorothy Dunn at the Santa Fe Indian School (The Studio). Alongside fellow Navajo painters like Harrison Begay and Gerald Nailor, Tahoma learned to create simple, boldly-colored watercolor paintings that depicted Native life and religious rituals. These artists' subjects were usually pictured in profile and with little background or ground plane. These "flat-style" or "studio style" paintings were and still are popular with collectors of Native American Art.

Tahoma, a naturally gifted artist, evolved quickly as a painter. His earlier works focused mostly on everyday Navajo life-the scenes he witnessed every day during his childhood. As he grew older and more technically adept, he focused his attention on more complicated scenes. Many of his best images feature muscular Navajo hunters clashing with their surroundings. His works are full of movement and action, but rarely feel violent or indulgent. Tahoma's life and career were, unfortunately, cut short by alcoholism. He passed away in 1956 at age 39. Fortunately for those who appreciate his works, he was very prolific and left behind a large body of work.

#adobegallery #SouthwestIndianPainting #NativeAmericanPainting #FineArt #Painting #Navajo #Diné #SantaFeNM #FinePuebloPainting #QuincyTahoma