Original Navajo Painting of a Colorful Bird at Night by Chethlahe - C4061
Category:
Paintings
| Posted by |
Mon, May 28th 2018, 4:19pm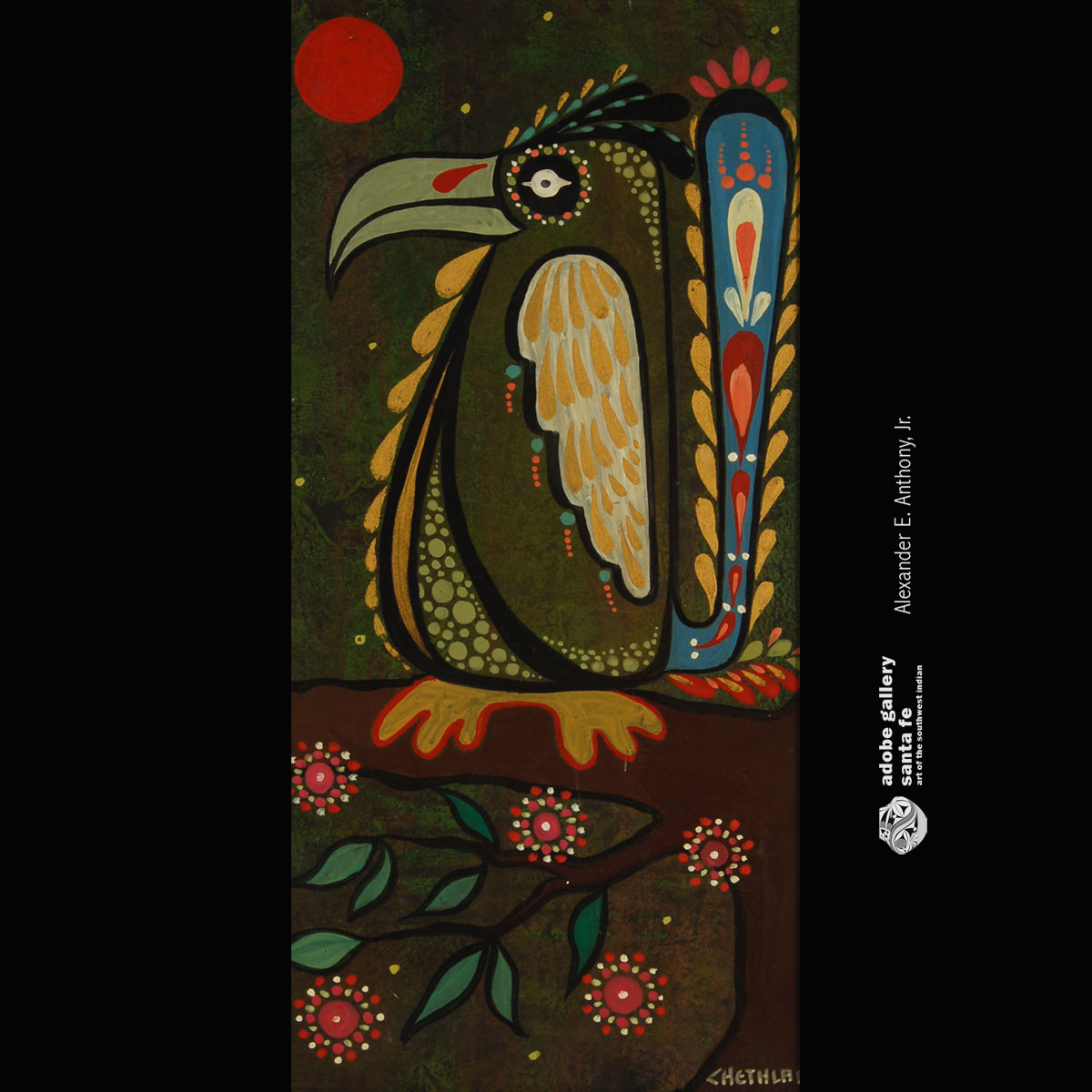 David Chethlahe Paladin (1926-1984) was a student of the Santa Fe Indian School, where he learned the basic fundamentals of painting from Dorothy Dunn. Dunn encouraged her students to document and celebrate their cultures. As a young man, Paladin struggled with his identity as the mixed-race son of a Navajo woman and a visiting white missionary. As he developed as an artist, he began to display a genuine affection for his Navajo culture. His style evolved considerably over the years, and ultimately drew from a wide variety of influences while always remaining grounded in his Native American roots. Paladin-a recovering addict and World War II prisonor of war survivor-was eventually trained as a shaman, using his uniquely challenging life experiences to serve the Huichol and Tarahumara tribes in Mexico as well as his native Navajo people, or *Diné.

Paladin's work evolved drastically over the course of his career, moving away from what was common among Native American artists of his time towards more abstract contemporary work. Though his methods changed over time, his preferred themes remained the same: spirituality, creation, and rebirth. Paladin depicted the same rituals, ceremonies and symbols as many of his Navajo contemporaries, but did so from a unique, constantly evolving perspective.

#adobegallery #SouthwestIndianPainting #NativeAmericanPainting #Navajo #PuebloPaintings #SantaFeNM #FineArt #Painting #Chethlahe