Original Painting Titled "Navajo Archer" by Adee Dodge - C4056N
Category:
Paintings
| Posted by |
Tue, Apr 24th 2018, 4:52pm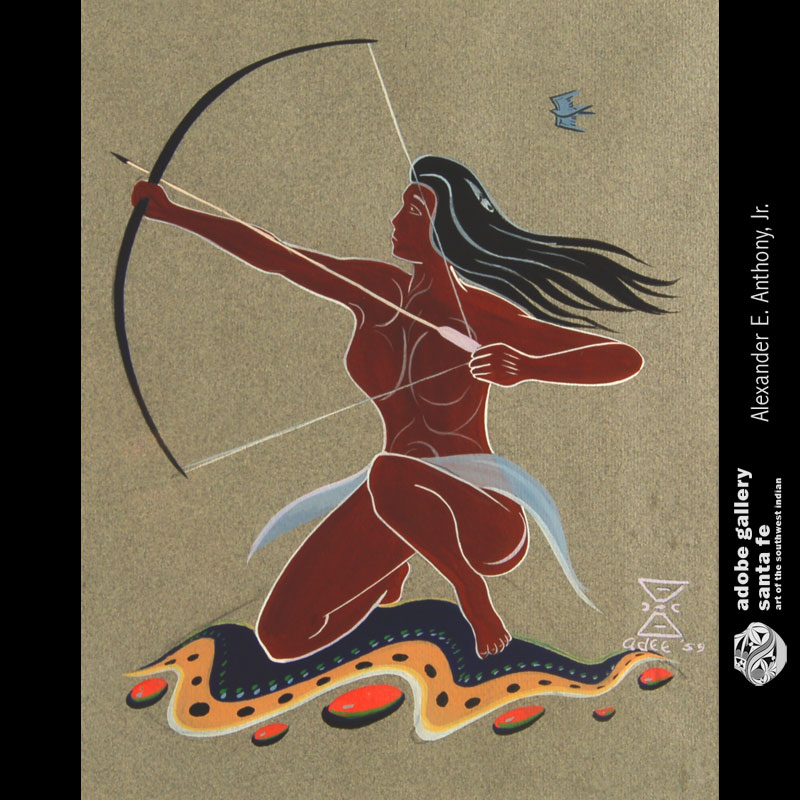 Adee Dodge was the grandson of the first Navajo Tribal Chairman, Chee Dodge. He studied at the University of New Mexico and received a master's degree from Columbia University in Comparative Linguistics and Anthropology. He started painting while recovering from war wounds he received while serving in the South Pacific during World War II. A self-taught painter, he focused his work on preserving the symbols and stories of the Navajo religion. His work has been featured in Arizona Highways and at the Smithsonian.

This painting is of a single figure female archer with bow taut and arrow ready to release. Dodge had a time where his paintings reflect influence of the Art Decoperiod. It is quite apparent in this painting. The archer appears to be nude with long flowing black hair. She is kneeling on an abstract and colorful design. It is signed in lower right and dated 1959.

#adobegallery #SouthwestIndianPainting #NativeAmericanPainting # Navajo #PuebloPaintings #SantaFeNM #FineArt #Painting # AdeeDodge