Original San Ildefonso Painting of Owl and Skunk by Alfonso Roybal - C4091i
Category:
Paintings
| Posted by |
Fri, Jul 27th 2018, 3:07pm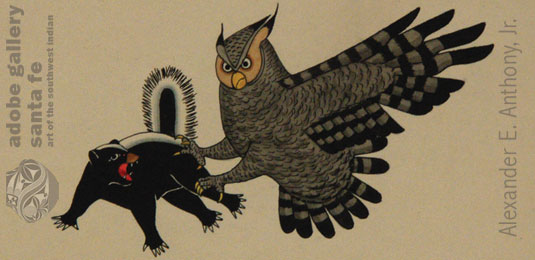 Alfonso Roybal (1898-1955) Awa Tsireh was many things to his pueblo of San Ildefonso: he was a farmer, pottery painter, museum employee, painter and silversmith. He had many trades and skills, but is primarily remembered today as a painter and metalworker. He began painting in 1917, which makes him among the very first pueblo painters. His artworks are currently featured in "Awa Tsireh: Pueblo Painter and Metalsmith," a comprehensive exhibition at Phoenix's Heard Museum. His works are included in many major public and private collections, including that of the Smithsonian Institution's National Museum of the American Indian.
Awa Tsireh, one of the first pueblo painters, was recognized beyond his native world as an outstanding artist. His watercolors where sent by Alice Corbin Henderson to the Arts Club of Chicago for a special exhibit in 1920. His paintings appeared in early exhibits in Santa Fe, and he was among the several artists to receive prizes at the first Santa Fe Indian Market. In 1925, the Chicago papers were generous in their acclaim for his exhibit in the Newberry Library. The Exposition of Indian Tribal Arts in New York in 1931 included Awa Tsireh paintings. He is generally regarded as one of the best pueblo painters, and his works continue to increase in value as his historical significance becomes more widely recognized.

#adobegallery #SouthwestIndianPainting #NativeAmericanPainting #PuebloPaintings #SanIldefonsoPueblo #FineArt #AlfonsoRoybal #IndianMarketCountdown2018 #NativeAmericanArts