Santa Clara Pueblo Stone Polished Red Melon-ribbed Jar by Helen Shupla - C4047J
Category:
Pottery
| Posted by |
Mon, Mar 12th 2018, 5:49pm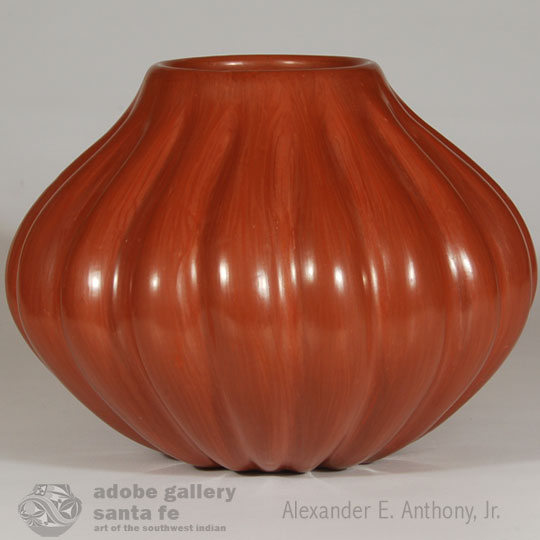 Helen Shupla was of Santa Clara Pueblo and Tohono O'odham tribal heritage. She was active as a potter from around the mid-1940s until her death in 1985. Her husband, Kenneth Shupla, was a Hopi katsina doll carver who moved to Santa Clara when he married. In pueblo culture, it is traditional for the husband to move to the wife's village. Their daughter married Alton Komalestewa, also a Hopi. He was mentored as a potter by Helen Shupla and began making melon jars of her pottery style.
<!-- /* Font Definitions */ @font-face {font-family:Arial; panose-1:2 11 6 4 2 2 2 2 2 4; mso-font-charset:0; mso-generic-font-family:auto; mso-font-pitch:variable; mso-font-signature:-536859905 -1073711037 9 0 511 0;} @font-face {font-family:"Cambria Math"; panose-1:2 4 5 3 5 4 6 3 2 4; mso-font-charset:0; mso-generic-font-family:auto; mso-font-pitch:variable; mso-font-signature:-536870145 1107305727 0 0 415 0;} @font-face {font-family:Calibri; panose-1:2 15 5 2 2 2 4 3 2 4; mso-font-charset:0; mso-generic-font-family:auto; mso-font-pitch:variable; mso-font-signature:-536870145 1073786111 1 0 415 0;} /* Style Definitions */ p.MsoNormal, li.MsoNormal, div.MsoNormal {mso-style-unhide:no; mso-style-qformat:yes; mso-style-parent:""; margin:0in; margin-bottom:.0001pt; mso-pagination:widow-orphan; font-size:12.0pt; font-family:"Times New Roman"; mso-fareast-font-family:Calibri; mso-fareast-theme-font:minor-latin;} .MsoChpDefault {mso-style-type:export-only; mso-default-props:yes; font-size:11.0pt; mso-ansi-font-size:11.0pt; mso-bidi-font-size:11.0pt; font-family:Calibri; mso-ascii-font-family:Calibri; mso-ascii-theme-font:minor-latin; mso-fareast-font-family:Calibri; mso-fareast-theme-font:minor-latin; mso-hansi-font-family:Calibri; mso-hansi-theme-font:minor-latin; mso-bidi-font-family:"Times New Roman"; mso-bidi-theme-font:minor-bidi;} .MsoPapDefault {mso-style-type:export-only; margin-bottom:10.0pt; line-height:115%;} @page WordSection1 {size:8.5in 11.0in; margin:1.0in 1.0in 1.0in 1.0in; mso-header-margin:.5in; mso-footer-margin:.5in; mso-paper-source:0;} div.WordSection1 {page:WordSection1;} --> #adobegallery #SouthwestIndianPottery #SantaClaraPueblo #Historic #Pottery #SantaClaraPuebloPottery #SantaClaraPottery #PuebloPottery #HelenShupla