Zia Pueblo Pottery Pictorial Tile by Diana Pino Lucero - C3954A
Category:
Pottery
| Posted by |
Tue, Aug 8th 2017, 2:45pm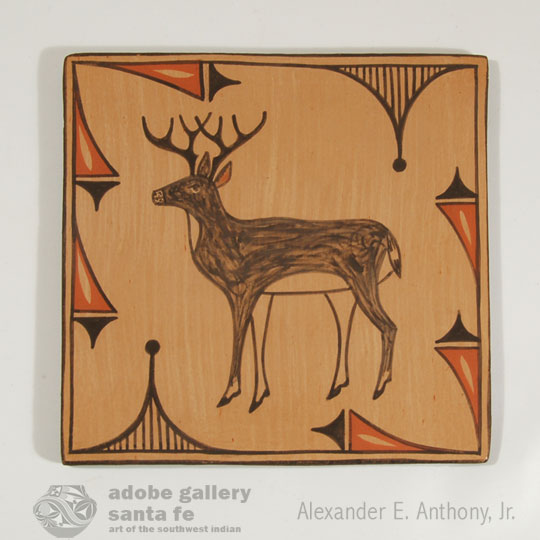 This square Zia tile features a very realistic and artistic deer, head held high, motionless, and unafraid. The deer is the focal point of the tile. There is no ground plane, no trees, or other distracting items to draw attention away from the deer. Traditional Zia pottery designs outline the edges of the tile. The slip is a warm cream color on the front. Red stone-polished slip covers the back. The tile is signed with the artist's name and pueblo name.
Diana Pino Lucero is the adopted daughter of John and Vicentita Shije Pino. The Pinos had married in 1934. They had one son, José Hilario, and adopted three children, Diana being the only female. Diana learned pottery techniques from Vicentita. She has won awards at Santa Fe Indian Market, exhibited at Heard Museum Show, Northern Indian Pueblos Arts & Crafts Show; Walatowa Arts Festival at Jemez Pueblo, New Mexico State Fair and other venues.
Would you like to purchase or read more about this Zia Pueblo pottery?