---
Exquisite Navajo Floor Rug from Teec Nos Pos Area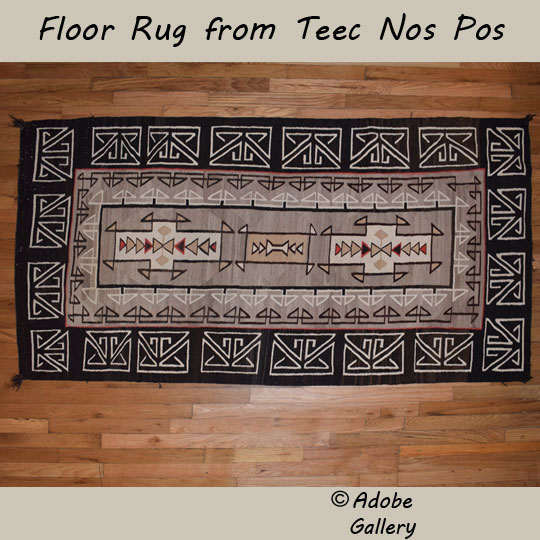 + Add to my watchlist

Forward to Friend
This textile comes from the area of the Navajo Reservation known as Teec Nos Pos (circle of cottonwoods), located in the Four Corners region of the Southwest. One of its significant design clues is an extraordinary border of a design differing from that on the interior of the textile. This rug is no exception. This Teec Nos Pos rug likely dates to the 1940s.
The white boxes, on a black border, are triangular shapes folded into squares. The border on this rug measures over 8 inches wide, typical of rugs from the region. Inside the border, is a second border which follows the triangle patterns of the outer border but was executed in brown and white yarns on the light brown field of the design panel and framed in a thin red yarn.
A long rectangle runs down the center of the rug which is dominated by three design elements. The two larger ones are white cross patterns filled with diamonds, varying in color, and outlined by brown yarn arranged in triangles on the corners of the cross. The smaller design element is at the center of the textile and has a white pattern over a brown field. It also has diamonds at the four corners.
Teec Nos Pos is a trading post located in the Four Corners area, where Arizona, New Mexico, Colorado, and Utah meet. This post was founded in 1905 by H.B. Noel. The local tradition credits a missionary named Mrs. Wilson with the development of the Teec Nos Pos style before 1905. Early Teec Nos Pos styles had much in common with Red Mesa Eye-Dazzler styles, whereas what we now know as Teec Nos Pos was probably developed post-1920. The Teec style has much in common with Red Mesa, including the use of dazzler elements and outline techniques, yet Teec Nos Pos textiles are much more subtle in coloration and incorporate multiple borders, a ménage of complicated filler motifs, as well as a great deal of varying homespun wool fleeces. The connections to Oriental carpets, Germantown eye dazzler textiles, as well as the Oriental-style works produced at Crystal under J.B. Moore is unmistakable. Regardless of origin of design or format, the rugs of Teec Nos Pos remain at the zenith of technical and artistic triumphs of regional Navajo weaving.
---
Condition: very good condition with some missing edge cord and white warp visibility in minor areas. Overall, it is in very good condition.
Provenance: this Exquisite Navajo Floor Rug from Teec Nos Pos Area was purchased by the current owner in 1993 and was in a low-traffic area of the home.
Recommended Reading: The Rugs of Teec Nos Pos: Jewels of the Navajo Loom, by Ruth K. Belikove. Published by Adobe Gallery in 1994. (Available from Adobe Gallery)
TAGS: Navajo Textiles, Teec Nos Pos, Navajo Nation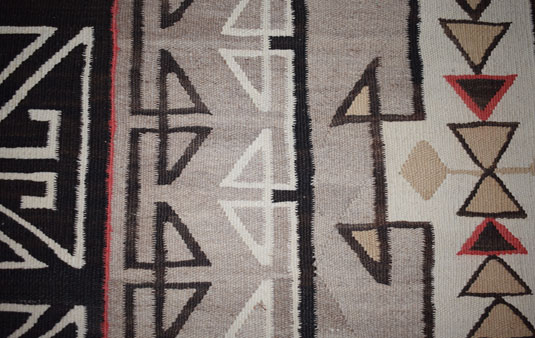 Weaver Unknown
---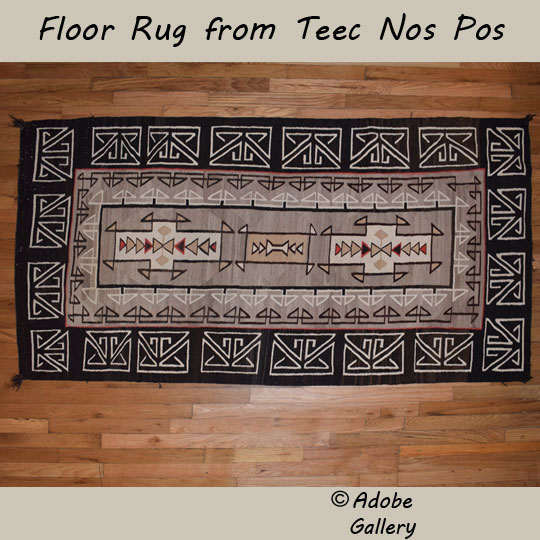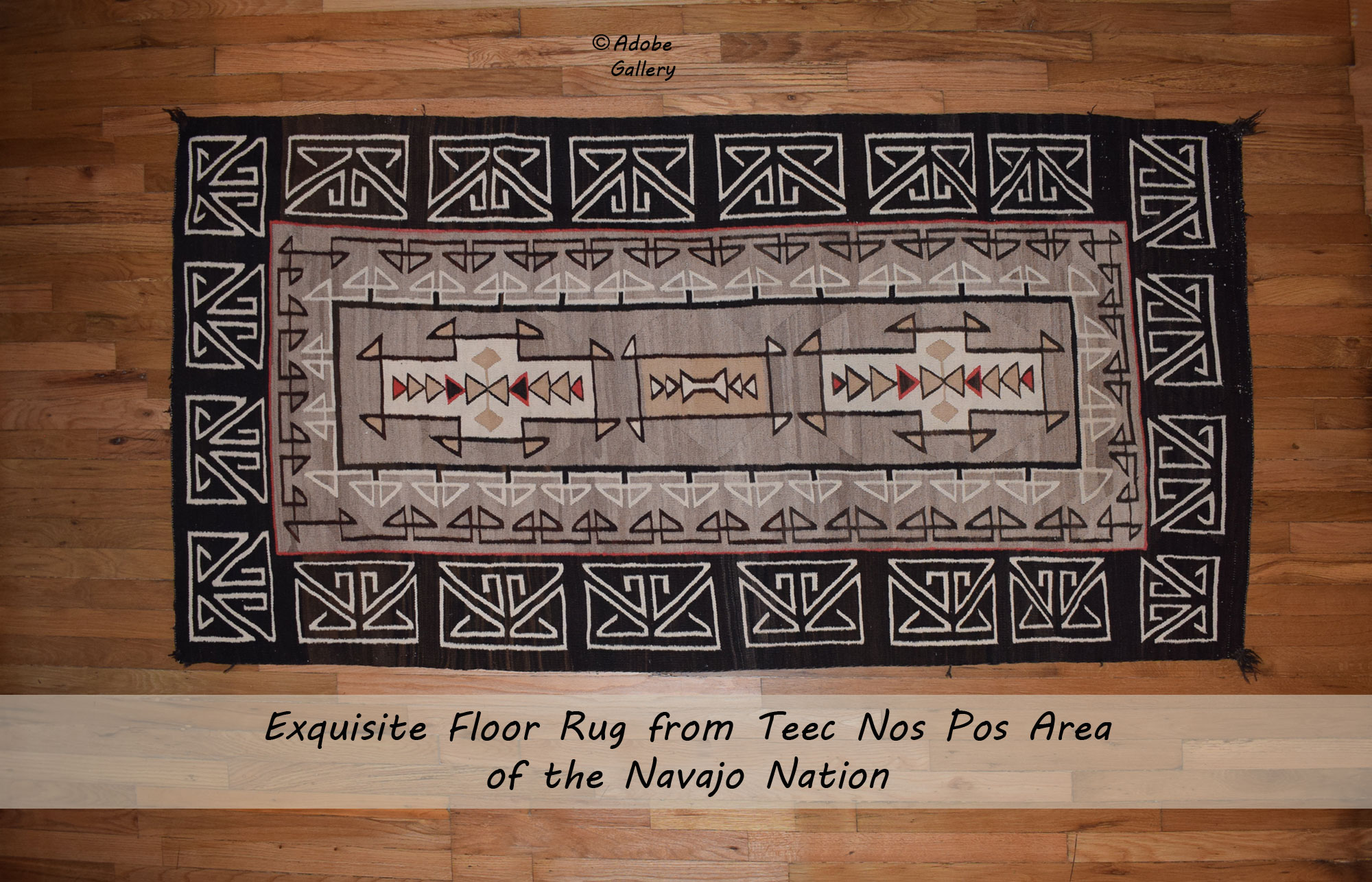 Click on image to view larger.
---
Adobe Gallery Recommended Reading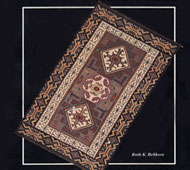 Book - The Rugs of Teec Nos Pos: Jewels of the Navajo Loom
by Ruth Belikove


Book - Jewels of the Navajo Loom: The Rugs of Teec Nos Pos [SOLD]
by Ruth Belikove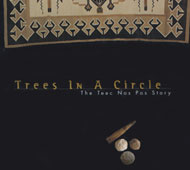 Trees In A Circle: The Teec Nos Pos Story [SOLD]
by Kerry Hannon

Adobe Gallery Recommended Items
---
If you are interested in this item, we would also like to recommend these other related items: