---
Zuni Pueblo Large Jar with Frogs and Handles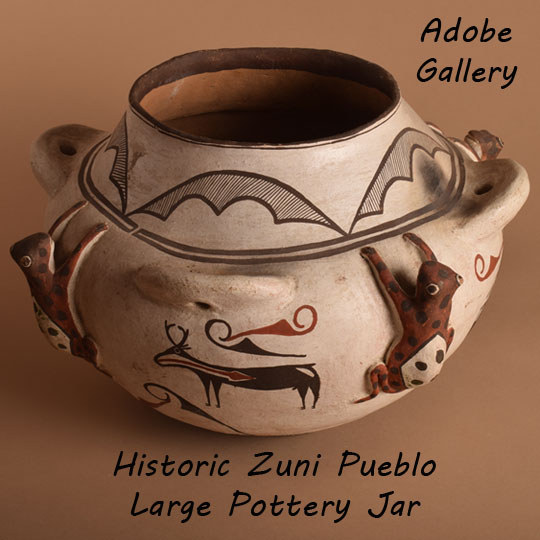 + Add to my watchlist

Forward to Friend
Pueblo Potter Unknown
Category: Historic
Origin: Zuni Pueblo
Medium: Clay, pigments
Size: 10-1/4" tall x 13-1/2" diameter (excluding frogs and handles)
Item # 25296
This is the largest and finest Zuni frog jar I recall ever seeing. There are four polychrome frogs and four lug handles. None of the frogs or handles has been broken or damaged. There is a minor rim crack but I see no other signs of damage or abuse. The jar was examined under UV light without any evidence of repair.
The frogs have had evergreen material smeared on their backs. This, I understand, is something done when a jar is used in a ceremonial manner.
Condition: this Zuni Pueblo Large Jar with Frogs and Handles is in very good condition.
Recommended Reading: The Pottery of Zuni Pueblo by Francis Harlow and Dwight Lanmon
---
Reprinted here in its entirety is a notarized letter from the previous owner:
Garden City, Kansas.
September 23, 1968
To whom it may concern:
This is to advise the three Ollas, the Canteen and the small childs Toy that I sold to Mr. Robert D. Tichenor, Star Route, Russel, Kansas were obtained from the Indians on the Zuni Indian Reservation located approximately thirty-five miles south of Gallup, New Mexico.
My father, Clyde E. Hopper, was a hoisting engineer employed by the Federal Government to build a dam across a river for the purpose of supplying water to the indians on the reservatio
If memory serves me correctly, father made his first trip, to the dam site in 1899, however actual construction did not begin until two years later (1901), the project was completed in the fall of 1905.
Practically the entire project was accomplished with the use of manual labor. All common labor was supplied by indians from the various tribes in that general locality, mainly Zuni and Navajo.
There was quite a language barrier, as the indians did not english and the engineers and supervisors did not speak the native tongue, therefore interpreters were required for all instructions and this delayed the progress of the work.
Father would go to the reservation early in the spring and work continually until late in the fall. The winters were so severe the indians would not work, therefore the project was closed down for the winter months.
When father would return home for the wintermonths, he would always bring quite a large assortment of indian artifices, namely Navajo blankets, indian pottery and indian jewelry (at one time we had about thirty Navajo blankets and rugs-but this number has dwindled to about ten).
It was on one of these trips, the above mentioned pottery was brought from the Zuni Indian Reservation to Garden City, Kansas. These items have been in the family home continuously, therefore I know them to be authentic indian pottery dating back prior to 1905.
I have loaned Mr. Tichenor photographs, of which he plans to make reproductions of the project, construction work and its progress, the dam site, the river, the general terrain, indian pueblosand indians, civilian engineers and supervisors, indian workers and other related photo¬graphs. While I have not seen these reproductions, I can assure you the originals are authentic and I am sure a man of Mr. Tichenors integrity would not falsify any of the facts.
[///signed Marvin Hopper///]
Marvin Hopper
411 North Sixth
Garden City,
Kansas.
State of Kansas, Finney County, SS:
BE IT REMEMBERED, That on this 23rd. day of September,1968, beforeme, the undersigned, a notary public in and for the county and state aforesaid, came Marvin Hopper, to me per¬sonally Known to be the same person who executed the fore¬going instrument, and duly acknowledged the execution of the same as his free and voluntary act and deed.
In TESTIMONY WHEREOF, I have hereunto set my hand and affixed my officialseal, the day and year last above written.
[///signed Lee Kisner///]

Notary Public
NY Commission Expires: Feb. 25, 1970

[His OFFICIAL SEAL]
Pueblo Potter Unknown
Category: Historic
Origin: Zuni Pueblo
Medium: Clay, pigments
Size: 10-1/4" tall x 13-1/2" diameter (excluding frogs and handles)
Item # 25296
---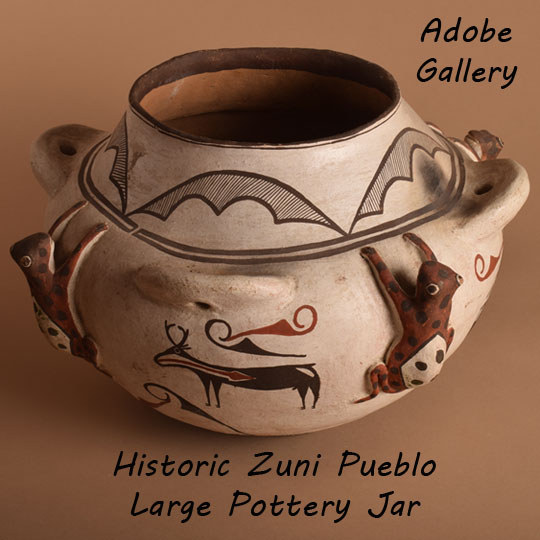 Click on image to view larger.
---
Adobe Gallery Recommended Reading
Adobe Gallery Recommended Items
---
If you are interested in this item, we would also like to recommend these other related items: