---
CATHERINE AGUILAR TRUJILLO Female Storyteller with 6 Children [SOLD]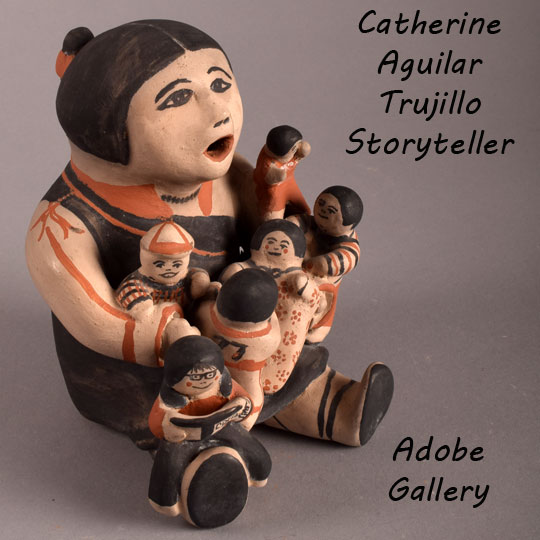 + Add to my watchlist Forward to Friend
The female in this figurine has an intense look on her face as if the story she is telling is scary. The children, however, don't seem to be bothered. There are six children in her lap, one of which is an infant. The storyteller by Cochiti Pueblo artist CATHERINE AGUILAR TRUJILLO is simply dressed in traditional pueblo clothing.
The child on her left upper arm has a frown on her face, but the boy with a baseball cap on the other arm has a big smile. The studious little girl with glasses is reading a book. The other two youngsters are paying attention to the bundled-up infant. The figure is signed, Katy Trujillo Cochiti.
Adobe Gallery purchased this from the artist in the very early 1990s and sold it to a client in Texas, from whom we received it back to sell again which we did in 1994 to the client from whom we now have it back also.
Catherine (Katy) Aguilar Trujillo (b. 1931) was from San Ildefonso Pueblo. She was the daughter of José Angeles Aguilar (1898-1965) & Rosalie Simbolo Aguilar (1898-1947) of San Ildefonso. Katy married Gabe Yellowbird Trujillo of Cochiti and moved there. She was a foster daughter-in-law of Helen Cordero. She also was called Kathy.
"Kathy Trujillo learned to make pottery as a child from her parents, and, until she moved to Cochiti and began making polychrome figures, she made black-on-black ware. During the 1970s and 1980s, Kathy's brothers, Alfred Aguilar and Jose V. Aguilar, Sr., were among the best and most famous of San Ildefonso's figurative potters. Her sisters, Florence Naranjo and Annie Martinez, also were potters, and in 1977, her daughter, Evon Trujillo, began making figures. [Babcock,1986:28-29]
---
Condition: this CATHERINE AGUILAR TRUJILLO Female Storyteller with 6 Children is in original condition
Reference: The Pueblo Storyteller: Development of a Figurative Ceramic Tradition by Barbara Babcock
Relative Links: San Ildefonso Pueblo, Contemporary Pottery, Pottery Figurines, Cochiti Pueblo, Alfred Aguilar, Jose V. Aguilar, Sr.. Florence Naranjo. José Angeles Aguilar, Rosalie Simbolo Aguilar, Helen Cordero, Catherine (Katy) Aguilar Trujillo, Cochiti Pueblo Potter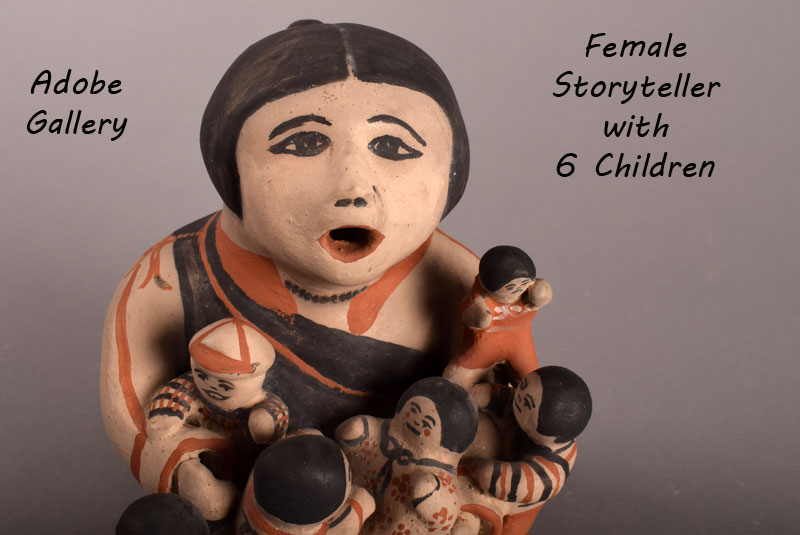 Catherine (Katy) Aguilar Trujillo, Cochiti Pueblo Potter
---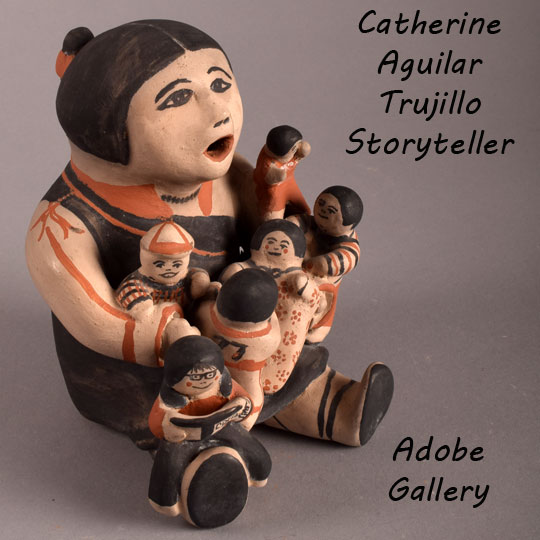 Click on image to view larger.
---
Adobe Gallery Recommended Reading