---
CATHERINE AGUILAR TRUJILLO Female Storyteller with 7 Children [SOLD]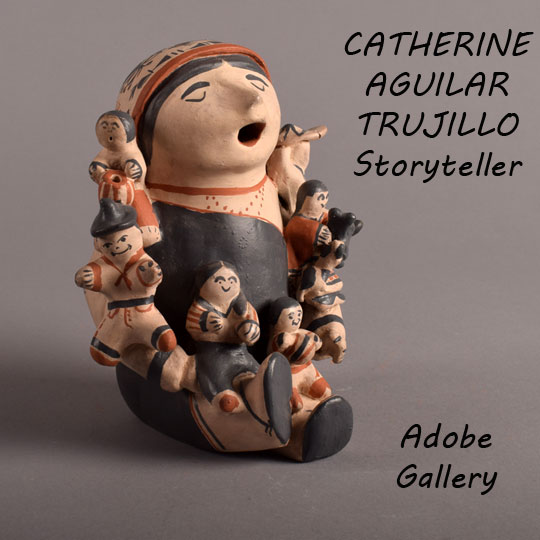 + Add to my watchlist Forward to Friend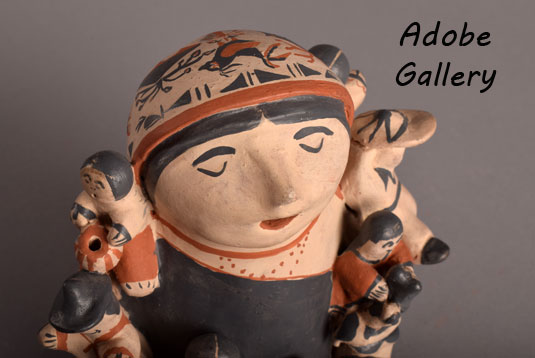 This is a happy storyteller by Cochiti Pueblo artist Catherine Aguilar Trujillo. Everyone in this pottery figurine has a happy face. The female is wearing a beautifully decorated shawl draped over her head. It is filled with traditional pueblo designs including many different birds. She is dressed simply but traditionally with a black pueblo dress and white moccasins.
There is a mixture of boys and girls. On the right shoulder is a child holding a jar who has an expression of fear of dropping it. Below him is a boy wearing a pointed black hat and with a wide smile. The boy on her right leg has a smile, too. Then there is a smaller child with a ball who is sitting on her left leg. The girl is holding a teddy bear and has her dog in her lap. High up on her shoulder is a boy wearing a baseball cap and with both hands behind his head. Lastly, a young girl is perched on her shoulder while she reads a book.
The figurine is signed Katy Cochiti Pue N. Mex on the underside. Adobe Gallery purchased this from the artist in October 1991 and sold it to the client from whom we now have it back.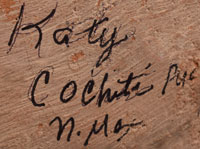 Catherine (Katy) Aguilar Trujillo (b. 1931) was from San Ildefonso Pueblo. She was the daughter of José Angeles Aguilar (1898-1965) & Rosalie Simbolo Aguilar (1898-1947) of San Ildefonso. Katy married Gabe Yellowbird Trujillo of Cochiti and moved there. She was a foster daughter-in-law of Helen Cordero. She also was called Kathy.
"Kathy Trujillo learned to make pottery as a child from her parents, and, until she moved to Cochiti and began making polychrome figures, she made black-on-black ware. During the 1970s and 1980s, Kathy's brothers, Alfred Aguilar and Jose V. Aguilar, Sr., were among the best and most famous of San Ildefonso's figurative potters. Her sisters, Florence Naranjo and Annie Martinez, also were potters, and in 1977, her daughter, Evon Trujillo, began making figures. [Babcock,1986:28-29]
Relative Links: San Ildefonso Pueblo, Contemporary Pottery, Pottery Figurines, Cochiti Pueblo, Alfred Aguilar, Jose V. Aguilar, Sr.. Florence Naranjo. José Angeles Aguilar, Rosalie Simbolo Aguilar, Helen Cordero, Catherine (Katy) Aguilar Trujillo, Cochiti Pueblo Potter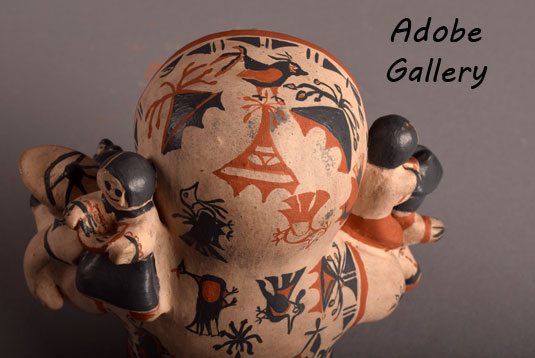 Catherine (Katy) Aguilar Trujillo, Cochiti Pueblo Potter
---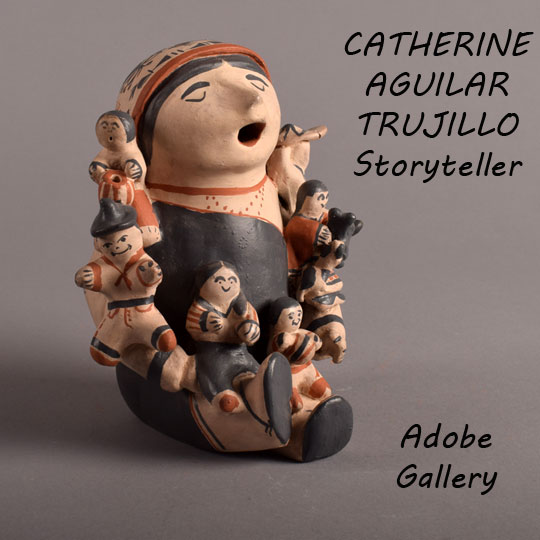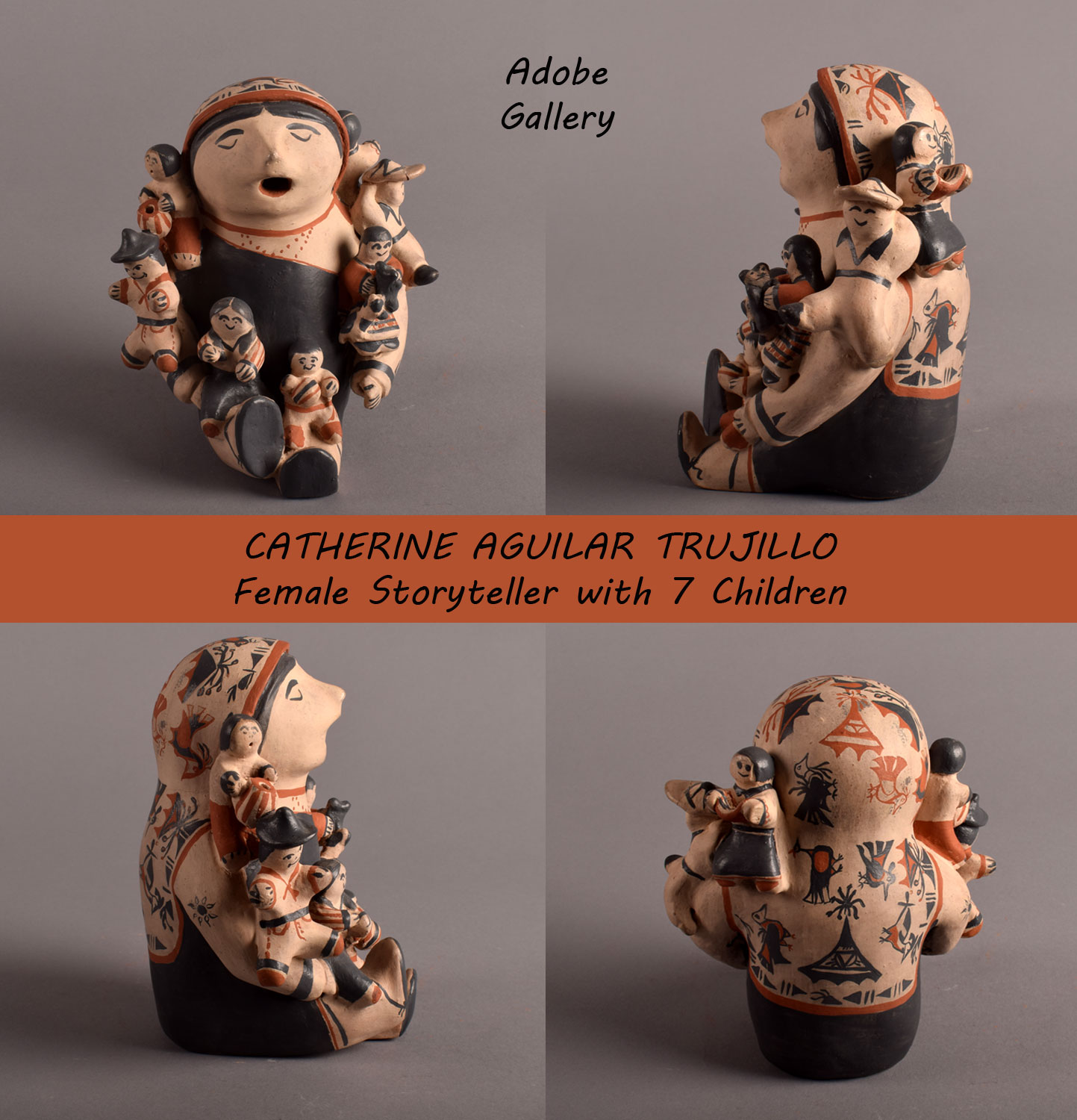 Click on image to view larger.
---
Adobe Gallery Recommended Reading

Clay Changes: Helen Cordero and the Pueblo Storyteller [SOLD]
by Mary G. Hamilton, Publisher