---
Historic Acoma Pueblo Polychrome 1930s Water Jar with Parrots [SOLD]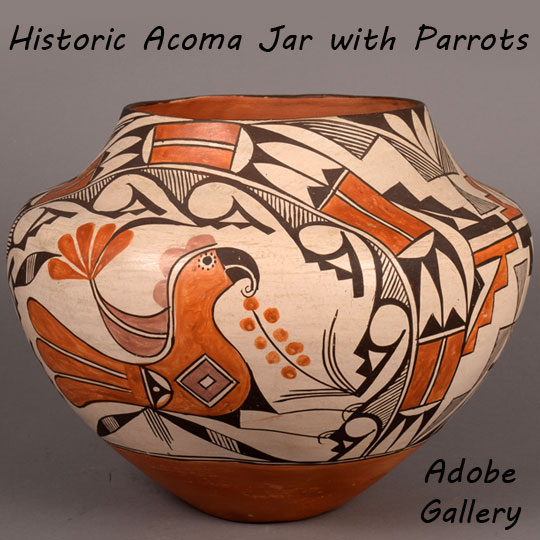 + Add to my watchlist Forward to Friend
Adobe Gallery has had the pleasure of working with many pueblo water jars over the years, but none with such intrigue to attribute to an artist who had such a very creative approach to pottery. This Acoma water jar has two framed pictures featuring parrots, and a band of polychrome geometrics in between. The area around and including the birds is what is most striking and unusual about this vessel—and is also the set of elements we used to attribute the jar to a specific potter.
This artist used very distinct feathers, geometrics, colors, and beaks for her parrots. Paddle-like tail feathers extend from a body decorated in a red orange pigment, which curves around dramatically through a curled beak. The head feathers are painted with a more muted tone, broadening the overall color palette. The bird is stunningly framed with shapes that appear underneath— curved like rain clouds and above— ribbon and DNA-like. This picture expands outward with very ornamental kiva steps, ribbed triangles and thin to thick lines all drawn in dark brown. The bird is offered berries of plant at the beak and a flower completes the scene above its body. This picture is duplicated on the opposite side of the water jar.
The brightness of color is worth mentioning, as the precision and vision of the artist have been maintained over the years. This water jar dates to the 1930s and is in outstanding condition, for it was not used to haul water. This gives us the rare opportunity to experience something both from long ago— made for a very utilitarian purpose, and yet virtually untouched— in pristine condition. A set of thin, broken spirit lines in dark brown separate the pictorial aspects of this jar from a red orange base, solidly painted and grounding the vessel.
The shape is also wonderful and inspiring in its beauty. From this base the jar reaches up and out, with shoulders broad, solid, and high. The shoulders curve delicately in toward the opening of the water jar which is rimmed in dark brown but continued inside the opening in red orange.
As for the attribution, there are three potters we considered—Mary Histia, Mary Brown, and Josefita (Pasqual) Concho. Our reasoning for considering these three potters is based on published information and photographs from the past.
First, for Mary Histia. The young woman in a photograph by Adam Clark Vroman, taken in 1900, which is labeled "Acoma, Mary holding olla. 1900" was identified by Maurine Grammer, a well-known art appraiser of Albuquerque, as Mary Histia (1881-1973). The olla being held by the young woman has a chain of square boxes encircling the mid-body of the jar she holds. That design element appeared on many later jars with additional designs, such as parrots, that were attributed to Mary Histia. Unfortunately, a hundred years after this photograph, authors of the book The Pottery of Acoma Pueblo identified the young woman as Mary Brown, not Mary Histia. So, if this later identification of the potter as Mary Brown is correct, then perhaps she is the one to be considered as the potter of the jar we are posting today.
If we take the position that the jar we are posting today is similar to the one in the Vroman photograph, and that the young woman is identified as Mary Brown, then it is conceivable that this jar could have been made by Mary Brown. We eliminate her as the potter of this Acoma jar because the parrots are not like those on the jar in the Vroman photograph. Additionally, we have not located published photos of a jar that has been attributed to Mary Brown. We know from published accounts that Vroman, Curtis, and other famous photographers used props in their photos. The young woman identified as Mary Histia/Mary Brown may be holding a jar she did not herself make, but one selected by the photographer from another potter because it made for a better image.
Now for consideration of Josefita (Pasqual) Concho (b. ca. 1885/1889) as the possible creator of this magnificent jar, we turn to the same reference, The Pottery of Acoma Pueblo, to page 420, where we see an Acoma jar in Figure 25.25, that has very similar design components to this Acoma jar we are investigating. The parrot's tail feathers, wing feathers, and body design are very close to those on this jar. The flower petals are identical in appearance. The chain of square boxes or diamonds in rainbow style above the parrot is quite like those on the Vroman photograph jar as well as the same in arrangement as the rainbow band on this jar. Based on these design elements in agreement with the published jar by Josefita (Pasqual) Concho, we have concluded that she was most likely the potter, and the jar dates to circa 1930.
---
Condition: there are a few minor abrasions to the slip around the rim, and a small amount on the body as well. This Acoma water jar is in very good condition.
Provenance: this Historic Acoma Pueblo Polychrome 1930s Water Jar with Parrots is from a private New Mexico collection.
Recommended Reading: The Pottery of Acoma Pueblo, by Dwight P. Lanmon and Francis H. Harlow
Relative Links: Historic Southwest Indian Pottery, Acoma Pueblo, Attributed to Josefita (Pasqual) Concho, Acoma Pueblo Potter, Mary Histia
Attributed to Josefita (Pasqual) Concho, Acoma Pueblo Potter
Category: Historic
Origin: Acoma Pueblo, Haak'u
Medium: clay, pigment
Size: 9-¾" tall x 12-½" wide
Item # C4560F

SOLD
---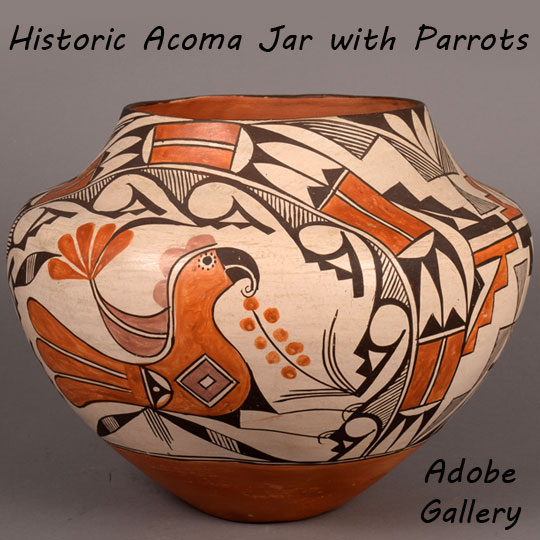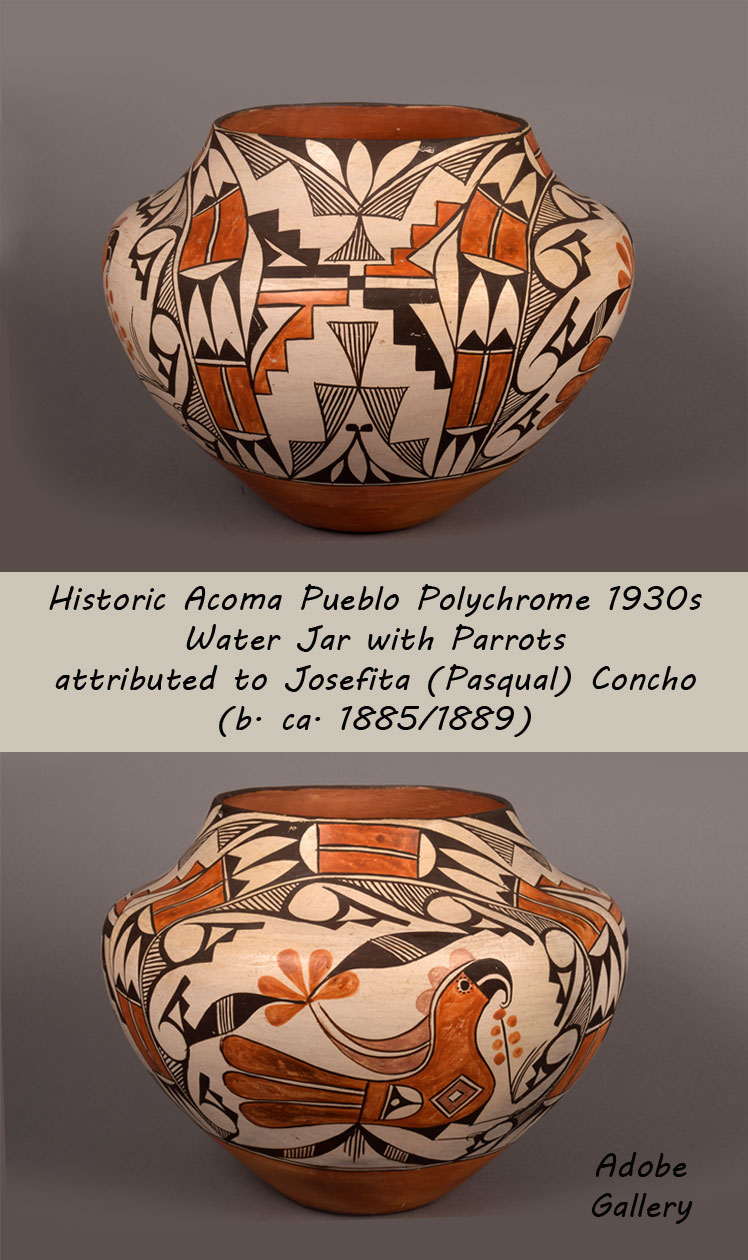 Click on image to view larger.
---
Adobe Gallery Recommended Reading
Adobe Gallery Recommended Items
---
If you are interested in this item, we would also like to recommend these other related items: