---
Hopi Pueblo Heheya Aumutaka Kachina Carving by Kevin Pochoema [SOLD]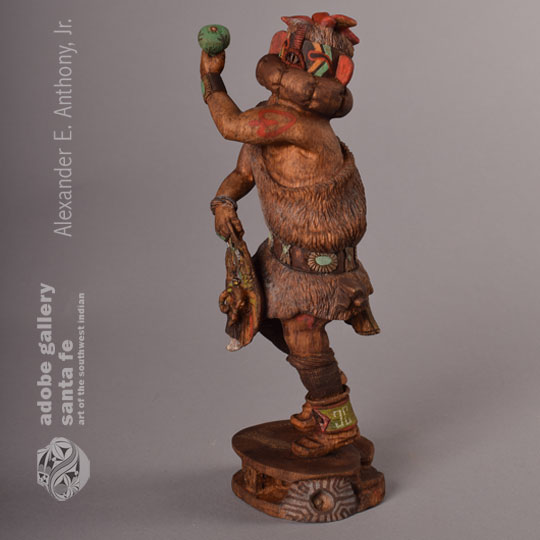 + Add to my watchlist Forward to Friend
This Heheya Aumutaka Kachina carving was created by Hopi Pueblo artist Kevin Pochoema. The piece is smaller but no less impactful than the artist's other recent works, which have stood between twelve and eighteen inches in height. Heheya Aumutaka is dancing on a small base, into which cliff dwellings are carved. As per usual, Pochoema handled the motion with skill and sensitivity. Heheya's left hand, holding a rattle, is lifted up and across his body. His right hand, holding a Third Mesa wicker basket and a Palhik Mana kachina doll, hangs in front of his body. These gifts for the children are the most detailed parts of the carving.
The kachina-within-a-kachina is clever, and unlike anything we've seen from Pochoema. Previous works have featured the faces of other kachinas carved into their bases, but the inclusion of a kachina doll is new to our eyes.
Heheya Aumutaka's colorful mask, with its dramatic curved eyes crossing parallel turquoise and yellow lines, is a highlight. Pochoema paid careful attention to Heheya's gifts, too. The Palhik Mana doll stands at less than two inches in height, but includes all of the expected and recognizable details. Pochoema used bright colors for the mask and gifts, and a more muted palette elsewhere, allowing the wood's natural beauty to shine. This is another exceptional offering from one of the finest living kachina carvers.


The base on which Heheya Aumutaka stands is signed Pochoema.
Barton Wright's Kachinas: A Hopi Artist's Documentary provides a brief description of the Kachina depicted here: "This is the Third Mesa Heheya Aumutaka, and he appears only on that Mesa. There are other forms on First and Second Mesa. Formerly he accompanied the Soyoko when they appeared on Third Mesa but since the Soyoko no longer come, his role is shifting to that of a general Powamu Kachina."

Powamu—the bean-planting ceremony—celebrates the Kachinas' return to the Hopi Pueblos after being away since July. Powamu, which begins in February and lasts for over two weeks, is one of the most significant Hopi ceremonies. Anthropologist Jesse Walter Fewkes described the frequent dances occuring during the ceremony: "On every evening from the opening to the close of the festival there were dances, unmasked and masked, in all the kivas of the East Mesa. ... The unmasked dances of the kachinas in the kivas are called by the same names as when masks are worn. Some of them are in the nature of rehearsals. When the dances take place in the public plaza, all the paraphernalia are ordinarily worn, but the dances without masks in the kiva are supposed to be equally efficacious."

Kevin Pochoema (1965- ) is a Hopi Pueblo Katsina doll carver. Pochoema was born in Flagstaff, Arizona on February 2, 1965. At one point, he lived in the Hopi village of Bacavi on Third Mesa. Pochoema now resides just outside Santa Fe, New Mexico. He is a member of the Greasewood clan. His works have been featured prominently in numerous books about Hopi carvings and are included in many prominent public and private collections. He has received prestigious awards and accolades for his carvings.

Condition: this Hopi Pueblo Heheya Aumutaka Kachina Carving by Kevin Pochoema is new
Provenance: from the artist
Reference: Kachinas: a Hopi Artist's Documentary by Barton Wright
Relative Links: Kevin Pochoema, Hopi katsina doll, Hopi Pueblo, Kachina Doll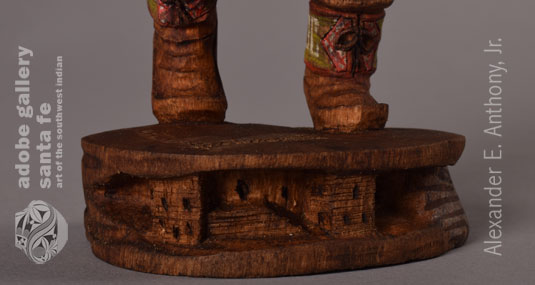 Kevin Pochoema, Hopi Pueblo Carver
---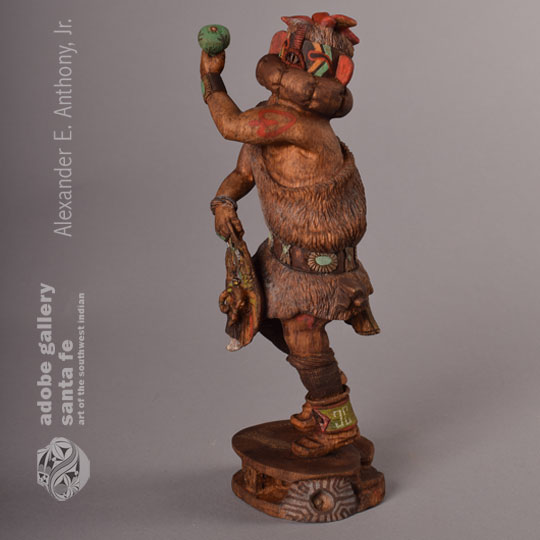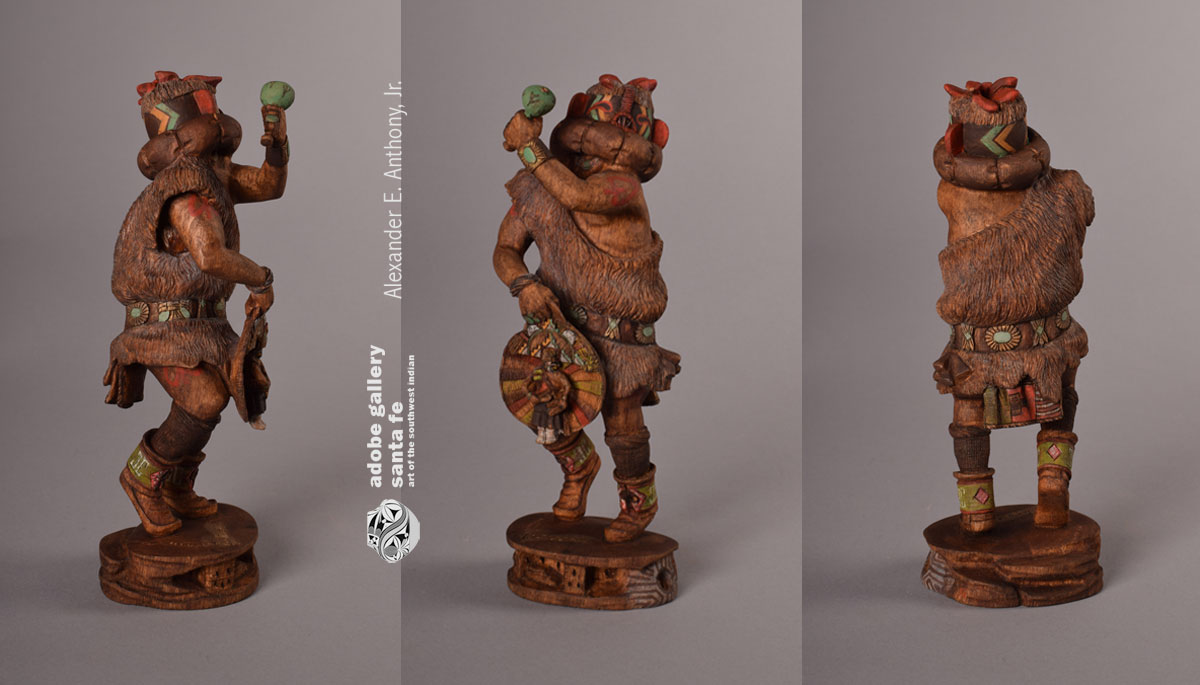 Click on image to view larger.
---
Adobe Gallery Recommended Reading
Adobe Gallery Recommended Items
---
If you are interested in this item, we would also like to recommend these other related items: