---
Hopi Pueblo Koyemsi or Mudhead Puppet Katsina by Henry Seeni [SOLD]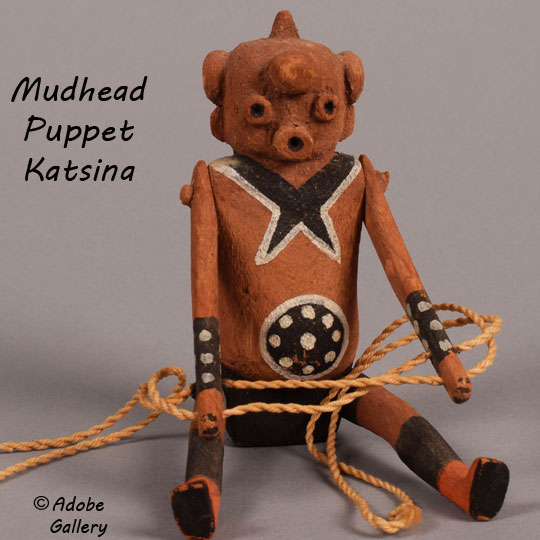 + Add to my watchlist Forward to Friend
This version of a Koyemsi is presented in puppet form, with movable arms and legs. String is inserted through the hands in crossed form. The doll is painted in traditional colors and designs of any regular Koyemsi.
From what we have been able to determine, based on information from several katsina doll experts, is that Henry Seeni made these puppet dolls in the 1950s. The Hopi elders objected to his making toys out of katsina images, so he apparently ceased making them. We are aware of several of his puppets appearing published in a book, and one has been identified in the Denver Art Museum (#1949.3666). It appears that this one was accessioned in 1949, a good indication of when the artist was producing them.
According to Barton Wright "An early minor fad which has reappeared cyclically is the jumping doll. A Hopi clown or other kachina is carved and jointed in the manner of a puppet and then strung on crossed strings like a common European jumping toy. When the strings are pulled apart and relaxed the doll leaps and cavorts about. The first individual to produce this type of doll among the Hopi appears to have been a First Mesa man named Ben Seeni. At least no earlier examples have so far been documented. However, interest in the doll fades rapidly but it is then re-discovered within a few years and again enjoys a brief flurry of popularity." Ben Seeni, or Benson Seeni, was born in 1931 and died in 1999. He was a resident of the village of Polacca, First Mesa.
The rediscovery mentioned by Wright must have been by Henry Seeni, probably related to Ben Seeni, who has been documented as making the puppet katsinas. Additionally, Herbert Seeni is documented as making the puppet katsinas. He was active from 1930-1952. He won a 2nd place award at the Museum of Northern Arizona Hopi Show in 1952 for a puppet katsina.
According to John Hill of John Hill Antique Indian Art in Scottsdale, in personal conversation, "I think Henry had a brother involved in making these puppets, and I am pretty sure they were made into the 1970s. A shop in San Francisco, on Grant I think, had these dolls in that time period. He or they made some very distinctive Katsinas, like bears also."
Jimmy Koots (1916-1996) also made puppet Katsina dolls in the early 1950s, but the work of the two men can be distinguished by the body style, particularly in the hips where the legs are attached. To see an example of a puppet by Koots, click here.
It seems apparent that three Seeni men from First Mesa and Jimmy Koots from Third Mesa on the Hopi Reservation were the ones who made these puppets in the late 1940s to the early 1970s.
---
Condition: very good condition
Provenance: this Hopi Pueblo Koyemsi or Mudhead Puppet Katsina by Henry Seeni is from the collection of a client from New York
Reference: Hopi Katsinas 1,600 Artist Biographies by Gregory Schaaf
TAGS: Kachina – Katsina Doll, Hopi Pueblo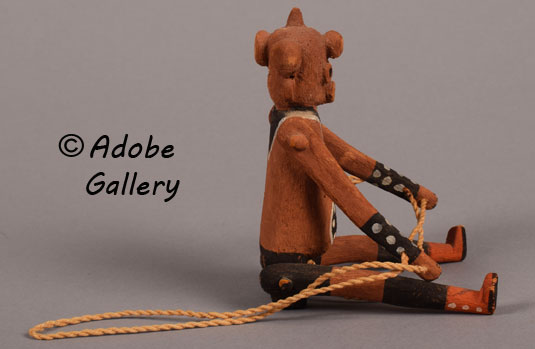 Henry Seeni
---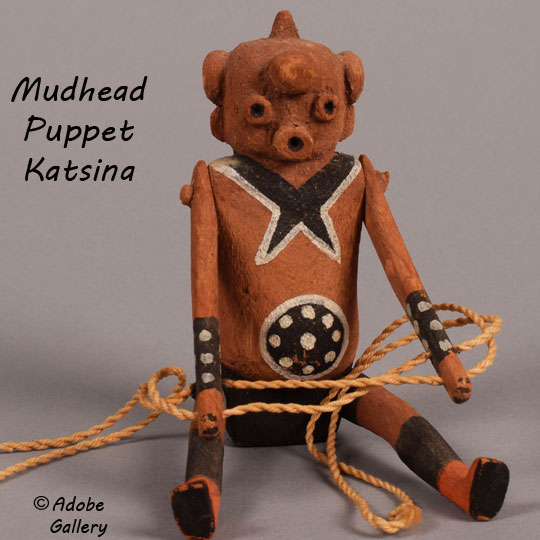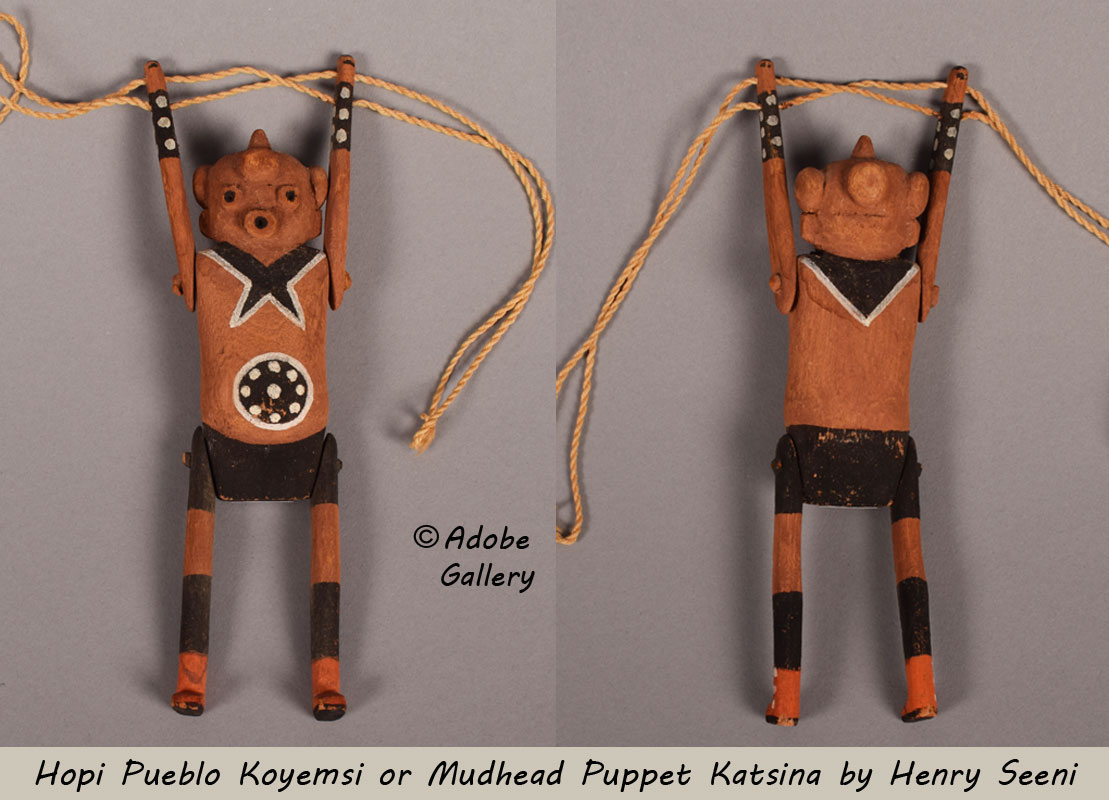 Click on image to view larger.
---
Adobe Gallery Recommended Reading
Adobe Gallery Recommended Items
---
If you are interested in this item, we would also like to recommend these other related items: