---
Original Hopi Painting of a Pair of Wiharu Katsinam by Neil David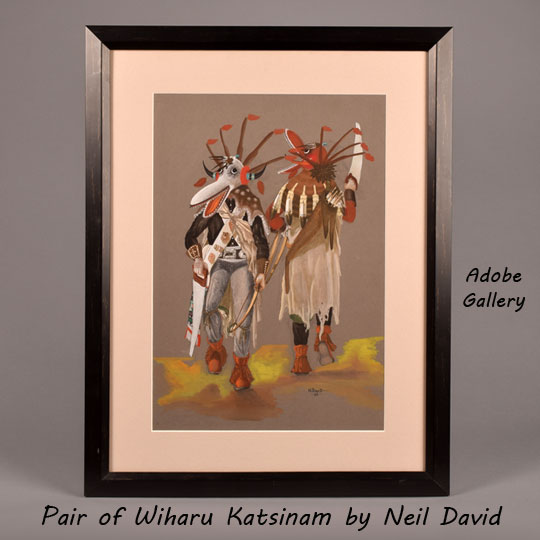 + Add to my watchlist

Forward to Friend
This original painting of a pair of Wiharu or White Ogre katsinam was created by Hopi-Tewa artist Neil David. Wiharu's purpose and performances are the same as those of the Nataska kachina. The only difference is Wiharu's color. Barton Wright's Kachinas: A Hopi Artist's Documentary provides a description of Nataska's (and, by extension, Wiharu's) appearance and function: "The fearsome Nataska always come as a pair. They accompany the Soyoko on their collection trip and usually stand directly behind the member of their crew who is bargaining with the relatives of the children. They make horrible noises, dragging their saws along the side of the house or on the ground. All the while, they keep up a steady stamping that makes the turtle-shell rattles on their legs sound ominously. They are supposed to be able to eat a child whole; from the very earliest age, the child has heard stories of these monsters—how they would descend on children playing near the village and haul them away to cook and eat. So, it is no wonder that the children are petrified at their actual appearance... The feather fan is made of turkey feathers placed close together to form a large mass behind the head that makes the figures appear much taller and broader."
With this piece, David created an excellent depiction of a pair of Wiharu katsinam. One Wiharu faces the viewer directly, while the other faces the opposite direction. This gives the viewer a look at every detail of the katsinam's clothing and paraphernalia. David created carefully shaded clothing, which gives the image depth and makes the katsinam's movements feel realistic. We would suggest that this painting, which dates to 1965, is an example of a slightly more modern variation of the early Hopi style of painting. The figures have the same alluring intensity of those that were crafted by Hopi painters in the 30s and 40s, but the focus on texture and shading rather than precise linework feels like a natural progression toward modern styles.

The painting is signed N. David and dated '65 in the lower right. It is framed beautifully, under a light gray matting in a black frame.
Neil David Sr. (1944- ) is one of four Hopi artists who founded a collective known as the Artist Hopid. His father was from the Hopi village of Walpi, and his mother came from Tewa ancestry that settled among the Hopi after the Pueblo Revolt. Once recognized for his paintings, he is now best known for his Katsina doll carvings. Neil and his wife Dealva, have three sons and a daughter. Within the David family traditional Hopi values shape and mold every aspect of life. Speaking in their native tongue, the same unwritten history and legends from generations before are preserved. When combined with the visual experiences at hand, a lasting and believing attitude toward the Hopi way is engrained. Neil's children learn their culture more fully through art influenced by their father's talent. His art depicts Hopi ceremonial life: the stage-like settings of dwelling and plaza, the preparations for dance and the final manifestation of Kachinas, masked forms and visiting sky dwellers in their villages. Neil's religious upbringing and participation has been and still is a constant source of inspiration for his art.
---
Condition: excellent condition
Provenance: this Original Hopi Painting of a Pair of Wiharu Katsinam by Neil David is from a private Santa Fe collection
Reference: Wright, Barton. KACHINAS: a Hopi artist's documentary
Relative Links: Native American Pintings, Katsina dolls, Hopi Pueblo, drawing, painting, carving, Hopi-Tewa , Neil's children, Neil Randall David, Hopi-Tewa Carver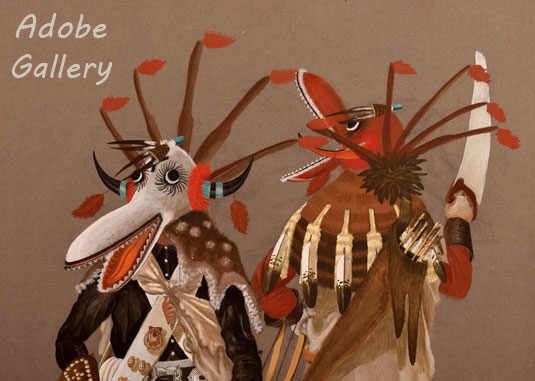 Neil Randall David, Hopi-Tewa Carver
---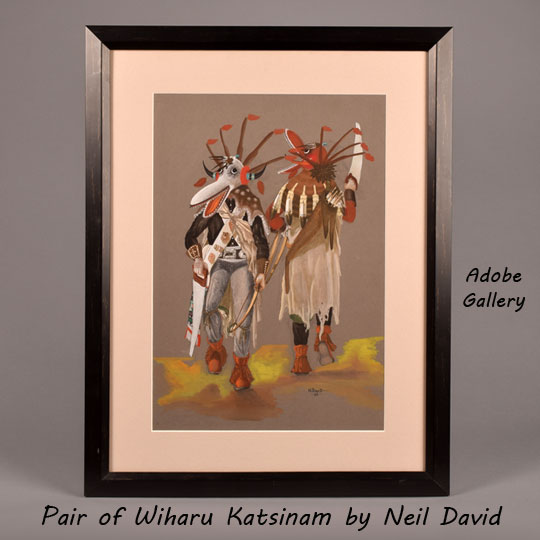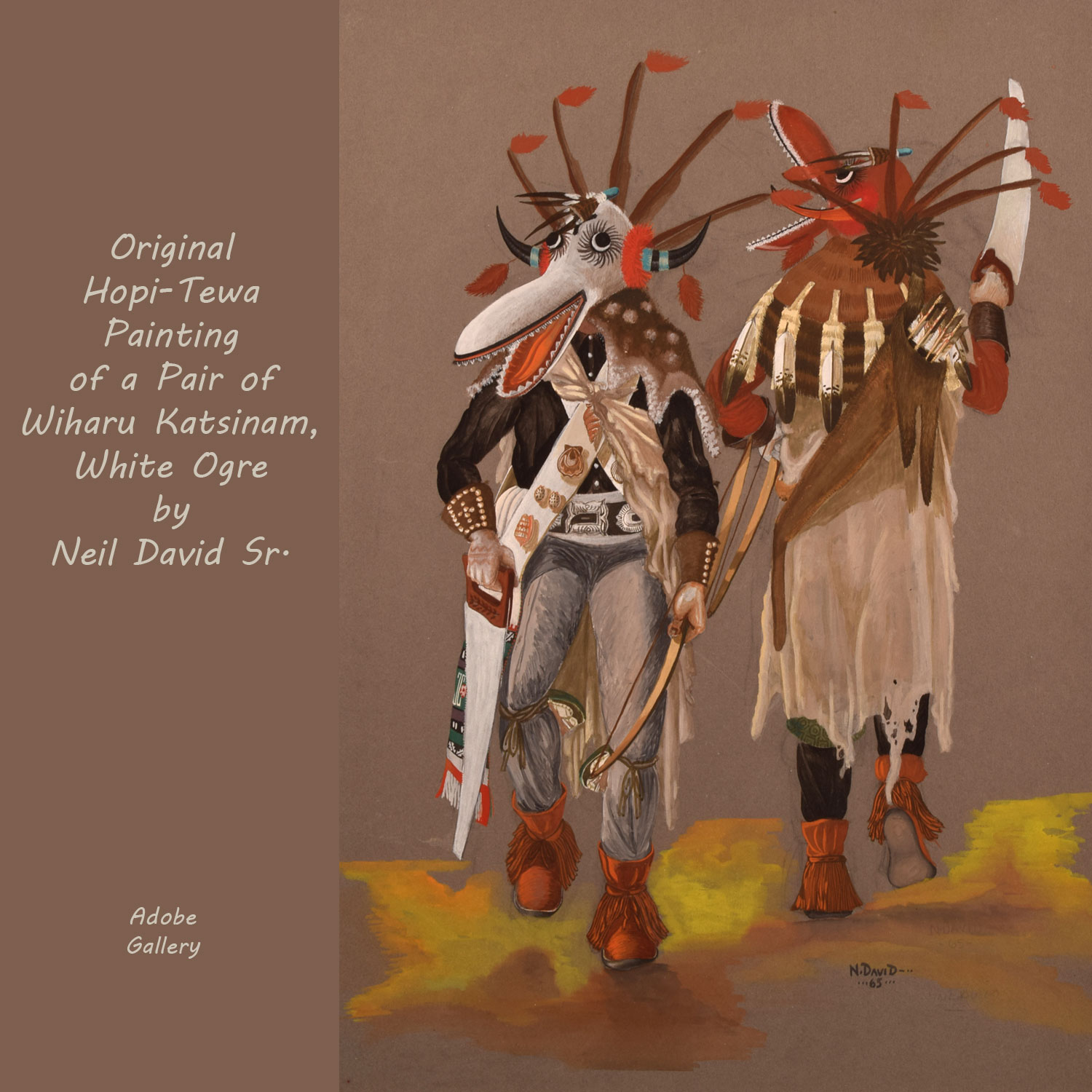 Click on image to view larger.
---
Adobe Gallery Recommended Reading
Adobe Gallery Recommended Items
---
If you are interested in this item, we would also like to recommend these other related items: