---
Hopi-Tewa Open Bowl with Stylized Bird Design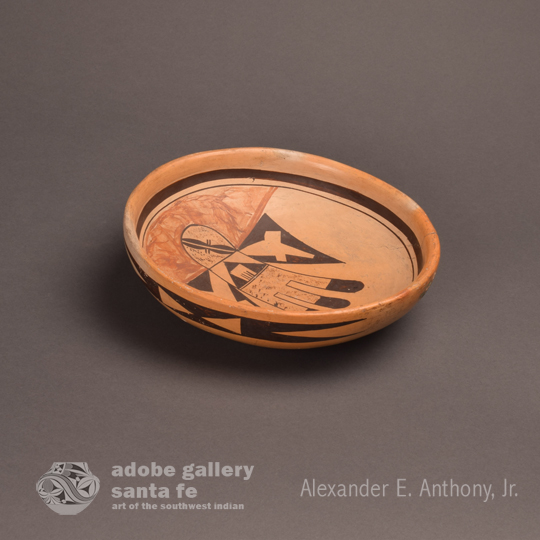 + Add to my watchlist

Forward to Friend
The current owner of this Nampeyo of Hano bowl purchased it from Santa Fe dealer and collector, Marti Struever in 2004. Marti's written comments about the bowl are "A polychrome bowl with three extended feather motifs favored by Nampeyo. The upper inner quarter of the bowl has a red paint that appears to have been daubed onto the surface, a practice diagnostic of Nampeyo. Two smaller elements in the design are also hers: the parallel diagonal pattern in the half circle in the red ground and the small white square with lines that appear in the black triangle directly below the diagonals."
Nampeyo's fame, of course, developed from her talent as a potter, however, she might not have become famous without the influences of Thomas Keam, Alexander Stephen, and Thomas Polacca. These three men were responsible for bringing her work to the attention of museums and collectors.
Thomas Keam (1842-1904) was born in England, made his way to the United States on a merchant ship from Australia, then jumped ship in San Francisco. Following the Civil War, he homestaded a piece of real estate in northeast Arizona, which eventually became known as Keams Canyon. It took almost 20 years before Keam became an Indian Agent. In 1875, Keam obtained a license to trade with the Hopis.
In 1880, Alexander Stephen, originally from Scotland, appeared in the life of Thomas Keam. Their mutual British heritage and Keam's need for an assistant sealed their friendship. Stephen was named the first postmaster at Keams Canyon in 1883, a position he held for five years. He was offered other positions but chose to work with Keam.
Tom Polacca (ca.1853-1911) was the brother of Nampeyo. He learned the English language and opened a shop at Polacca. Together with Stephen and Keam, he sought out the outstanding potters of the area. Keam and Stephen became well acquainted with Nampeyo through her brother, Tom. The three men searched the areas and found prehistoric ruins of the Hopi. Pottery and artifacts were gathered from those sites and stored at Keams Trading Post.
Once Polacca introduced Nampeyo to Keam, he became interested in her pottery as it was the best he had seen in the area. Nampeyo's husband, Lesou, worked at the excavating sites and brought pottery shards home to show Nampeyo. She used the designs from the shards as inspiration for her pottery and, at that time, her future was determined.
Nampeyo was the best potter at Hopi and Keam promoted her work to museums and collectors. She also came to the attention of the Fred Harvey Company who set her up at the newly-constructed Hopi House at the Grand Canyon in 1905 where she and members of her family spent the summer living and making pottery to illustrate how the Hopi lived. Before their arrival at the Grand Canyon, the Fred Harvey Company well publicized the event. Photographs of her were made and pamphlets and postcards were produced and sold at Fred Harvey establishments. She appeared again at the Hopi House in 1907.
Early pottery by Nampeyo was not signed as Nampeyo was unable to write. Her pottery remained unattributed until the Harvey Company produced labels to attach to her pottery identifying it as having been made by her.
This small bowl by Nampeyo is probably typical of pottery she made around 1900 to satisfy the needs of Keam, Stephen and Polacca. It is relatively small and simple in design. There is no Fred Harvey label on it so it is not likely it was made after 1905 when labels were being attached.
Condition: this Hopi-Tewa Open Bowl with Stylized Bird Design's appearance is fine but there are several cracks at the rim and along the underbody. There is some slip abrasion in one area of the outer wall.
Provenance: from the collection of a gentleman from Arizona
Reference: The Legacy of a Master Potter: Nampeyo and Her Descendants by Mary Ellen and Laurence Blair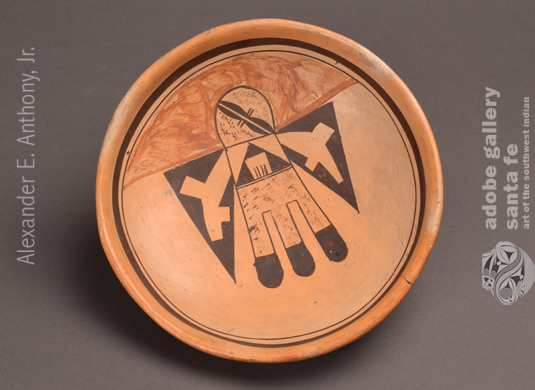 Nampeyo of Hano, Hopi Pueblo Potter and Matriarch
---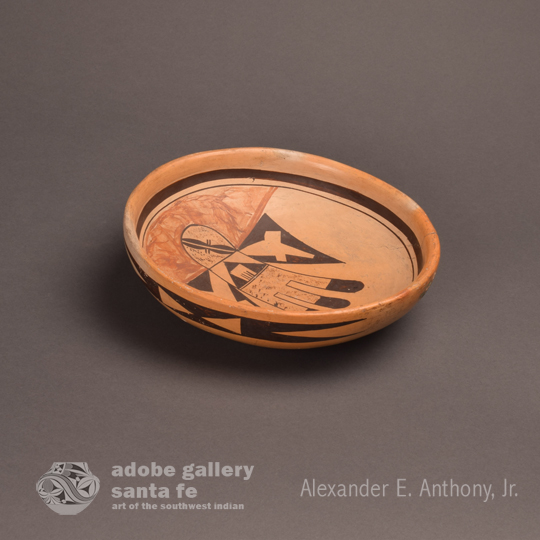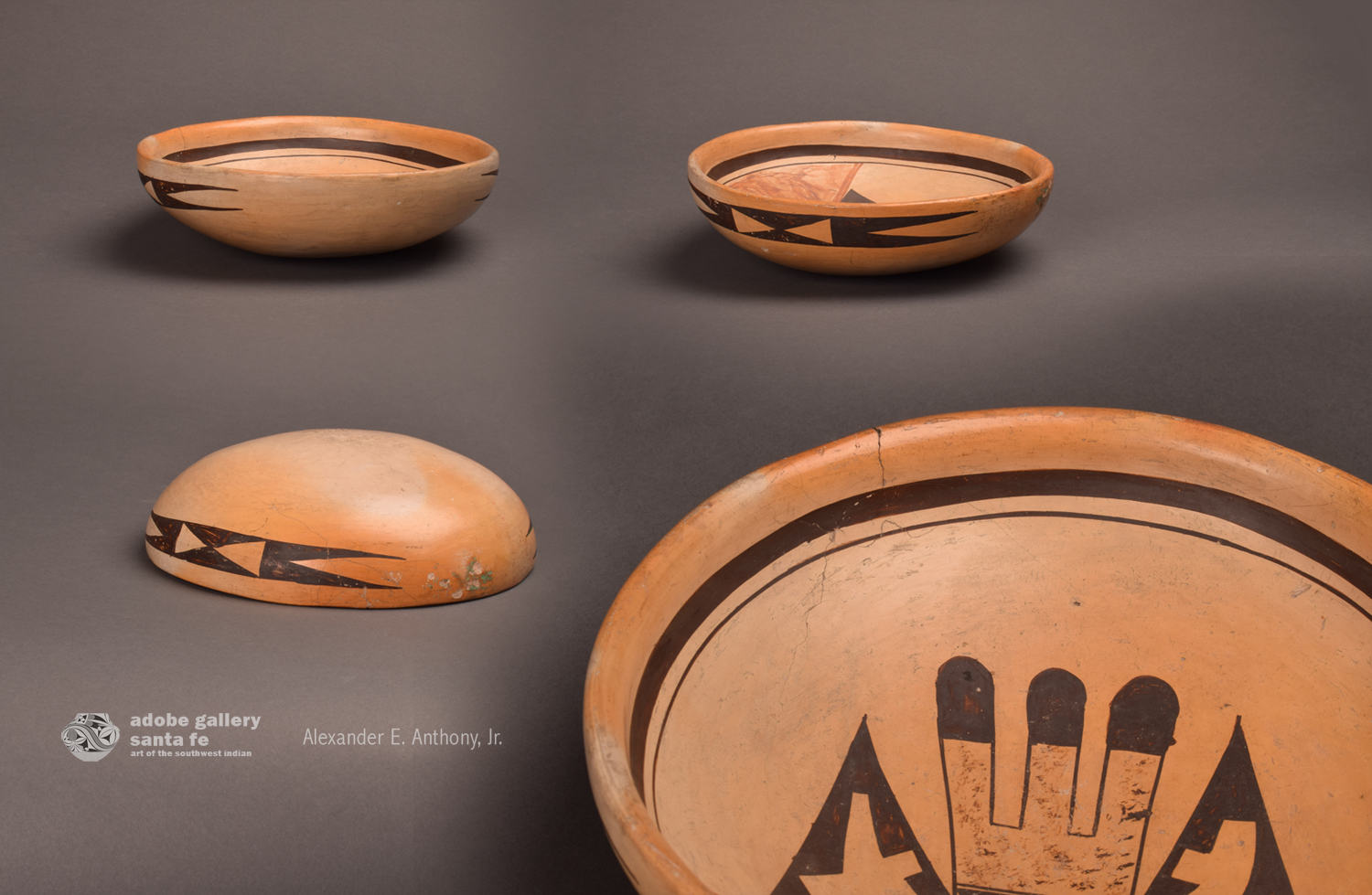 Click on image to view larger.
---
Adobe Gallery Recommended Reading
Adobe Gallery Recommended Items
---
If you are interested in this item, we would also like to recommend these other related items: