---
Late 19th Century Tesuque Rain God Figurine [SOLD]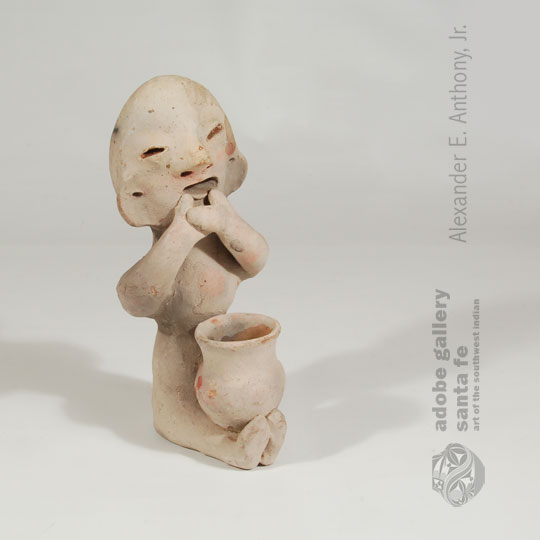 + Add to my watchlist Forward to Friend
Category: Figurines
Medium: clay, pigment
Size: 6-3/4" tall
Item # 25997

SOLD
During what might be referred to as the Mexican period (1821-46), when Mexico declared its independence from Spain and before the United States conquered the Southwest from Mexico, potters at Tesuque Pueblo produced some of the most beautiful, highly decorated pottery of all the northern pueblo villages. Their pottery was strong, useful, and extraordinarily beautiful. The population at that time was around 100 individuals, down from double that amount before the invaders introduced smallpox to the natives.
During the Mexican period, the pueblo people were removed from the atrocities of the Spaniards and given full rights as Mexican citizens. They could practice their religious ceremonies more freely and live a decent existence. Mexico basically ignored its northern province for lack of funds. The Camino Real from Mexico City to Santa Fe did continue bringing goods from Mexico to Santa Fe.
When the United States won its battle with Mexico in 1846 and claimed the current Southwest states, change appeared again. Strong daring men became traders travelling the Santa Fe Trail from St. Louis to Santa Fe, delivering goods previously unknown to the Indians. Tesuque, being the closest pueblo village to Santa Fe—only 8 miles away—saw immediate influence with the ability to trade with the incoming American traders.
Another event of significance occurred in 1880 with the arrival of the train to New Mexico. By then, Tesuque Pueblo residents became tired of outside influences and began a period of cultural isolation. They discouraged visitors, refused coordination with outsiders and became more focused on their religious ceremonies. It became the most secretive of the Tewa villages.
Nature had its influence on the pueblo when severe droughts made it more difficult to produce crops for their own use. Villagers began drifting into Santa Fe to trade pottery or other personal possessions for food. Their increased encounter with traders in Santa Fe could have been responsible for the emergence of the rain god figurines. Merchants were looking for tourist items to sell that were small, inexpensive, and appeared to be of a religious nature.
The rain god figurines had no religious significance, no historic connection to Tesuque, and probably were the invention of a trader. A rain god certainly sounded like something created to bring rain, thus it had significance to the tourists.
The earliest documented rain god figurine is 1879, a year before the train arrived in New Mexico, but traders were already established and selling Indian goods in Santa Fe. This rain god with red and blue markings probably dates to the late 1890s. It is the Speak no Evil figurine of the set of three, the others being See no Evil, and Hear no Evil. The entire clay body was covered with a cream slip over which was applied the painted design. The red decoration, which has faded to almost invisibility, was on the face, chest, arms and vessel. The blue, which may have been ink, was likewise on those areas.
Condition: excellent condition except for faded painted design
Provenance: this Late 19th Century Tesuque Rain God Figurine is from a collection of a family from Albuquerque
Reference and Recommended Reading: When Rain Gods Reigned—From Curios to Art at Tesuque Pueblo by Duane Anderson
Category: Figurines
Medium: clay, pigment
Size: 6-3/4" tall
Item # 25997

SOLD
---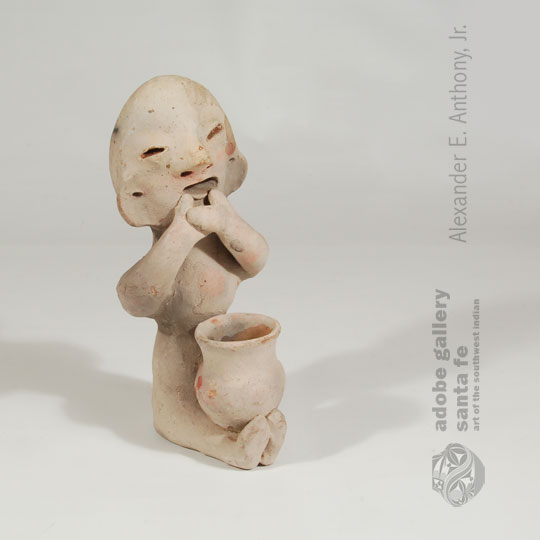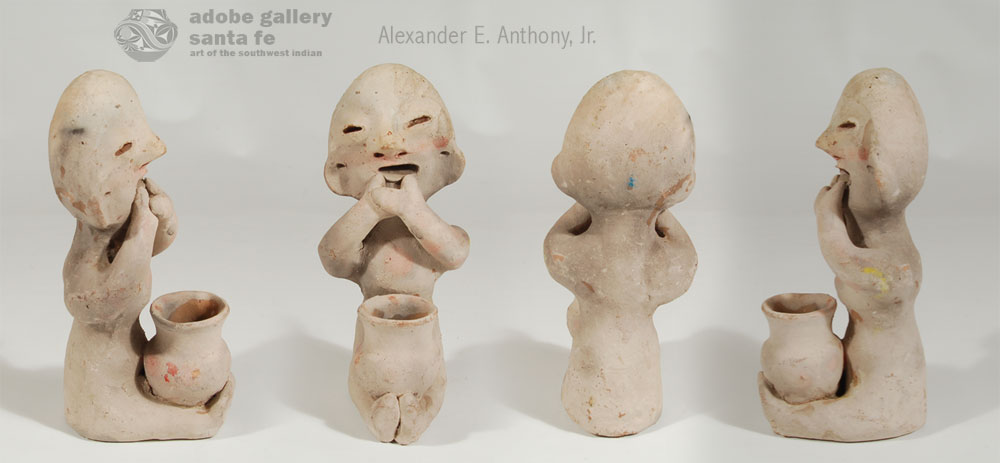 Click on image to view larger.
---
Adobe Gallery Recommended Reading