---
Pair of Early Paintings of Animals [R]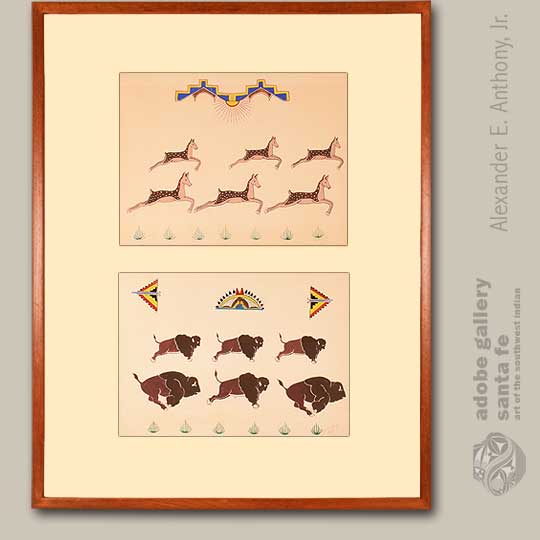 + Add to my watchlist

Forward to Friend
Oswald Fredericks (1905-1996) Kucha Honowah - White Bear was an artist and Hopi cultural scholar who contributed immeasurably to his people's rich history through his artwork and his efforts as an oral historian. His efforts as a translator and oral historian resulted in a significant contribution to Frank Waters' famous and influential "Book of the Hopi," which explored Hopi culture and cosmology from the point of view of the Hopi people themselves.
In a subsequent publication, Waters explained Fredericks' role in the book's creation: "White Bear collected most of our research material. He would take down on a little battery-run tape recorder the discourses of our Hopi spokesman. Later he would play them back translating them in English to his wife who would type them for my use. He also served as my interpreter when I interviewed Hopis, guided me to all the mentioned sites of ancient ruins and hidden shrines, and made drawings of pictographs and petroglyphs carved on rocks."

Long before he was involved in Waters' project, Fredericks was creating his own legacy as a painter and Kachina carver. Arizona Senator Barry Goldwater commissioned a large number of carvings from Fredericks during the 1950s and 1960s. Most of these carvings are still in Goldwater's massive collection, which now resides at the Heard Museum in Phoenix. His paintings are in the permanent collections of museums around the Southwest.
This large presentation is comprised of two early paintings by Fredericks. Each piece features two rows of three animals. Above each group of animals are colorful symbols. Beneath each group, in the foreground, is a row of small green plants. An envelope affixed to the back of the frame explains the paintings' origins: "From the portfolio of student Native American art of Louise Hess Everhardy (1876-1941), instructor in design & crafts at Kansas State U. In 1923, Everhardy collected illus. of indigenous artists—African, Indian—for a travelling lecture. It is likely that Everhardy acquired these Oswald "White Bear" Fredericks pieces from or thru the Haskell Institute, where the artist resided in the 1920's."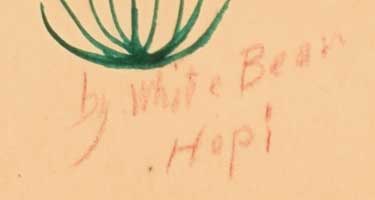 Within the envelope are two images of the text written on the backs of the paintings, which is now covered up by the frame. The text is difficult to decipher in places, but is helpful in identifying the artist's inspiration. "Antelope—to Indian food, clothes, Indian prays for them to reproduce…" The text then identifies the first painting's designs as being representative of mountains and the sun. "Buffalo, to Indian means life, to Indian clothes and food… Design- butterflies represented life returns to warmer climate…" It is unclear whether it was Fredericks or someone else who wrote these descriptions. Each painting is signed "by White Bear - Hopi" in its lower right corner.

Condition: this Pair of Early Paintings of Animals is in good condition for their age. Each piece has a few minor stains and anomalies.
Provenance: private collection from a resident of Albuquerque
Reference: Waters, Frank. Book of the Hopi: The First Revelation of the Hopi's Historical and Religious World-view of Life, with drawings and source material recorded by Oswald White Bear Fredericks
Oswald Fredericks (1905-1996) Kucha Honowah - White Bear
Category: Paintings
Medium: watercolor
Size:
12-3/8" by 16-5/8" each image;
36-¼" x 28-¾" framed
Item # C4157
Price No Longer Available
---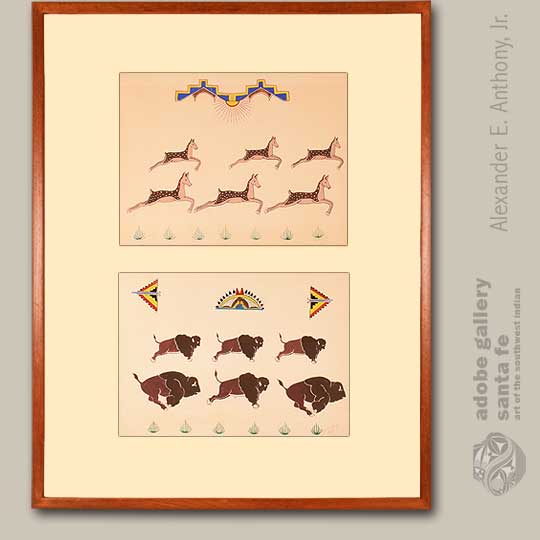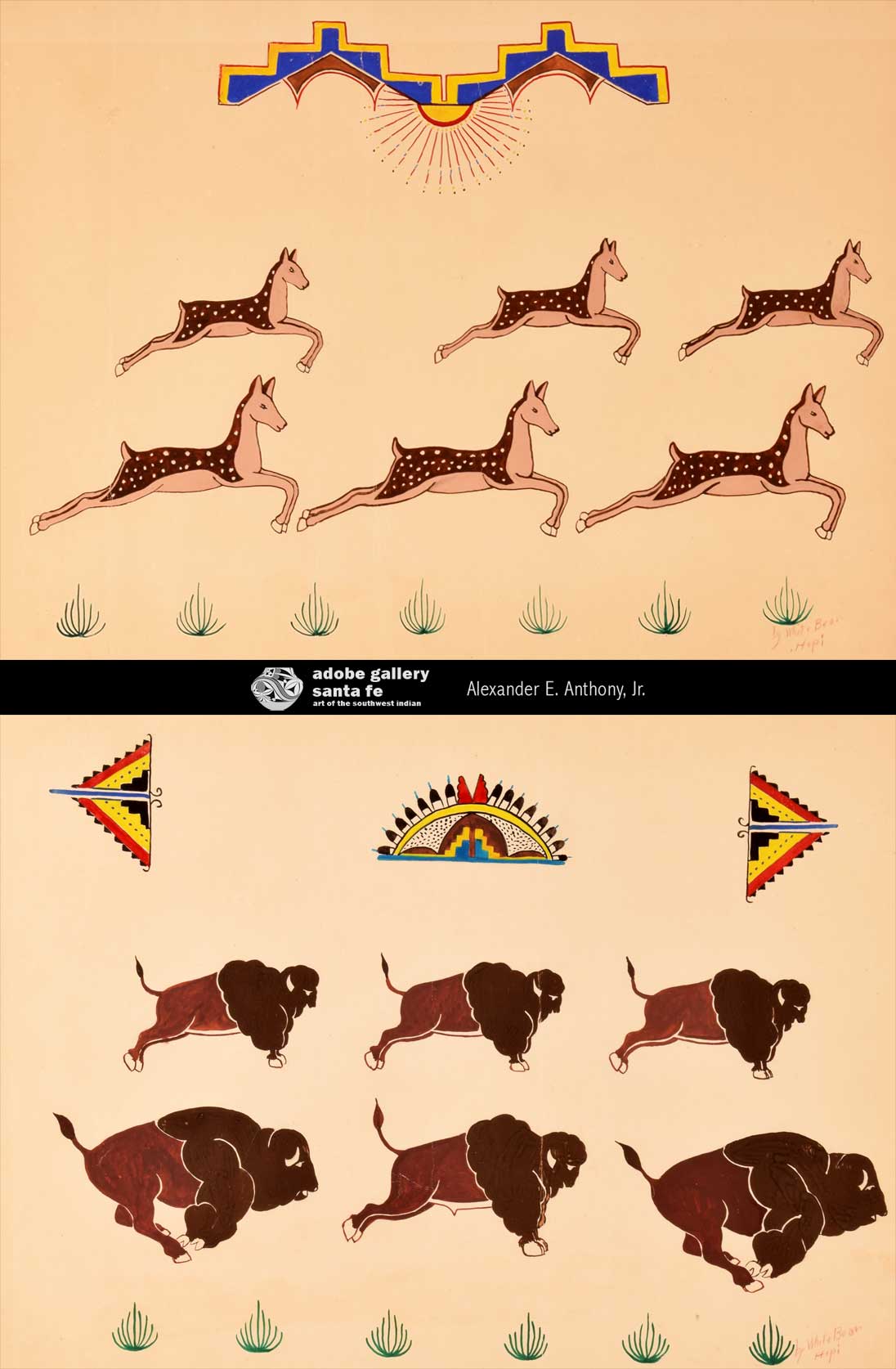 Click on image to view larger.
---
Adobe Gallery Recommended Reading

Kachinas - the Barry Goldwater Collection at the Heard Museum [SOLD]
by Barton Wright


BOOK OF THE HOPI [SOLD]
by Frank Waters (1902-1995)