Buffalo Dancer - Indians Forever Suite by Fritz Scholder - C3984J
Category:
Paintings
| Posted by |
Tue, Jun 5th 2018, 3:19pm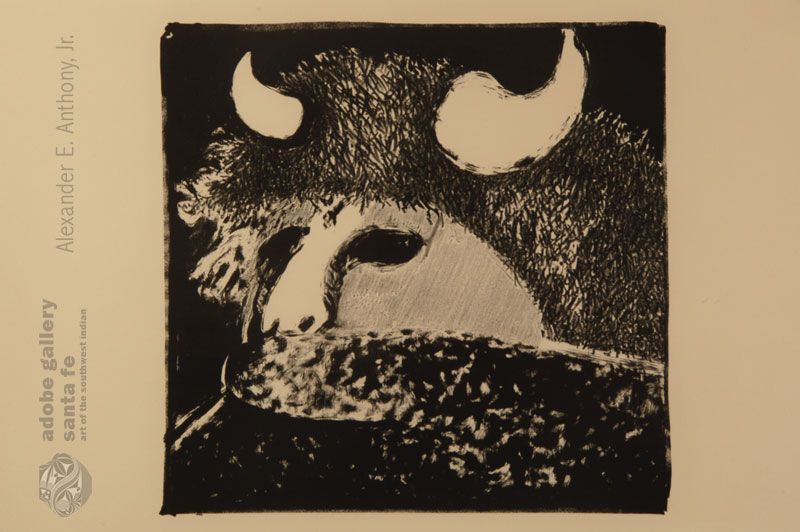 Fritz Scholder, a painter and printmaker who was one-quarter Luiseño, vowed early in his career never to "paint the Indian." Scholder eventually became interested in Native art and culture-particularly that of the New Mexico Pueblo Indians-when he moved to Santa Fe to teach at the newly-established Institute of American Indian Arts. Scholder was inspired by the ideas presented to him by his young Native students, and ultimately decided that he himself needed to tackle the subject. He painted his first Indian during the winter of 1967, and would go on to create hundreds of images of Indians. They were fresh, beautiful, and occasionally controversial. They have become some of his most iconic images.

In 1970, Scholder signed a contract to create a series of lithographs at Albuquerque's Tamarind Institute. He had experimented with lithography in college, and described the process as "laborious and terribly technical." Under the guidance of Tamarind's experienced printers, however, Scholder began to enjoy the lithography process. Scholder was invigorated by what was, to him, a new way to create and present his ideas. His first major project at Tamarind was his "Indians Forever" suite, which was presented in a portfolio containing eight of his best early pieces.

#adobegallery #SouthwestIndianPainting #NativeAmericanPainting #Luiseño #PuebloPaintings #SantaFeNM #FineArt #Print #FritzScholder