Glossary of Southwest Native American Art Terms
---
Artist Hopid: a group of Hopi Pueblo artists who worked together. Members of Artist Hopid were Michael Kabotie, Terrance Talaswaima, Milland Lomakema, Delbridge Honanie and Neil David, Sr.
Attribution: a personal impression based on one's knowledge and published data and cannot ever be absolute, however, there are published examples of pottery vessels with designs that may be compared with other jars, which will assist in making an attribution that is based on something other than guesses.
AT&SF: The Atchison, Topeka and Santa Fe Railway (reporting mark ATSF), often abbreviated as Santa Fe or AT&SF, was one of the larger railroads in the United States. Chartered in February 1859, the railroad reached the Kansas-Colorado border in 1873 and Pueblo, Colorado, in 1876. To create a demand for its services, the railroad set up real estate offices and sold farm land from the land grants that it was awarded by Congress. Despite the name, its main line never served Santa Fe, New Mexico, as the terrain was too difficult; the town ultimately was reached by a branch line from Lamy.
Avanyu: a deity of the Tewa Pueblos—San Ildefonso, Tesuque, San Juan, Santa Clara, Nambe, and Pojoaque—and is the guardian of water. He is represented as a horned or plumed serpent with curves suggestive of flowing water or the zig-zag of lightning. He appears on the walls of caves located high above canyon rivers in New Mexico and Arizona and may be related to the feathered serpent of Mesoamerica— Quetzalcoatl and related deities.

Bolo Tie: the Bola or Bolo tie is a Western fashion staple, hailed for its comfort and versatility. Employing several types of clasps, the bolo tie can be worn with a closed or loosened collar. In the 1930's, Navajo men would fasten a silver concha to their necks with a string. The bolo tie is also traced to the neckerchiefs worn by Boy Scouts and Argentine cowboys. In the United States bolo ties are widely associated with Western wear, and are common in the western areas of the country. New Mexico passed a non-binding measure to designate the bolo as the state's official neckwear in 1987. The State Legislature adopted the bolo tie as the official State Tie on March 13, 2007. Source: Maggie Toulouse Oliver, New Mexico Secretary of State , (website)
Casein: paint, derived from milk casein (milk protein), is a fast-drying, water-soluble medium used by artists.
Ceremonial Break: a break in framing line design on pottery.
Chongo - Chonga: Pueblo and Navajo hair style where the hair is tied in the back of the head in a bun. Male = chongo, female = chonga.
Copyright - Photography: All works published in the United States before 1923 are in the public domain. Works published after 1922, but before 1978 are protected for 95 years from the date of publication. If the work was created, but not published, before 1978, the copyright lasts for the life of the author plus 70 years. It's still the accepted custom or courtesy to give credit to the source and photographer (if known).
Diné: when we say Diné, as opposed to Navaho or Navajo, we are referring to the people and not the government. Since 1969, their government refers to itself as the Navajo Nation.
En Plein Air: a French expression which means "in the open air," and is particularly used to describe the act of painting outdoors.
Feast Day: a celebration of dancing and food to celebrate and honor the official Saint at each of the Pueblos.
Fetish: Zuni fetishes are small carvings made from various materials by the Zuni people. These carvings have traditionally served a ceremonial purpose for their creators and depict animals and icons integral to their culture. As a form of contemporary Native American art, they are sold with secular intentions to collectors worldwide. -Source: Wikipedia
Gallery Wrap: The canvas is stretched over wooden stretchers which are usually 1-1/4 inches or thicker. The canvas is folded and tucked around the sides and is stapled or attached on the back. This leaves the side of the canvas smooth and without any nails or staples to detract from the visual effect. Artists would even extend the painting around the sides. The art is then displayed without a frame. Neither gallery wrap nor traditional stretched canvas is better than the other. Some artists and collectors prefer the way the art looks framed, and others prefer an unframed look.
Gouache: an opaque watercolor paint. Whereas transparent watercolors allow you to see the "white" of the paper below the paint, gouache can be applied in solid colors. This allows an artist to paint in layers from dark to light.
Heartline: The heartline is used primarily by Zuni Pueblo potters and can be seen in many animals – usually a deer (heartline deer). The line from the mouth to the heart signifies the "breath of life."
Heishi: made from coral, turquoise or seashell. The shells or coral are first cut into small square sections, drilled in the center, strung on wire or string, then sanded by hand, in an up and down stroke, until each one is round. That sounds easy but is not. It is important to exert the same pressure on every stroke to achieve heishi of the same diameter when finished. The shell is punched out in a square shape, hole drilled through center, strung, and then sanded to the diameter it needs to be. According to the Indian Pueblo Cultural Center, the beaded tradition is most closely associated with Santo Domingo Pueblo, known for creating beautiful shell and gemstone beads by hand. These beads are called "heishi," which means "shell" in the Santo Domingo language Keres. Necklaces with similar bead styles have been found in the ancient Anasazi sites Chaco Canyon and Mesa Verde, and heishi may be the oldest form of jewelry in New Mexico. Traditionally, heishi beads are smooth flat discs, but today the term is used to refer to any small beads that are strung together. Note: Sometimes the word is incorrectly seen as heishe. Think of "e" before "i" and you have the correct way to spell this word.
Jaclas: means ear strings, were originally made to be worn as earrings. Later, they became an addition to what is considered to be the most traditional form of pueblo necklace.
Kachina: old way of spelling Katsina. There is no "ch" sound in the Pueblo languages - so it more accurate to use a "T" as in Katsina.
Ketohs: arm bands for bow hunting usually made out of leather.
The Kiowa Six, previously known as the Kiowa Five, is a group of six Kiowa artists from Oklahoma in the early 20th century. They were Spencer Asah, James Auchiah, Jack Hokeah, Stephen Mopope, Lois Smoky, and Monroe Tsatoke. -Wikipedia
Knifewing: a Zuni Spirit who is half-man, half-eagle.
Kokopelli: a fertility deity, usually depicted as a humpbacked flute player (often with feathers or antenna-like protrusions on his head), who has been venerated by some Native American cultures in the Southwestern United States. Like most fertility deities, Kokopelli presides over both childbirth and agriculture. He is also a trickster god and represents the spirit of music. (source: Wikipedia)
Koosa - Koshari: a very important figure in Pueblo society seen as a black and white striped clown who demonstrates to the children "what NOT to do" oftentimes through their actions. Don't smoke, drink, say bad words, treat others badly, or be lazy. They are oftentimes seen as leaders in a dance procession. The stripes of the Koshari are usually horizontal.
Los Cincos Pintores: Fremont Ellis joined with Willard Nash, Jozef Bakos, Walter Mruk, and Will Shuster to form one of Santa Fe's earliest artist groups, Los Cincos Pintores. Although the members of the group built houses adjacent to one another's on the Camino Del Monte Sol and maintained a close friendship all their lives, the association was one of convenience and shared interest, not one based on a common painting style.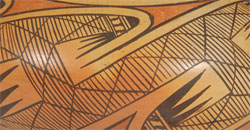 Migration Pattern: represents the migration of the Hopi through four worlds. The parallel lines presumably represent the migration of the Hopi.
Mother-n-law Bell: the Navajo mother-in-law bell is worn by the mother-in-law to warn her son-in-law of her impending arrival. The Navajo believe that the two must not lay eyes on each other.
Moki: An old word used to refer to s Hopi Pueblo person. It is now considered a derogatory term and is no longer used.
Mudhead - Koyemsi: A Zuni emergence myth tells us that the Zuni began a migration as soon as they entered this world. They first elected leaders for this migration-the son and daughter of the village chief-who went ahead of the others. During the trip, the brother became enamored with his sister and copulated with her. The result of this incestuous relationship was the birth of ten children that night. Nine of the ten were misshapen, impotent, and witless, and they became known as the Koyemshi-also known as the Mudhead. The ten Zuni Mudheads resemble each other but actually are different in their masks and gear.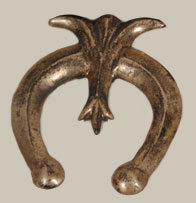 Naja: Early Navajo-made jewelry contained elements that were borrowed directly from Spanish colonial and Mexican ornament. One of these items is the naja, a crescent form of Moorish origin. The Spanish conquerors in the Southwest outfitted their horses in elaborate silver ornaments—one of which was the naja that hung directly on the forehead of the horse as a part of the bridle. Today, it is still seen in both Pueblo and Navajo modern jewelry.
Petit Point jewelry describes jewelry cluster-work that is made up of stones (often turquoise and coral) that are pear-shaped: oval on one end and pointed on the opposite. This type of work is typically made in round and oval designs, but other shapes are possible. This style is mostly made by Navajo Nation and Zuni Pueblo jewelers.
Piki: a bread made from corn meal used in Hopi cuisine. It is used in many Hopi Pueblo ceremonies and celebrations and takes days to make. It is a very thin bread.
Polychrome: 3 or more colors.
Prolific: produce in large numbers or quantities - and often.
Puki Impression or Bulge: A puki bulge is the result of starting the buildup of the hand coiled clay in a bowl or other vessel such as a flat basket. As the jar is built up, the weight of the wet clay bulges out over the rim of the puki, leaving a distinct bulge at that level, which can be felt by touch even after the firing process. This bulge previously was left in that state but later, as jars were made for the tourist trade, the bulge was sanded away. The very pronounced puki flexure on earlier Zuni jars greatly decreased over time to a less pronounced one. Puki lines are noticeable on pieces made as late as 1920, but rarely afterwards.
Pueblo: Spanish name for village. There are currently 19 Pueblo Nations in New Mexico and Arizona. The Pueblos are autonomous, independent, sovereign (self-governing) Native Nations within the United States of America (U.S.). All are within the U.S. State of New Mexico except for Hopi Pueblo which is located in the U.S. State of Arizona.

Pueblo Languages: More information can be found in this video.

- Hopi: the language spoken by the Puebloan people of Hopi, Arizona.

- Keres: the language spoken by the Puebloan people of Acoma, Cochiti, Laguna, San Felipe, Santa Ana, Santo Domingo, and Zia Pueblos are so closely related that linguists usually consider them dialects of a single language, known as Keres or Keresan.

- Tewa or Tano: one of three Kiowa-Tanoan languages spoken by the Pueblo people of New Mexico. Though these three languages are closely related, speakers of one cannot fully understand speakers of another. The six Tewa-speaking pueblos are Nambe, Pojoaque, San Ildefonso, San Juan, Santa Clara, and Tesuque.

- Tiwa: one of three Kiowa-Tanoan languages spoken by the Pueblo people of New Mexico. Though these languages are closely related, speakers of one cannot fully understand speakers of another. Many Tiwa elders believe that their language is not intended to be written and must be preserved by oral traditions alone. Some Tiwa people disagree with this position and think that using Tiwa as a written language will help keep it alive for future generations. The five Tiwa-speaking pueblos are Isleta, Picuris, Sandia, Taos, Tigua (Ysleta del Sur Pueblo).

- Towa or Jemez: the language spoken by the Puebloan people of Jemez.

- Zuñi: the language spoken by the Puebloan people of Zuni.

Pueblo Wrap: string wrapped around and coiled tightly - usually used in necklaces to secure them.

San Ildefonso Watercolor Movement: The San Ildefonso Watercolor Movement caught fire during 1915 to 1917. It fostered an art form unmatched in the cultural history of the world. These men and women portrayed tribal culture and local wildlife, attaining a flat decorative character, absent of backgrounds and foregrounds, and free of traditional perspective, with an unerring color sense. Their success in these presentations was due to their understanding the ceremonials they painted because they had participated in them since childhood. They understood the meanings of the symbolism they interpreted.

Sgraffito Carving: A method of pottery design known as sgraffito carving is relatively new in pueblo pottery traditions. Rather than deep carving, as is more traditional at Santa Clara Pueblo, sgraffito is achieved by scraping the vessel with a sharp instrument to achieve a shallow depth. The pottery is formed in the traditional coil method, slipped with a watery clay and stone polished before the sgraffito carving commences.

Shalako: a series of dances and ceremonies conducted by the Zuni people at the winter solstice, typically following the harvest. The Shalako ceremony and feast has been closed to non-native peoples since 1990.

Sterling Silver: an alloy of silver containing 92.5 by weight of silver and 7.5 by weight of other metals, usually copper. The sterling silver standard has a minimum millesimal fineness of .925.

Sunface: The two sections of the Sunface image represent two important ideas. The first is the pairing of one with the family. To the Zuni people family is as critical to life as food and water and they also believe each person is unique and special. Each requires the other, and both become represented as a main component in the Sunface. The other meaning is to symbolize the coming and going of the sun, sunrise and sunset or day and night. The continuity of these events gives hope and stability to the Zuni—neither can exist without the other.

Tableta: Older tabletas were made from wood that generally was salvaged from shipping crates obtained from the local trading post. They are made for girls and women to wear during the dances.

Taos Society of Artists was an organization of visual arts founded in Taos, New Mexico in 1915; it disbanded in 1927. The Society was essentially a commercial cooperative, as opposed to a stylistic collective, and its foundation contributed to the development of the tiny Taos art colony into an international art center. The Founders: Joseph Henry Sharp, Ernest L. Blumenschein, Bert Geer Phillips. (Wikipedia)

Tempera: egg tempera is a permanent, fast-drying painting medium consisting of colored pigments mixed with a water-soluble binder medium (usually a glutinous material such as egg yolk or some other size). Tempera also refers to the paintings done in this medium.

Tewa Pueblos: San Ildefonso, Tesuque, San Juan, Santa Clara, Nambe, and Pojoaque.

Tufa Casting: Tufa stone is a compressed volcanic ash material that is found on or near the Navajo Nation. It is easy to carve into a mold. Its porous surface leaves a unique texture once the poured metal has cooled in the mold. Tufa casting is labor-intensive and the process involves many steps.

United Indian Traders Association (UITA): formed in 1931 to insure quality craftsmanship in Native American art. The association had strict rules regarding the methods used to make jewelry. A UITA stamp was a guarantee the item was hand made by a member of an enrolled tribe. Traders paid dues and each post had its own number.

Warp and Weft: "All twill weaves are produced by floating the weft elements over more than one warp at a time to create a raised pattern of color and texture. Three twill-weave techniques were used by both Navajo and Pueblo weavers: plain twill forming diagonal floats; herringbone twill, in which the diagonal floats alternate direction to form a vertical zigzag or chevron pattern; and a diamond twill, in which the herringbone patterns are woven in such a manner as to create concentric diamond patterns." Reference: Kaufman, Alice and Christopher Selser. The Navajo Weaving Tradition 1650 to the Present: page 138.

Whirling Log Symbol: the swastika - or "svastika" from the ancient Sanskrit language - is one of our most universal and positive symbols. Literally it means "auspicious mark", but in various cultures it has signified well-being, highest perfection, happiness, pleasure or good luck. Many cultures understandably stopped using the symbol after it was adopted by the German Reich.

Yei: Yei figures are sacred to Navajo people, as they allow communication between humans and their gods. These "Guardian Rainbow" Yei figures protect the dancers below them. Also note that when we say Diné (as opposed to Navaho or Navajo), we are referring to the people and not the government. Since 1969, their government refers to itself as the Navajo Nation.