---
Hopi Cottonwood Root Kawai-i or Horse Katsina Doll [SOLD]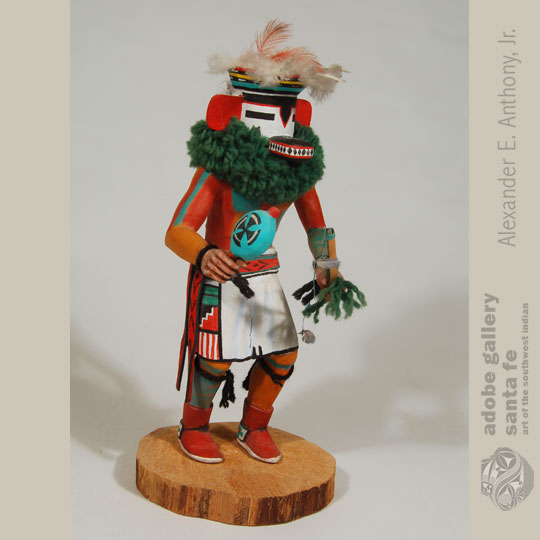 + Add to my watchlist Forward to Friend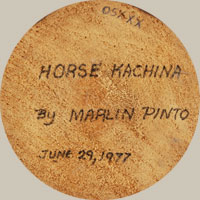 The Horse Katsina derives its name from the Spanish word for horse—caballo. Oddly enough this is not an old katsina and was probably introduced less than a hundred years ago. It still carries a Spanish name. He may usually be seen during the Soyohim or Mixed Katsina Dances, but may also appear in the Bean Dance Parade, or in groups on Third Mesa and sometimes in the kiva dances at Hopi Pueblo. He is far less popular today than he was a couple decades ago.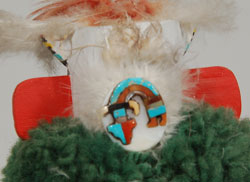 This Katsina doll was exquisitely carved and painted. He carries a bow and yarn, representing evergreen boughs, in his left hand. Small feathers are attached at each end of the bow. In his right hand, he carries a gourd rattle. A green ruff around his neck represents evergreen boughs. On top of his head is a spray of feathers. Most unusual is a Zuni multi-stone Rainbow Man pendant attached to the back of the mask. A beautifully detailed fox hangs down the back of the skirt.
Marlin Pinto is a Hopi who was born at Zuni Pueblo, an explanation for the Zuni mosaic pendant on the mask. His mother is Shirley Ben, his grandmother was Daisey Hooee Nampeyo, and his great grandmother was Annie Healing Nampeyo, which makes his great great grandmother Nampeyo of Hano. Marlin started carving when he was only eleven years old and quickly became famous for his exquisite miniature katsina doll carvings. Later, he became even more famous for his truly outstanding larger one-piece katsina doll carvings.
Marlin is a self-taught carver. He watched his uncle, famous Hopi painter, Raymond Naha, who occasionally carved in between painting sessions. He picked up the technique by watching Naha. In carving the one-piece katsina dolls, Marlin uses only a pocket knife. He has no power tools. He feels that the pocket knife reveals a more natural look to the one-piece carvings. He spends about a month to completely carve a larger Kachina doll.
Condition: this Hopi Cottonwood Root Kawai-i or Horse Katsina Doll is in very good condition, with a minor crack in the wood on the front of the skirt
Provenance: this was part of the inventory at the Popovi Da Studio at San Ildefonso Pueblo at the time it was closed permanently. The remaining inventory passed through the family down to a granddaughter from whom this was just acquired.
Reference: Kachinas: a Hopi Artist's Documentary by Barton Wright with original paintings by Cliff Bahnimptewa.
Marlin Pinto (1957- )
---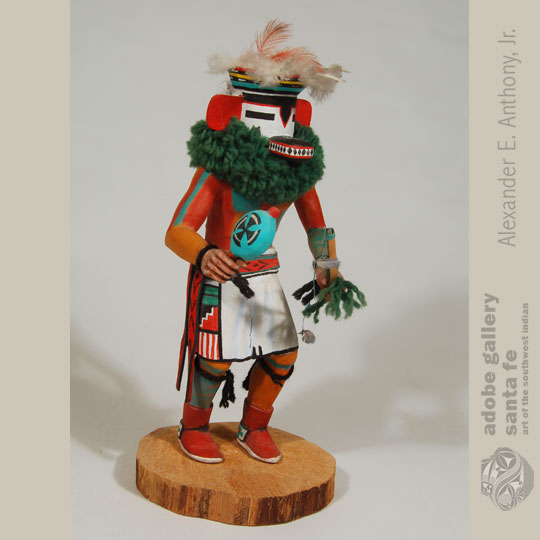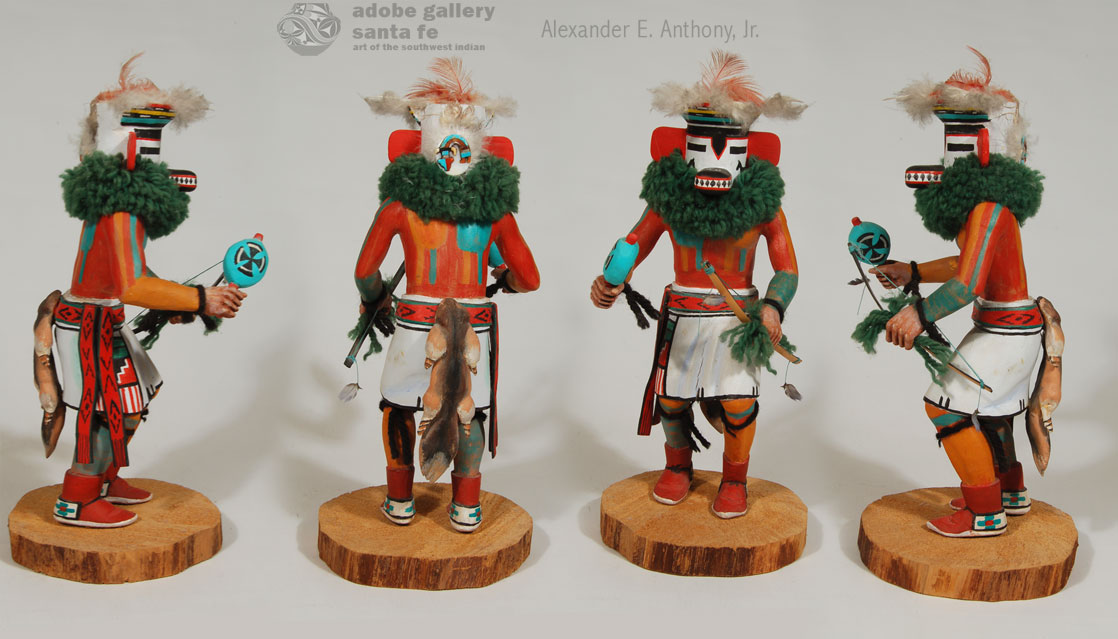 Click on image to view larger.
---
Adobe Gallery Recommended Reading