---
Original Painting of Navajo Man on Horseback [SOLD]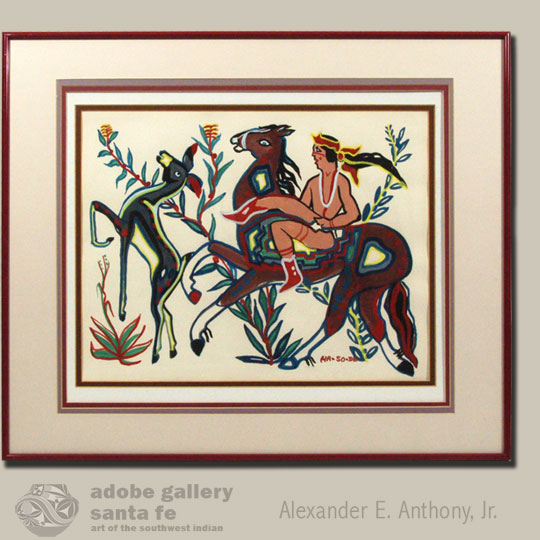 + Add to my watchlist Forward to Friend
Narciso Platero Abeyta (1918-1998) Ha So De - Fiercely Ascending was a Diné painter and silversmith. He was, among other things, a Golden Gloves boxer and one of the hundreds of Navajo Code Talkers who served in the Marines during World War II. He and wife Sylvia Ann had seven children, many of whom—Tony Abeyta and Elizabeth Abeyta Rohrscheib and Pablita Abeyta—became notable artists themselves. He is highly revered by collectors of Native American art, and his works are included in numerous prestigious public and private collections. Because of his singular style, his enormously talented children, and his influence on younger painters, he is regarded as one of the most significant Native American painters.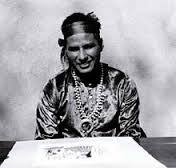 Abeyta received his initial art education at the Santa Fe Indian School, whose art instructor Dorothy Dunn commented on his abilities in her book American Indian Painting of the Southwest and Plains Areas: "Ha-So-De developed a markedly unique style, although, in his formative period, his admiration for the work of (Navajo painter Andy) Tsihnahjinnie could be clearly seen. It was a fine influence and used honorably by the younger painter. His paintings of hunt and home scenes were broad in brushwork and flowing in line, at times appearing almost nonchalant. He was never concerned with small detail but only with the sweep and dash of movement in wild, free scenes. His was a positive art." He received further education at the University of New Mexico, where he studied under famous modernist painter Raymond Jonson.
While his earliest works bear an Indian School influence, the majority of his works are composed in a manner that is atypical of Navajo painters. His subjects—horses, hunters, Yei figures, ceremonial and daily rituals—were decidedly Navajo, but the style in which he depicted these subjects was all his own. While his peers favored detail and naturalism, he favored stylization and abstraction. This untitled painting is exactly that: a familiar scene executed in a wildly progressive style.

Subject matter-wise, it's a traditional Navajo scene: a man, his horse, and a deer. They're pictured in motion and in profile, as Ha So De would have learned during his time at the Santa Fe Indian School. Aside from these characteristics, this piece has little in common with the works created by his Indian School peers. It's classic Ha So De, though, and will be instantly recognized and appreciated by anyone with a taste for this incredible artist's totally unique creative voice. Here, he eschewed the pale pastel watercolors favored by some of his peers in favor of bright, vivid, thick watercolors. One of his best and most idiosyncratic tendencies was the way he executed his linework—doubled, sometimes tripled; in complementary, non-naturalistic colors. Here, he went a step further, adding a searing bright yellow and including fourth lines in certain areas. These extra touches are in no way excessive; they serve the composition beautifully. The end result is hypnotic and beautiful, even more otherworldly than Ha So De's usual.

The painting is framed beautifully, under multiple layers of matting in a variety of colors. It is signed in its lower right corner.
Note: when we say Diné, as opposed to Navaho or Navajo, we are referring to the people and not the government. Since 1969, their government refers to itself as the Navajo Nation.

Condition: this Original Painting of Navajo Man on Horseback is in original condition
Provenance: From a Santa Fe collection
Recommended Reading: American Indian Painting of the Southwest and Plains Areas by Dorothy Dunn
Photo Source of Ha So De: Wikipedia
Narciso Platero Abeyta, Ha So De, Navajo Painter
Category: Paintings
Origin: Diné of the Navajo Nation
Medium: gouache on paper
Size:
12-3/8 x 15-3/4" image;
19-3/4" x 23-1/4" framed
Item # C4093

SOLD
---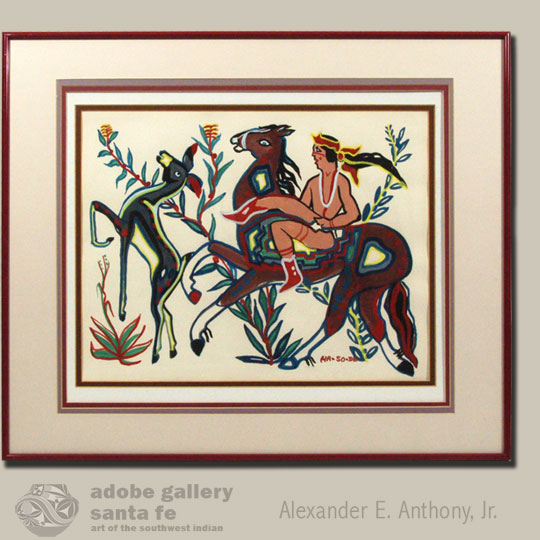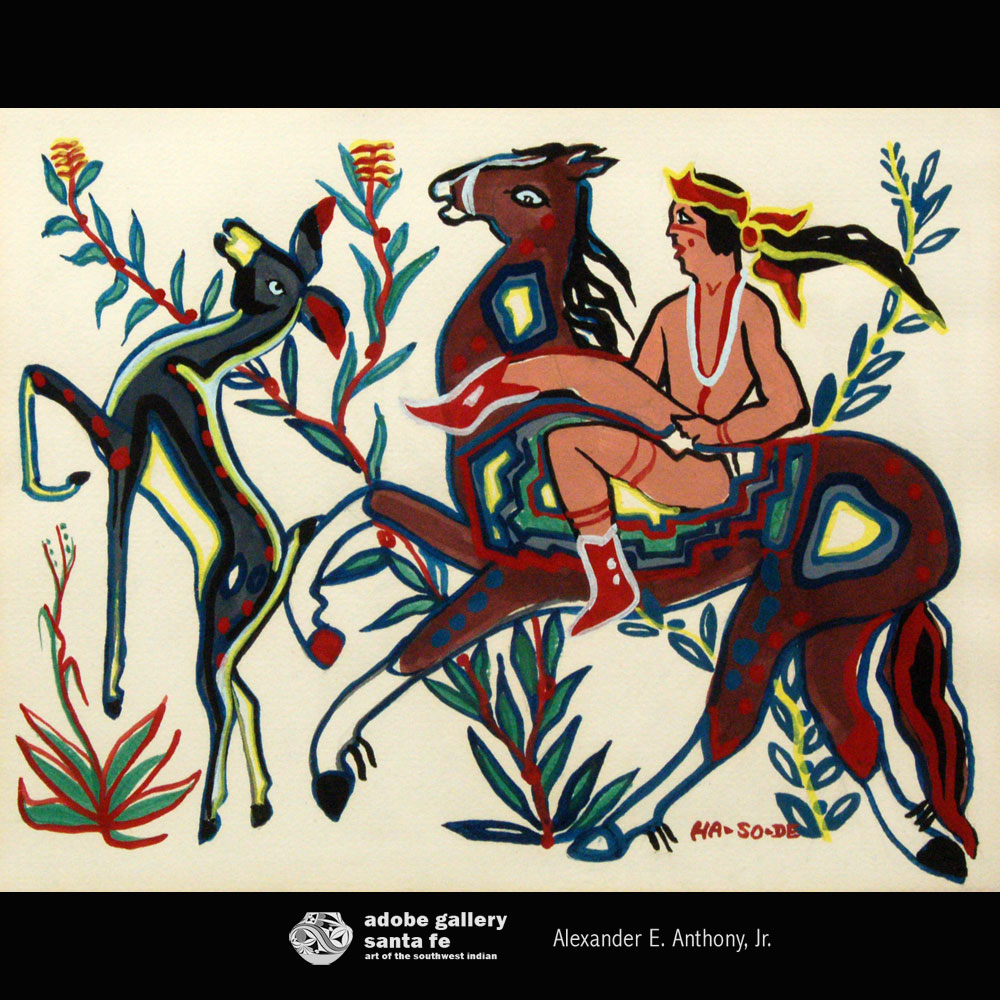 Click on image to view larger.
---
Adobe Gallery Recommended Reading

American Indian Painting of the Southwest and Plains Areas [SOLD]
by Dorothy Dunn (1903-1992)


Painting the Native World—Life, Land, and Animals [SOLD]
by Valerie Verzuh, et al.


NATIVE AMERICAN ART [SOLD]
by David W. Penney