---
Outstanding Hopi-Tewa Historic Polychrome Pottery Jar with Corn Designs by Nampeyo of Hano [SOLD]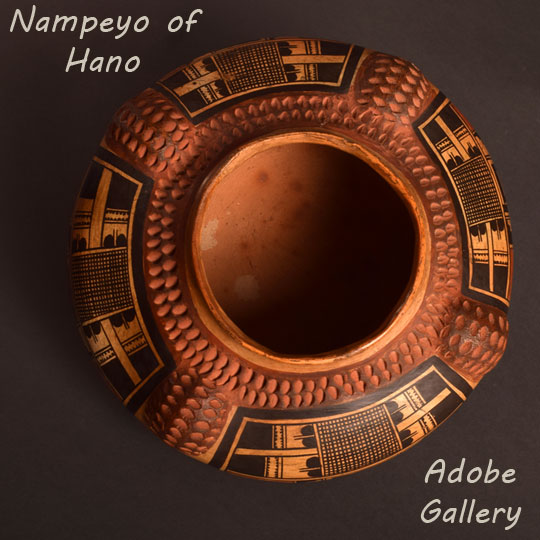 + Add to my watchlist Forward to Friend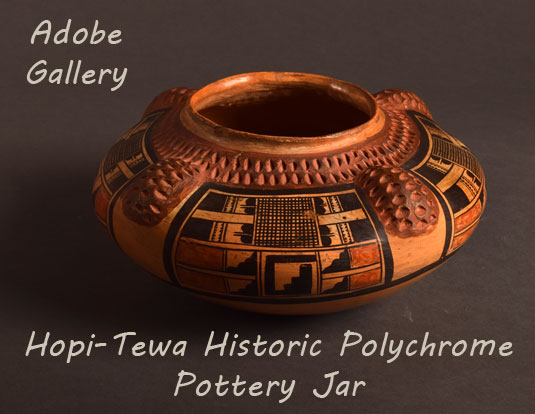 According to Barbara Kramer's book Nampeyo and Her Pottery, legendary Hopi potter Nampeyo of Hano began making pottery with corrugations or indentations as her eyesight began failing. Perhaps this more tactile design was easier for her as it reduced the area that needed to be decorated with painted designs. A photograph by Emry Kopta, taken around 1920, of a similar jar by Nampeyo with indentations in the design around the neck is evidence that she was making such at that time. There are other jars of this style in collections that appear to date between 1918 and 1922.
Dr. Ed Wade, who has probably seen more Nampeyo pottery than any other person, acknowledges Kramer's thoughts but believes Nampeyo of Hano (1857-1942) did not wait until her sight began deteriorating, but made jars of this vessel shape with indentations as early as 1900. He states that as early as 1900 there are examples of her use of appliqué documented in a photograph by Sumner W. Matteson. Dr. Wade, in his book Canvas of Clay, published a photograph of a Nampeyo jar with appliqué clay around the mid-body which he dates to ca. 1905, and another jar with rows of indented clay around the shoulder which he dates to ca. 1905-1910. There is no example in the book of one with pushed out corn elements like the ones seen on this incredible jar.
This jar has a double row of impressions around the shoulder, possibly made with a stick or some other object, and four ears of corn pushed out from the inside of the jar, with four vertical rows of impressions creating corn kernels. These two areas were slipped with a beautiful and rich rose color clay. These raised corn elements appear to be from the creative mind of Nampeyo as there were no jars from the 1895 excavations at Sikyatki of that style.
The remainder of the body of the jar is decorated with four very precise and structured panels of designs typical of the Sikyatki period of Hopi ceramics. The painting is so precise, one would tend to agree with Dr. Ed Wade's opinion that Nampeyo was making this style as early as 1900 when her eyesight was unencumbered. The black crossed fine lines are very straight and narrow, and the brushwork was with precision. The vessel walls are thin and the rim curves out just slightly in that identifiable Nampeyo style.
This jar's color and patina are truly outstanding. It has a beautiful orange warmth achieved from firing. The red used for the rows of indentations works perfectly atop the warm orange of the remainder of the vessel. The compact design concept and rows of indentations enhance the beauty of the vessel in an incredibly unique way. It exudes an importance that is hard to ignore. It truly is an exceptional example of Nampeyo's extraordinary artistic talent.
Condition: the jar is in excellent condition, with just a few minor abrasions. It has been examined under a blacklight and shows no signs of restoration or repair.
Provenance: this Outstanding Hopi-Tewa Historic Polychrome Pottery Jar with Corn Designs by Nampeyo of Hano is from a Colorado collection
References:
Relative Links: Nampeyo of Hano, Marti Struever, Thomas Keam, Thomas Polacca, Trading Post, Fred Harvey Company, Hopi Pueblo, Contemporary Pottery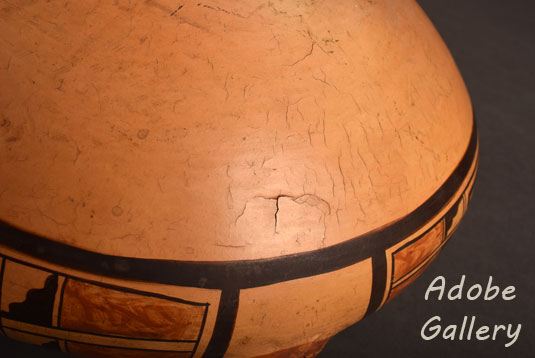 Nampeyo of Hano, Hopi Pueblo Potter and Matriarch
---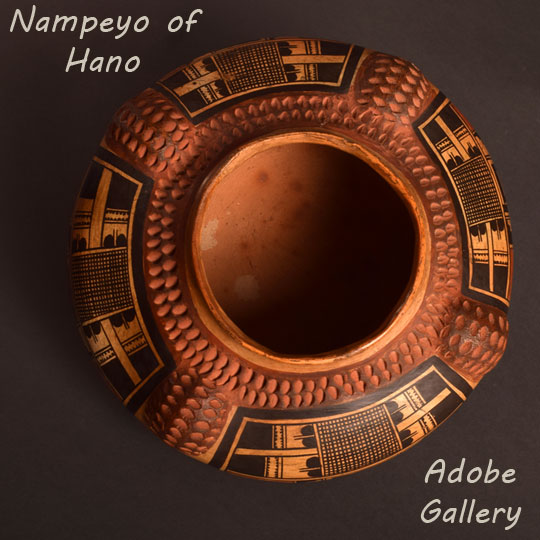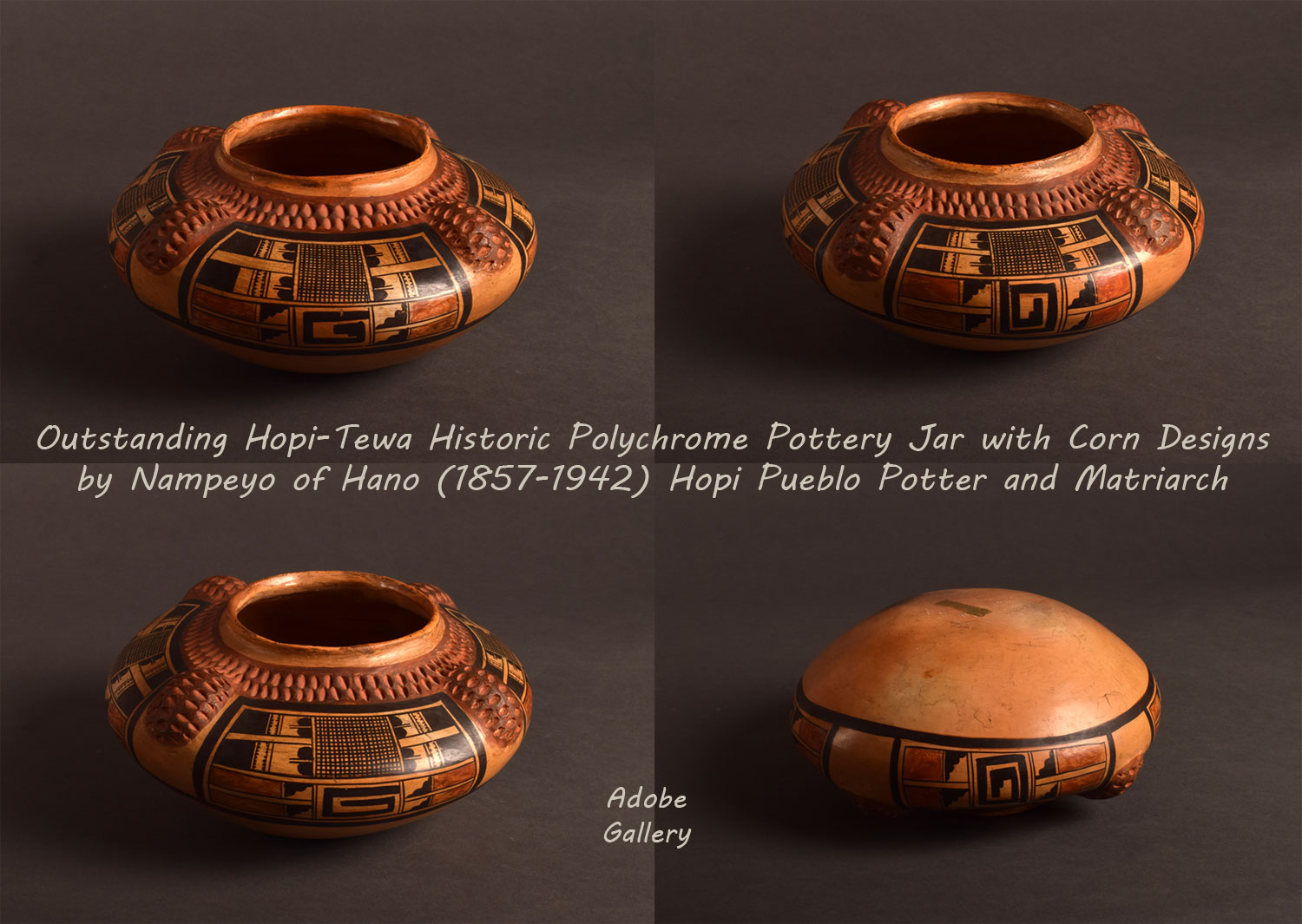 Click on image to view larger.
---
Adobe Gallery Recommended Reading
Adobe Gallery Recommended Items
---
If you are interested in this item, we would also like to recommend these other related items: