---
Untitled Painting of a Pueblo Buffalo Dance [SOLD]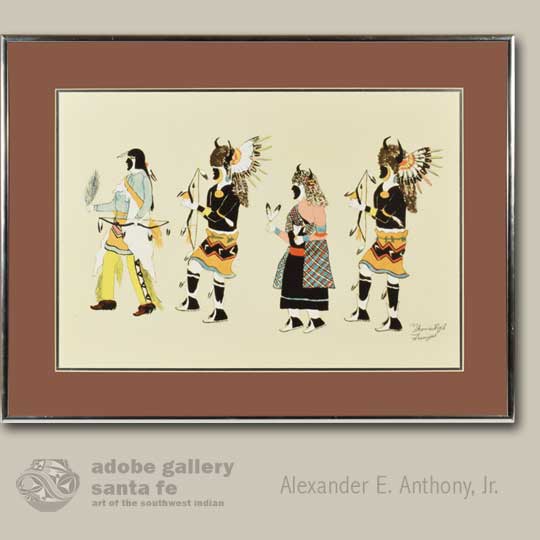 + Add to my watchlist Forward to Friend
Tomás Vigil (1889-1960) Pan-Yo-Pin - Summer Mountain of Tesuque Pueblo was one of the earliest 20th century pueblo painters. The majority of his works were produced between 1920 and 1950. A self-taught artist, Vigil captured the customs of Tesuque Pueblo with rigid accuracy and detail. He set the standard for subsequent Tesuque painters, including his son Paul Vigil. His works are included in numerous collections, including the Millicent Rogers Museum in Taos and the Museum of New Mexico in Santa Fe. Famous Santa Fe painter Olive Rush bought Indian paintings and drawings as early as 1914 from Tesuque Pueblo. Among her early paintings were several by Pan Yo Pin. An exhibit in 1927 in New York featured an unusually large number of painters from New Mexico pueblos. Pan Yo Pin was included in this exhibit. These paintings made a tremendous impression on the Eastern public and were praised in the Eastern press.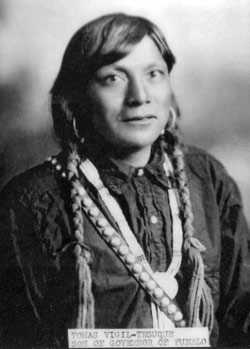 Pan Yo Pin was again represented in the Exposition of Indian Tribal Arts in 1931 in New York. This was a major exposition conceived and executed by Santa Feans and supported with items lent by over 50 museums, colleges and private collectors. With artist John Sloan as its president, the exposition gave an important place to paintings among other selections of arts and crafts. Among the other artists whose works were included were Awa Tsireh, Otis Polelonema, Oqwa Pi, Crescencio Martinez, Fred Kabotie, Tonita Peña, Tse Ye Mu, and the *Kiowa Six.
Much like his contemporaries, Pan Yo Pin most frequently chose Pueblo dances as his subjects. These ceremonies are incredibly important to their participants and observers, and so it makes sense that these early artists used them as inspiration. They are beautiful ceremonies with decidedly positive intentions, and so these paintings, despite being produced in large quantities, always feel important and powerful. Pan Yo Pin's images differ from those of his aforementioned peers in one notable way: they feel looser and more primitive. This is no slight, however, as his are strong and exciting paintings that feel every bit as powerful as those of his more technically inclined contemporaries. Pan Yo Pin's dance scenes have an energy about them, and his loose, unrestrained style allows that energy to reach the viewer.

This untitled painting is bursting with color, energy and movement. It depicts a four-figure Buffalo Dance, with three male dancers and one female dancer. Pan Yo Pin's outlines appear to have been painted not to define his finished subjects but to guide the placement of his bold blocks of color. In some areas, like the figure at the front of the procession, the outlines remain visible through pale watercolors. In others, they're covered up entirely by opaque, dark paints. Sharply contrasting pairs of colors—black and white, pink and blue, orange and black—give the image an eye-catching quality that is not always present in early pueblo paintings. His subjects' faces, which are similar in shape to Awa Tsireh's but a bit simpler, are often highlights of his images. This is no exception. Each of Pan Yo Pin's four dancers has an indescribably attractive quality that contributes to the painting's considerable charm.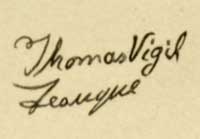 This painting is signed Thomas Vigil - Tesuque in its lower right corner.

Condition: this Untitled Painting of a Pueblo Buffalo Dance is in excellent condition
Provenance: from the large collection of a Texas resident
Recommended Reading: Clara Lee Tanner's Southwest Indian Painting: A Changing Art
*The Kiowa Six, previously known as the Kiowa Five, is a group of six Kiowa artists from Oklahoma in the early 20th century. They were Spencer Asah, James Auchiah, Jack Hokeah, Stephen Mopope, Lois Smoky, and Monroe Tsatoke. -Wikipedia
Photograph of Tomás Vigil by Horace Swartley Poley (1863-1949), circa 1915.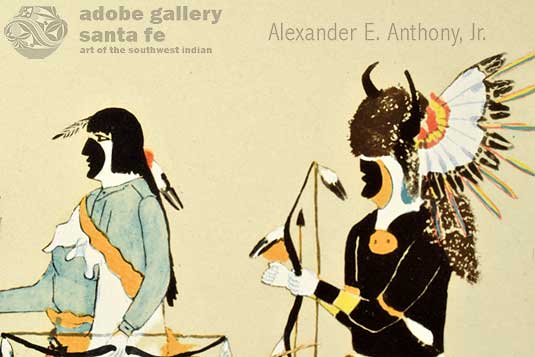 Tomás Vigil (1889-1960) Pan-Yo-Pin - Summer Mountain
Category: Paintings
Medium: watercolor
Size:
11" x 16" image;
15-1/2" x 20-1/2" framed
Item # C4149A

SOLD
---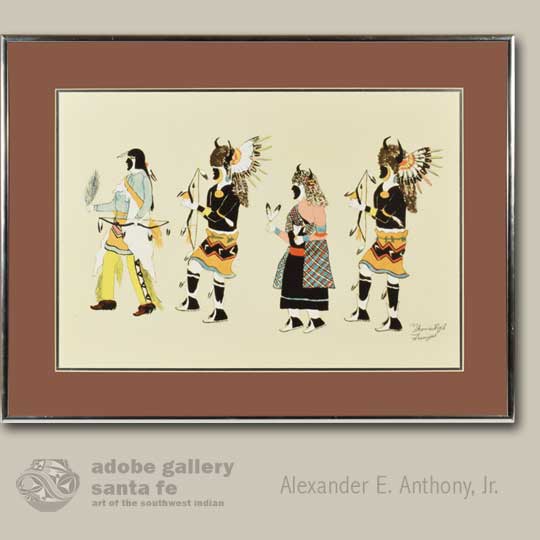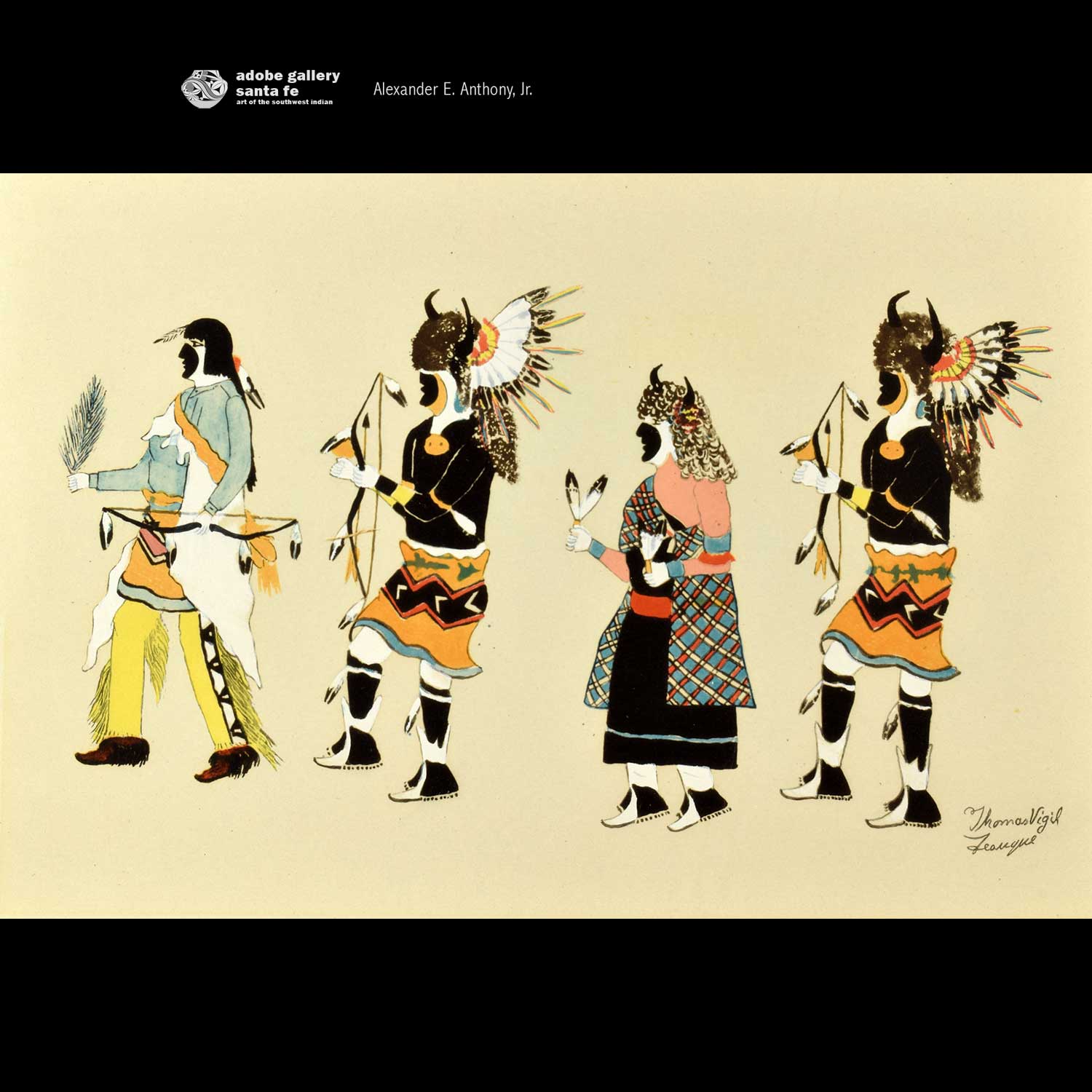 Click on image to view larger.
---
Adobe Gallery Recommended Reading