---
Untitled Painting of Four Horses Descending to Shiprock [SOLD]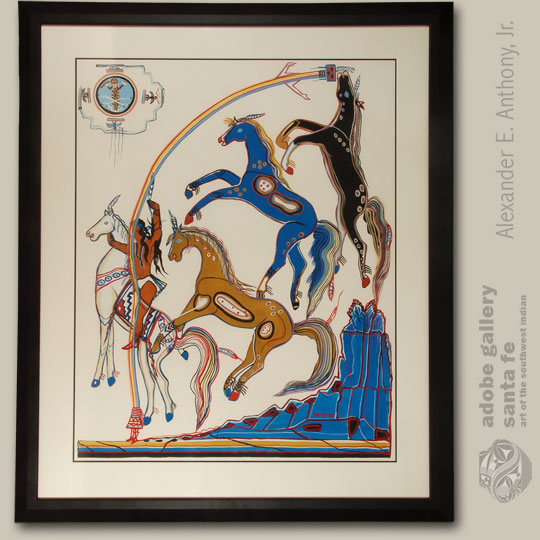 + Add to my watchlist Forward to Friend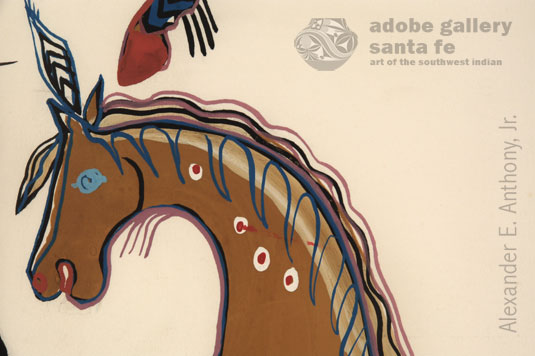 Narciso Platero Abeyta (1918-1998) Ha So De was a Navajo painter and silversmith. He was also, among other things, a Golden Gloves boxer and one of the hundreds of Navajo Code Talkers who served in the Marines during World War II. He and wife Sylvia Ann had seven children, many of whom—Tony Abeyta, Elizabeth Abeyta Rohrscheib and Pablita Abeyta—became notable artists themselves. He is highly revered by collectors of Native American paintings, and his works are included in numerous prestigious public and private collections.
Abeyta received his initial art education at the Santa Fe Indian School, whose art instructor Dorothy Dunn commented on his abilities in her book American Indian Painting of the Southwest and Plains Areas: "Ha-So-De developed a markedly unique style, although, in his formative period, his admiration for the work of (Navajo painter Andy) Tsihnahjinnie could be clearly seen. It was a fine influence and used honorably by the younger painter. His paintings of hunt and home scenes were broad in brushwork and flowing in line, at times appearing almost nonchalant. He was never concerned with small detail but only with the sweep and dash of movement in wild, free scenes. His was a positive art." He received further education at the University of New Mexico, where he studied under famous modernist painter Raymond Jonson.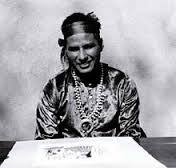 Ha So De's "positive art" is, at its very best, joyful and unclassifiable. While his earliest works bear an Indian School influence, the majority of his works were composed in a manner that is atypical of Navajo traditionalists. His subjects—horses, hunters, Yei figures, ceremonial and daily rituals—were decidedly Navajo, but the style in which he depicted these subjects was all his own. While his peers favored detail and naturalism, he favored stylization and abstraction. His color choices, too, are notably different from those of his contemporaries, many of whom favored soft, pale pastels. Ha So De's color choices are bold and adventurous, and his linework—often doubled or tripled in complementary, non-naturalistic colors—is itself remarkable.
This massive untitled painting shows Ha So De at his very best. It was completed in the mid 1970s as part of what is now known as Ha So De's "mythological series." It's a powerful image: four horses, one of which carries a man, ascending towards a long, gently curving Yei figure. The horses—each one an entirely unique creation—look every bit as spectacular as their revered protector, which curves up from the ground. They're staggered, each one a bit higher and leaned back a bit farther than the last, with multicolored tails and manes flowing behind them. As they reach up and away from the ground, they become bolder, stranger, and more visually arresting. At the top of the image, a fantastic black horse—augmented and outlined beautifully with soft pinks, grays and whites—is vertically aligned, leaping upwards into the Yei's path. The man, too, riding on the back of the most brightly colored of the four horses, reaches directly upwards into the Yei. The image, with its four distinctly colored horses, is most likely a direct reference to the Navajo creation story—a legend that details the peoples' journey from four sacred worlds into their current home.
Ha So De filled out the composition's top left and bottom right corners with imagery that is spiritual and physical, respectively. The upper left depicts the spiritual world, with sandpainting motifs completed in pale blues and pinks. The lower right depicts an actual landmark in the physical world: Shiprock. In a clever reference to a significant Navajo legend, Ha So De added small feathers to the formation's peak. These two worlds are linked together by the aforementioned scene: four horses and one man, ascending towards a Yei figure. This scene winds between the two worlds, and itself appears to be of both worlds. The artist's stylized compositions are dreamlike, almost surreal, giving the earthly beings their own mystical qualities. The skill with which which Ha So De balanced and linked these fundamentally disparate images—the physical with the spiritual, or the literal with the metaphorical—is truly incredible, and serves as the painting's most distinctly Navajo characteristic.

Notable, too, is the painting's size. At about three and half feet by two and a half feet—or four and half by three and half in its simple, black and white frame and matte—it is considerably larger than than the majority of Ha So De's works. The image—gorgeous, hypnotic, and graced with an inexplicable rhythm—commands and deserves the full attention of its viewer. Its subject matter is significant, and its energy is powerful. It is, quite simply, one of the best and most exciting paintings we have had the pleasure of handling in recent years.
Condition: this Untitled Painting is in excellent, original condition
Provenance: This painting originally created in the mid 1970s along with a handful of other large, mythologically-themed works. The paintings were sold through an Arizona gallery. It came to Adobe Gallery from a Santa Fe resident who is downsizing.
Recommended Reading: Southwest Indian Painting: A Changing Art by Clara Lee Tanner
Source of Ha So De photo: Wikipedia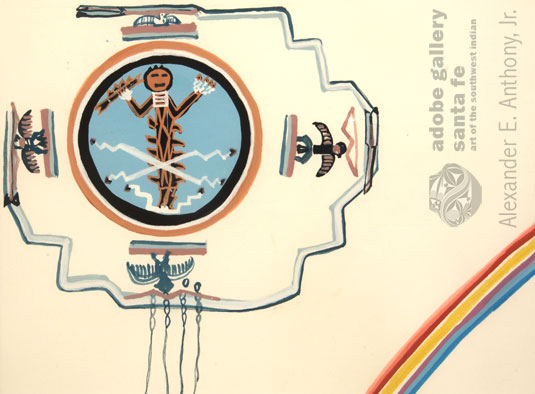 Narciso Platero Abeyta, Ha So De, Navajo Painter
Category: Paintings
Origin: Diné of the Navajo Nation
Medium: watercolor
Size:
38-½" x 30-½" image;
50-⅛" x 41-¾" framed
Item # C4059.25

SOLD
---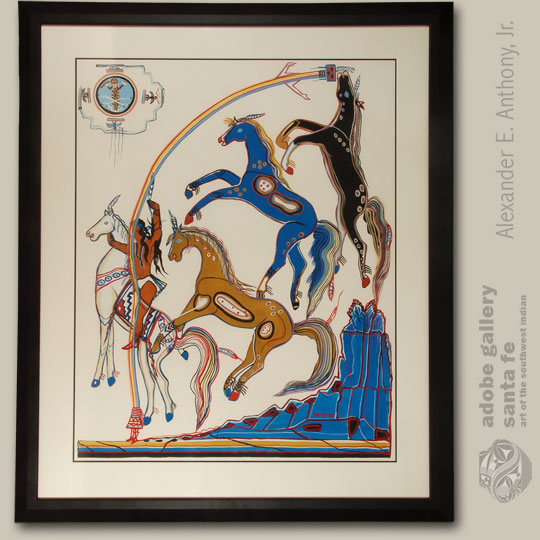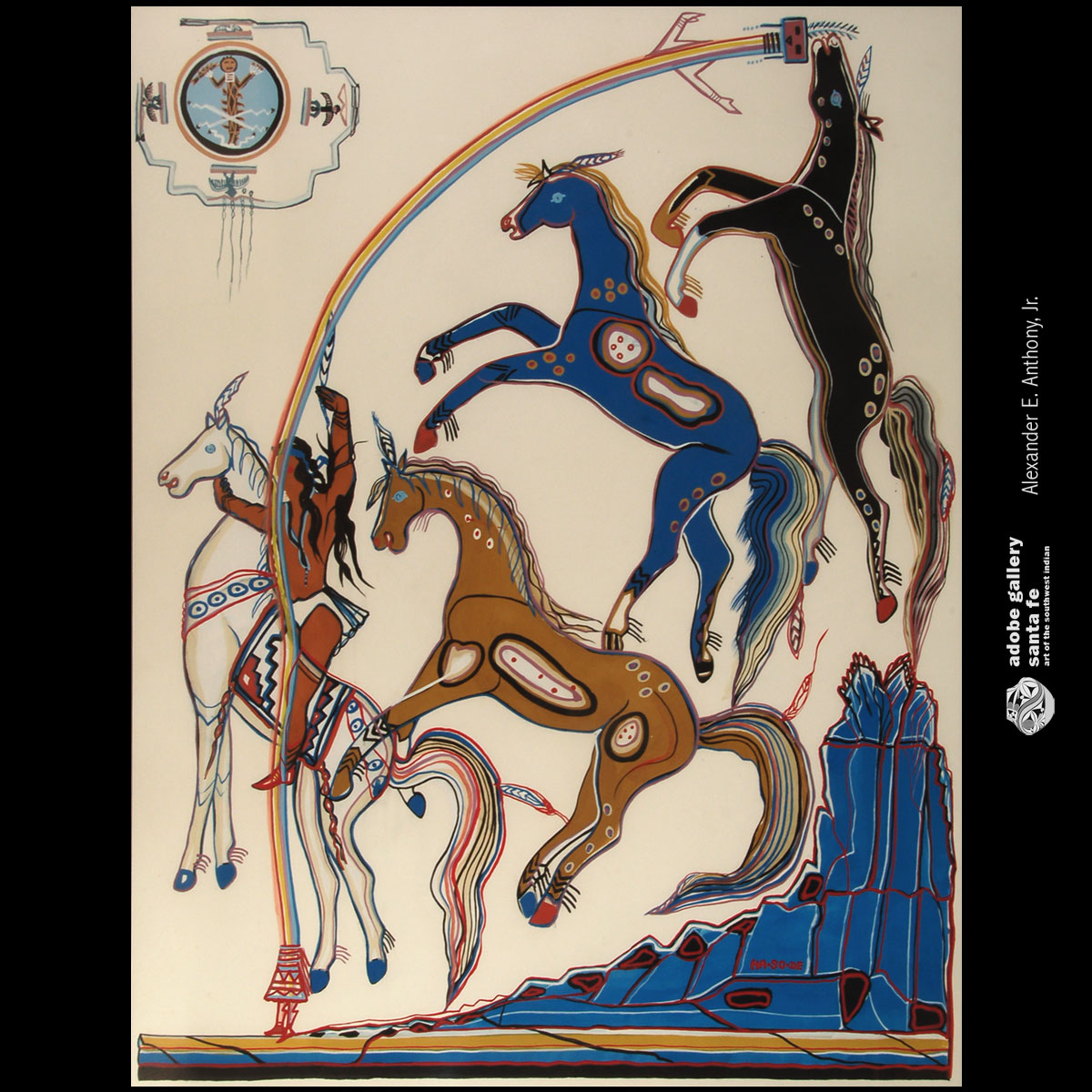 Click on image to view larger.
---
Adobe Gallery Recommended Reading