Original Painting "Moisture in the Morning Yei" by Pablita Velarde - C4105
Category:
Paintings
| Posted by |
Wed, Aug 15th 2018, 1:01pm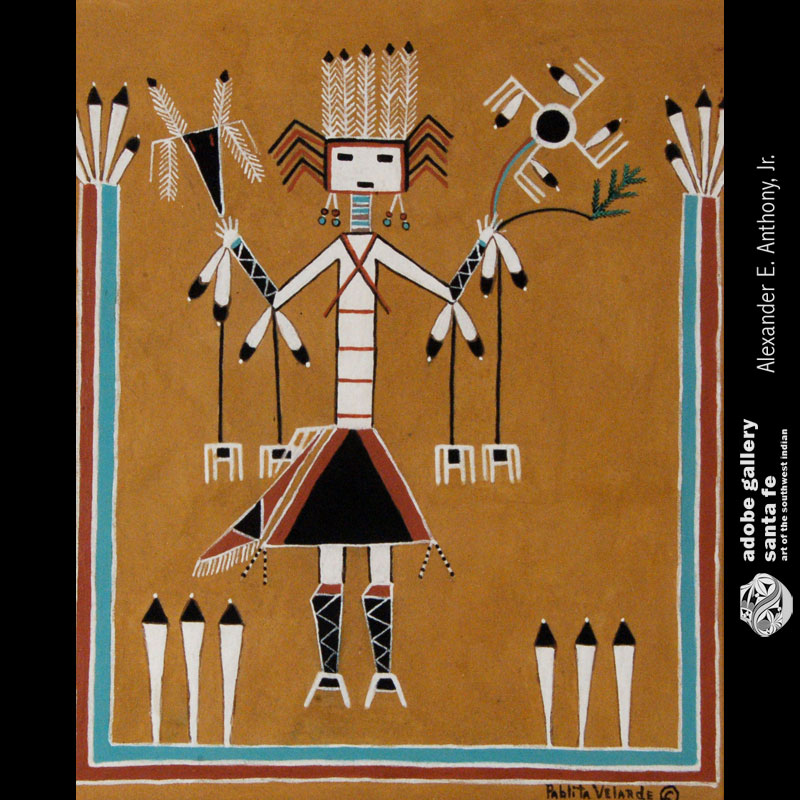 Pablita Velarde (1918-2006) Tse Tsan - Golden Dawn was an innovative and influential artist from Santa Clara Pueblo. Velarde was the first full-time female student in Dorothy Dunn's art class at the Santa Fe Indian School, where she studied alongside Tonita Peña. These two women are regarded as the first Native American women to support themselves as painters, but it's not just because of this that they are remembered so fondly. It's because of the quality of their works that they have remained so visible in the many years since they have passed.
Velarde painted in the traditional style of the Santa Fe Indian School, creating accurate portraits of Native American life and culture. At first she worked in watercolor, but later learned how to prepare paints from natural pigments-a process called "Fresco Secco." She is best known for these mineral earth paintings. She ground mineral and rock elements on a metate and mano until the result was a powdery substance. From this substance her paints were made. She also painted on paper, often using casein in addition to earth pigments. She was also known to create art derived from the Navajo sandpainting tradition.
Velarde's list of accomplishments and accolades is long and varied. Her works have been exhibited around the country and are included in many prestigious public and private collections. Author and anthropologist Clara Lee Tanner called her the "greatest woman artist in the Southwest." Her daughter Helen Hardin and her granddaughter Margaret Bagshaw were themselves very successful and influential painters, creating an artistic dynasty that spanned three generations.

#adobegallery #SouthwestIndianPainting #NativeAmericanPainting #SantaclaraPainting #PablitaVelarde #FineArt #IndianMarketCountdown2018 #sfim2018