---
Santo Domingo Polychrome Historic 19th Century Pottery Dough Bowl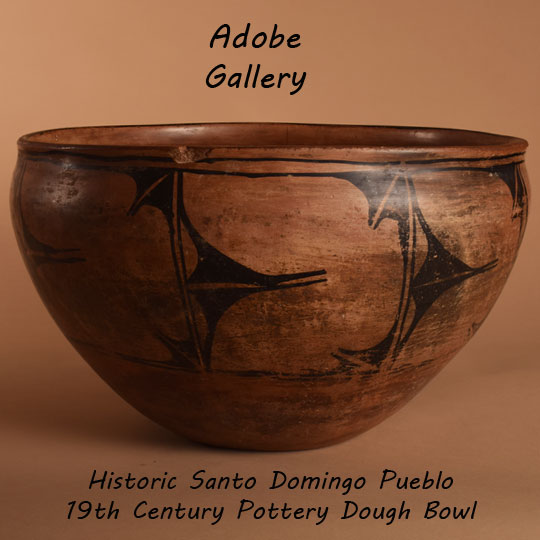 + Add to my watchlist

Forward to Friend
According to Jonathan Batkin (1987), the Smithsonian Institution collected very little pottery from Santo Domingo Pueblo in 1879 and 1880, an indication that potters were making what they needed for daily use and not producing for sale to merchants or collectors. This situation changed in 1880 when a railroad stop was built near the pueblo and potters then began making pottery for sale. (That trading post at the railroad stop burned down and was closed a number of years ago but has just recently, in 2015, been restored and re-opened.) Pottery being made for use at the pueblo and pottery made for sale in the 1880s was of the highest quality and this persisted until around 1920.
This Santo Domingo Polychrome dough bowl dates to the 1880s or 1890s. It has the traditional rag-wiped bentonite slip, black rim around the top, and paired black framing lines above and below the decorated panels. The main body is decorated with sparsely spaced black cloud elements that frame otherwise large areas of undecorated expanse. The undecorated areas appear to be the focal point of the decoration from the manner in which the black designs frame them. Its fire clouds (natural decoration during the firing process when the fuel falls against the vessel and creates a dark area) are soft and beautiful.
This piece exhibits its history of use at the pueblo beautifully. Its exterior is gently worn down in certain areas, though always softly, as if its owner cared very much about its well-being during its many years of use. Its interior feels incredibly smooth, an effect which is also a result of its extensive use. One might wonder why a bowl's exterior would become rough as its interior becomes smooth. The likely answer is that that the bowl's intended uses—making bread, temporarily storing grains or water, washing smaller bowls, bathing infants, even—were repetitive, gentle motions that over time resulted in a uniquely smooth surface. While these actions took place, the bowl had to be handled and carried, and so its exterior received the scratches, bumps and bruises that historic pottery collectors appreciate.
This is an exemplary early Santo Domingo Polychrome dough bowl. Its size and shape are impressive, its designs are strong but subtle, and its visible wear is of the most beautiful and desirable sort.
---
Condition: this Santo Domingo Pueblo Historic 19th Century Pottery Dough Bowl is in very good condition
Provenance: acquired in 1989 by Adobe Gallery from an Albuquerque, New Mexico Southwest Indian pottery collector
Recommended Reading: A River Apart: The Pottery of Cochiti and Santo Domingo Pueblos edited by Valerie K. Verzuh
Realtive Links: Jonathan Batkin, Kewa Pueblo, Pottery being made for use, Pottery made for sale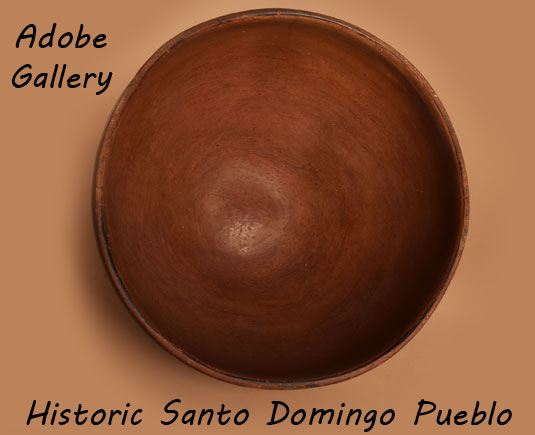 Pueblo Potter Unknown
---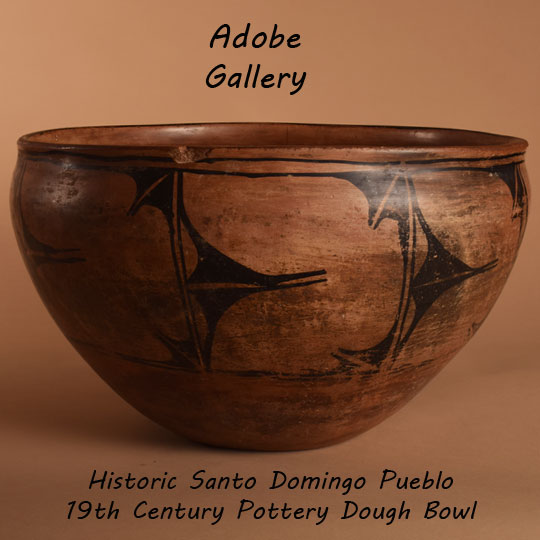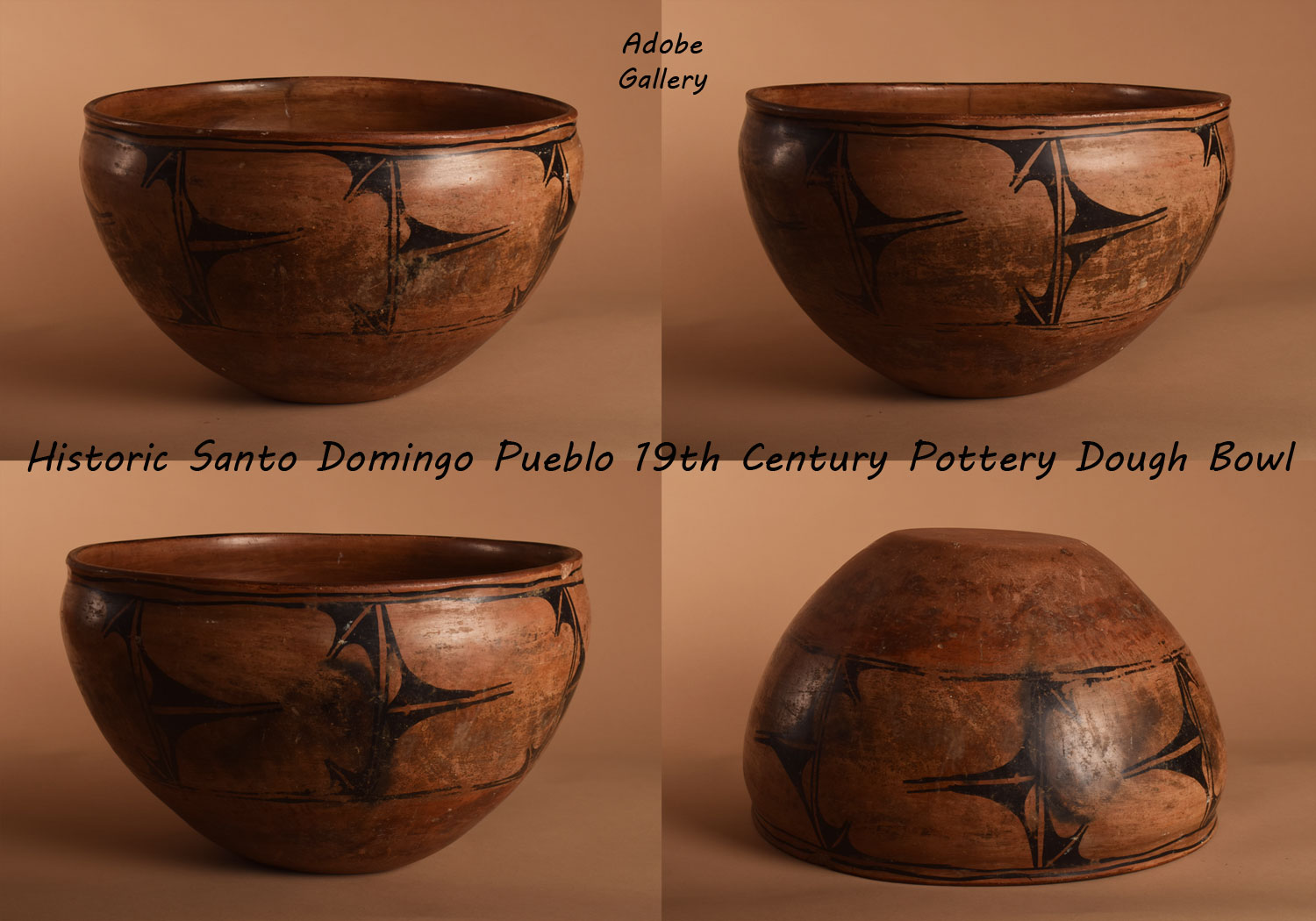 Click on image to view larger.
---
Adobe Gallery Recommended Reading
Adobe Gallery Recommended Items
---
If you are interested in this item, we would also like to recommend these other related items: