---
Hopi Sakwahote - Blue A'hote Katsina Doll by Ed Tewanema [SOLD]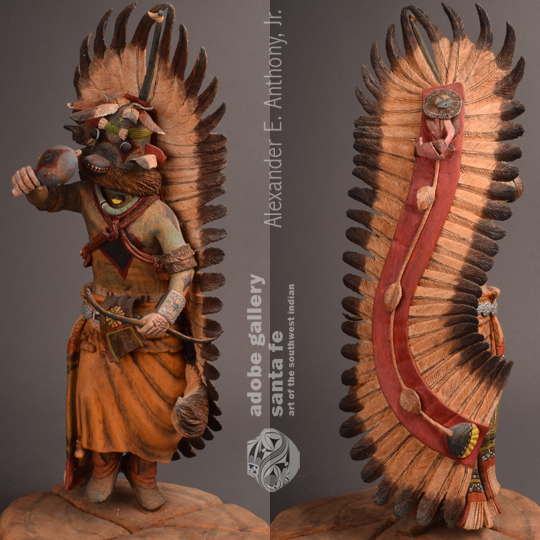 + Add to my watchlist Forward to Friend
A'hote may appear in any of the directional colors but the two most common are the Yellow A'hote (Sikyahote) or the Blue A'hote (Sakwahote). In a Plaza Dance it is not unusual to see a line of Sakwahote with several Sikyahote,and a white or red form as well. All indications in his costume point to inspiration from a Plains-type warrior, particularly the feather headdress and the bandoleer across his chest.
A'hote may appear in the Mixed Katsina Dances, or the Palölökong Dances and the Plaza Dance. These dances may be either Soyohim (Mixed Katsina Dances), where all of the dancers are different types of Katsinas, or they may be a dance where all of the Katsinas are the same—the Regular or Line Dance. Jesse Walter Fewkes referred to those as the abbreviated Katsina dances for they do not have the elaborate ceremonialism that accompanies the more important rites such as the Powamu or Niman. All Katsina ceremonies include the same techniques: offering prayer sticks, building an altar of sacred objects, sprinkling medicine, prayer, song and dance. The primary aim is the production of rain, fertility and growth.
This enormous Katsina carving by Hopi Pueblo artist Ed Tewanema (1966-) provides an excellent look at Sakwahote. Tewanema's Sakwahote, standing at 21 inches in height, is an impressive technical feat. The carving's base is wide but short, occupying no more than an inch and half of its total height. Sakwahote himself is the primary focus here, and deservedly so. He is depicted mid-dance, as is typical of contemporary carvings. His right hand, holding a rattle, is raised to eye level. His left hand is lowered, carrying a bow. His right leg is raised, bent at the knee, as he stands on his left leg, which provides Sakwahote's link to the carving's base.

Tewanema used a large color palette to accurately convey the details of Sakwahote's garb. The sash, with its strong greens, reds and blues, is a colorful highlight. The artist's paints are soft, even translucent in certain areas. The headdress, too, was carved and painted with incredible dexterity. Its arrangement conveys to the viewer a realistic sense of movement, which is not always the case with large pieces like this one. This incredible Sakwahote, which was completed in the 1990s, will appeal to those who appreciate the finest Katsina carvings.
Condition: this Hopi Sakwahote - Blue A'hote Katsina Doll by Ed Tewanema is in very good condition
Provenance: from the extensive collection of a client from New York who purchased this doll from Adobe Gallery on 21 February 1996.
Recommended Reading: Kachinas: A Hopi Artist's Documentary by Barton Wright
Relative Links: Plains, Hopi Pueblo, Katsina, Ed Tewanema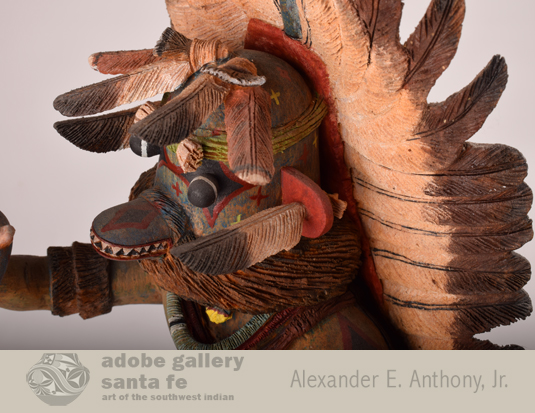 Ed Tewanema, Katsina Carver
---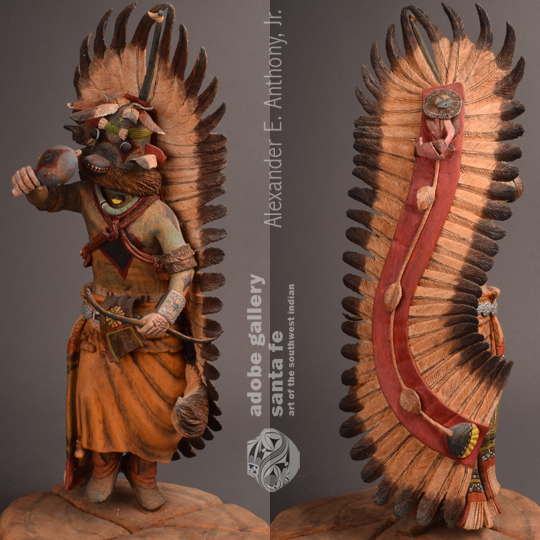 Click on image to view larger.
---
Adobe Gallery Recommended Reading
Adobe Gallery Recommended Items
---
If you are interested in this item, we would also like to recommend these other related items: