---
Hopi-Tewa Black and White on Red Pottery Bowl by Nampeyo of Hano [SOLD]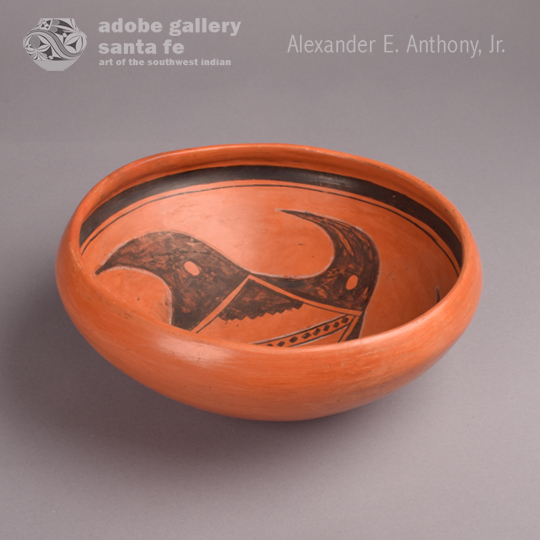 + Add to my watchlist Forward to Friend
The current owner of this Nampeyo bowl purchased it from Santa Fe dealer and collector, Marti Struever in 2004. Marti's written comments on the bowl are ". . . a black on red bowl with white outlining the black. This vessel relates closely to bowls collected from Nampeyo of Hano by an unknown professor for the Museum of the University of Oslo, Norway 1903-1904. Form and boldness of execution is (sic) alike. Bowls collected from Nampeyo by George Pepper in the collection of the Museum of the American Indian and the Middle American Research Institute at Tulane University repeat the same artist's hand."
The golden age of Nampeyo's work has been stated to be between the years of 1895 and 1908. Although she did continue to make outstanding pottery after 1908, the beginning of her loss of eyesight necessitated assistance from family members in painting the pottery, so it is difficult to determine which pieces after 1908 were by Nampeyo alone.
The predominant shape during this golden age was a simple shallow bowl with decorations confined to the interior. The bowls invariably were finished with a lip at the rim of an extra coil of clay on the interior and a slight outward flare on the exterior near the rim. These produced a sturdier structure.
Although many designs used by Nampeyo at the time were influenced by the ancestral Sikyatki pottery, Nampeyo often painted designs bolder than the Sikyatki ones. The design on the interior of this bowl is simple, but very bold. It was executed in black pigment and outlined in a thin white slip. Perhaps the four elements attached to the square in the center each represent the beak and eye of an eagle or perhaps the whole design was meant to be a dynamic one indicating a whirling effect. Regardless of the influence from which it was derived, it is bold and exciting.
The present-day Hopi have within their lands a wealth of abandoned sites of prehistoric pottery-producing cultures. Many of these have never been excavated because the Hopi have strong beliefs that those sites are sacred and should remain as is. Every village had trash heaps which probably contain many pottery shards but they have not been explored. Some of the rooms probably have pottery artifacts but they too remain undisturbed. Nampeyo's grandson, Dewey Healing, son of Annie Healing and a Tewa historian, once indicated that Nampeyo was shown specimens from some of the sites but did not indicate under what authority this was allowed. At any rate, she was influenced by designs other than those from Sikyatki ruins. Perhaps some of the bolder designs were from sites other than Sikyatki.
The shape of this bowl with its unique rim construction and the white outlining of the design definitely identify this as a bowl by Nampeyo. It is an early 1900s creation.
Condition: UV light inspection does not reveal any damage or repair to the bowl. It appears to be in excellent condition.
Provenance: this Hopi-Tewa Black and White on Red Pottery Bowl by Nampeyo of Hano is from a gentleman in Arizona who purchased it in 2004 from Santa Fe dealer Marti Struever
Reference: The Legacy of a Master Potter—Nampeyo and Her Descendants by Mary Ellen and Laurence Blair
Relative Links: Nampeyo, Hopi Pueblo, pottery making, Rachel, Daisy, Annie Healing Nampeyo, prehistoric pottery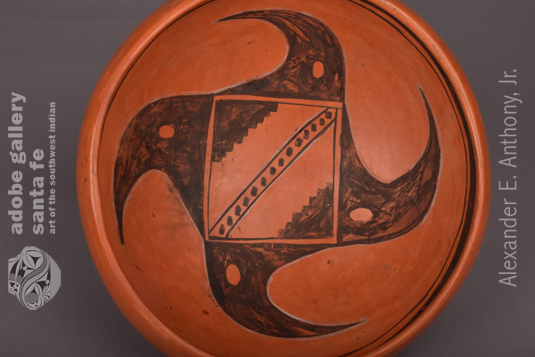 Nampeyo of Hano, Hopi-Tewa Potter and Matriarch
---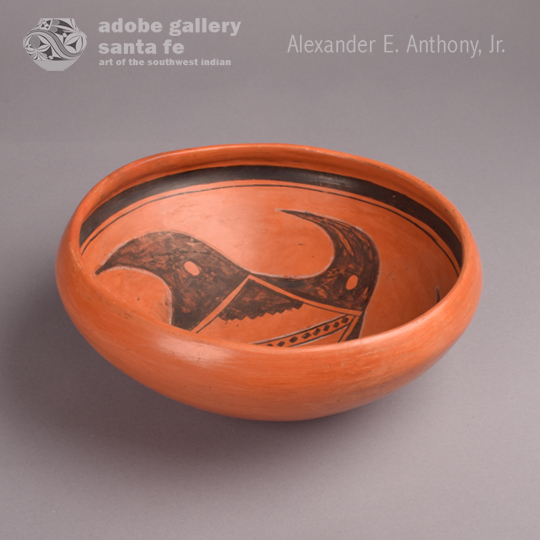 Click on image to view larger.
---
Adobe Gallery Recommended Reading
Adobe Gallery Recommended Items
---
If you are interested in this item, we would also like to recommend these other related items: